Tamra Sprints Away From Dinner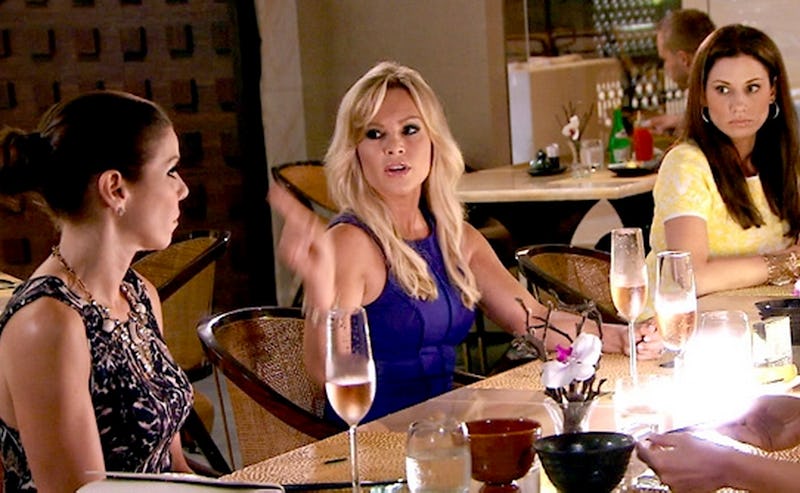 In the penultimate episode of the ninth season of Real Housewives of Orange County , the Housewives from the OC spa'd, biked, swam, solidified alliances, and traipsed around Bali. Part of their traipsing included a fish pedicure outing. UFF DA NOT FOR ME. Shannon Beador wasn't big on the fish pedicure experience (I hear that), which wasn't a terribly surprising turn of events, given how Shannon isn't one for getting too close to marine life in general.
"The little eyes, and they're slimy. I don't know… I just don't like fish," Shannon said during a confessional. "Do a lot of people like fish?"
I can't answer that question, Shannon.
Something else I cannot do: fathom being a guest at that group dinner. The tension and the silence. My GOD, the tension and the silence. If I was Tamra Judge, I would've been scared out of my wits at Vicki Gunvalson cutting her eyes at me the way Vicki was cutting her eyes at Tamra. And serious props to Heather Dubrow for punctuating the awkward silence with ten thousand questions about the status of the champagne.
AUGHHHHH GET ME OUTTA THAT DINNER.
I wouldn't be surprised if Tamra kept asking about the bathroom not because she wanted to confront Vicki in private, but because she just needed a break from the horrendously uncomfortable scene. Which, hey. I'm sure that bathroom at that resort is posh as hell and is a terrific place to kill a few minutes. I'd be down to chill out in that bathroom.
(But if I'm being perfectly frank, I'd be down to chill out in a goddamned Port-A-John if that meant I didn't have to stay put at that table.)
Once the icy silence was broken, the reprieve was only temporary, for before we could bask in the Shannon/Heather quasi-reconciliation, the gathering erupted into screams about the Marry/Shag/Kill game gone wrong and the "Terry wants to take the Beadors down" rumor and the remark about martians in Shannon's head and...
TAM-TAM IS OFF TO THE RACES. I DON'T BLAME YOU TAM-TAM. I'D RUN AWAY FROM THAT NIGHTMARE DINNER, TOO.
Images: Bravo; broadcity/tumblr