If You're Looking For A Date, Wear This Scent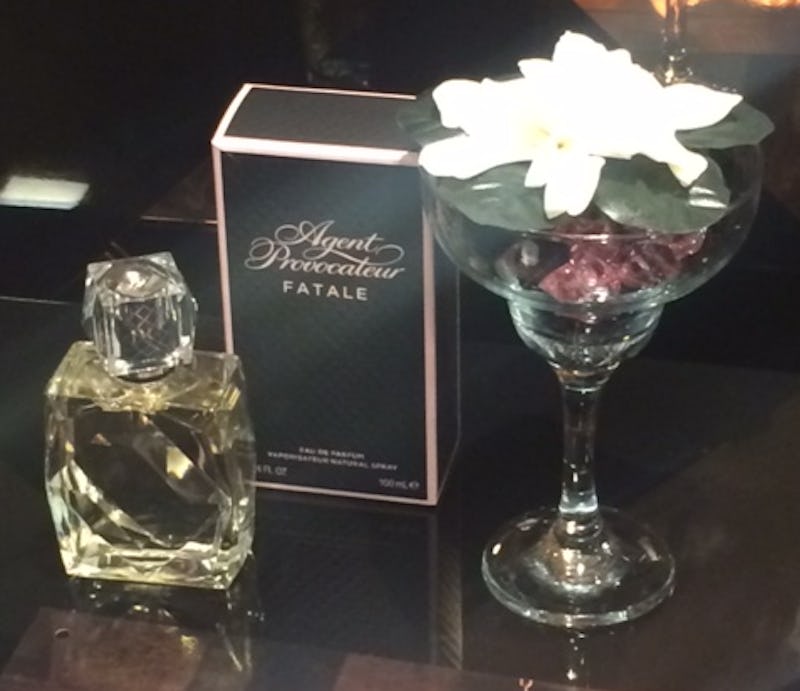 Agent Provocateur has debuted a new product, and its not the type of strappy, silky, lace-embellished costume for which the brand is notorious. Agent Provocateur has launched Fatale Eau De Parfum, their latest scent, in collaboration with Monica Cruz. Between the performer's sultry style and Provocateur's sensual brand image, the perfume was bound to be one very alluring scent indeed. Fatale was formulated as the aromatic equivalent of a modernized 1940s femme fatale, a confident woman who defies any single description because of her innumerable successful endeavors.
The notion of a vintage-inspired perfume for the modern multitasking woman sounds remarkable in theory, but a perfume's appeal ultimately comes down to its smell. And as any fragrance connoisseur knows, descriptions rarely capture what lies inside a beautiful bottle of perfume.
Let it be said that I am extraordinarily sensitive to strong aromas. So sensitive, in fact, that I once left a date early because I was overwhelmed by nausea in reaction to what I assumed was my companion's cologne. I discovered later that my reaction was caused by an expensive but supposedly "subtle" aftershave which the poor fellow never wore again during the course of our three year relationship. I typically fall for light florals and scents that might even be called essences due to their understated bouquets.
Consequently, I was skeptical — if not outright terrified — of a similar reaction to Fatale, with its list of notoriously potent ingredients including musk, Madagascar pink pepper, and labdanum. But the scent also boasted vanilla orchid and gardenia, notes I often discover in perfumes I'm drawn to. After examining the gorgeous cut class bottle, the resident aroma expert took me through the fragrance's key notes step by step. The pink peppercorn, he explained, lends the perfume a sweet and sultry duality, which is further enhanced by earthy patchouli, musk, saccharine mango, and of course the heady gardenia. The hidden note of chocolate, I was promised, added an aphrodisiac edge to the perfume.
Spritzing this perfume on a fragrance tester strip won't give you the full effect, however, so I sprayed a bit on my wrists and waited for the scent to sink in. Two hours later, Fatale had faded into the lightest hint of a perfume. It was still a statement fragrance, but one you would only notice in if you leaned in closely to the wearer. I assume this is where Agent Provocateur's other offerings come in handy... I was pleasantly surprised by Fatale's alluring aroma. The blend seems to belong on a woman who finds herself wine tasting in the Tuscan hills some warm summer afternoon, clad in an ultra-feminine fitted linen dress that will later take her to dinner and dancing. Indeed, this isn't a perfume to wear if you prefer not to be noticed. While I wouldn't jump to make it my daytime scent, a little spritz on the wrists for an extravagant night out (or in) might just give my confidence an extra kick.
Images: Tyler Atwood