12 Novels & Shorts You Need to Read in September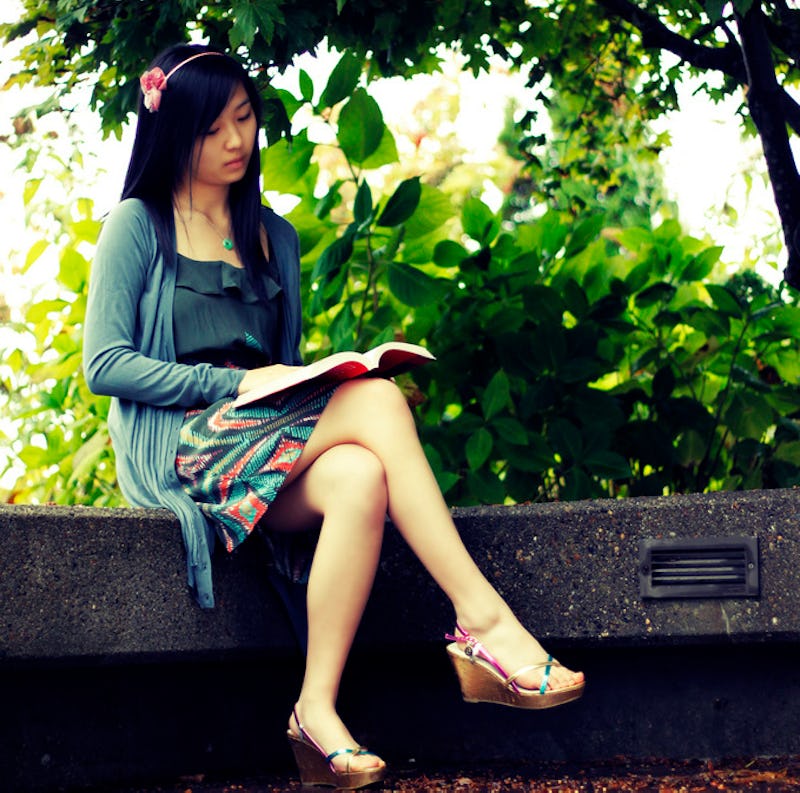 Whether or not you're a student, you have to acknowledge that back-to-school season has arrived. September brings with it something kind of . . . academic as students return to the classroom. First days of school are nerve-wracking — new people, new teachers — but also exciting. Remember new glossy folders with cutesy matching prints, rainbows of sharp, freshly opened crayons, and that new book smell wafting from your textbook stack? Win.
What I always looked forward to most, though, was getting my hands on "the list" — you know, that sheet of paper that determined your literary fate for the next nine months (some titles exciting, some not so exciting). Even if you no longer claim student as your occupational title, you should still get a list. And we could all use an opportunity to recharge the brain after an exciting summer of slacking off and beachside repose, anyway, so I'm gifting you with a reading list to fuel a healthy literary appetite.
Luckily for us, publishers kick things into high gear in September, dishing out a slew of brilliant releases, so you can expect quite a demanding course load. Including a post-apocalyptic novel that meditates on art and Shakespeare and a charming, gritty coming-of-age comedy, a delightfully dark short-story collection penned by the prolific Margaret Atwood and a riveting drama the illuminates the nuances of postwar 1920s London, these are the best September has to offer. With our carefully curated syllabus you'll explore the anatomy of dreams alongside a pair of sleep researchers, grapple with legal dilemmas tangled in religious and moral conflicts, and gain some basic medical training while touring the inner world of emergency medical care.
So gift yourself with a sturdy JanSport and get studious!
When you're done, come see our picks for September's best nonfiction and best YA, too.
1. HOW TO BUILD A GIRL BY CAITLIN MORAN (HARPER; SEPT. 1)
After the awkward encounter that unfolds on the opening pages of Moran's How to Build A Girl, readers will be instantly charmed and amused by feisty 14-year-old Johanna Morrigan. Equipped with a foul mouth and a penchant for 19th century literature, the melodramatic young protagonist recounts growing up impoverished with an alcoholic father and a mother suffering from prenatal depression — all while pursuing dreams of becoming a writer and satisfying her vigorous teenage sexual appetite. Colored with intimate, telling moments and packed with hilarious prose, How to Build A Girl will keep you laughing, gaping, applauding, and reminiscing about a '90s adolescence you may or may not have suffered alongside Johanna. It's coming-of-age fiction at its raw, comic finest.
2. IN CASE OF EMERGENCY BY COURTNEY MORENO (MCSWEENEY'S; SEPT. 1)
Award-winning writer Courtney Moreno has worked as lab technician, entomologist's assistant, EMT, stagehand, and aerial dancer, and this month, she'll add novelist to her lengthy list of credentials. In Case of Emergency is a knockout debut with a wildly beating heart. With stellar style and a rapid pace, Moreno launches into an exciting exploration of human relationships and their many permutations through the inner world of emergency medical care and the medics that administer it. Readers strap in beside 27-year-old Piper Gallagher, fledgling EMT-in-training, as she embarks on the wild, bloody ride that is first-response care — her experiences, a vehicle into the inner depths of the fragile human heart — our empathy, pain, instincts, fear, and the ways in which we react and care for one another in the most desperate moments. Piper's distinct voice — feisty, jaded, at times playful, but always razor-sharp — echoes off the page. Her story of love and loss is packed with emotional tremors whose side effects linger long after you've closed the cover.
3. THE SECRET PLACE BY TANA FRENCH (VIKING; SEPT. 2)
If you're a thrill-seeker, you'll want to make this a late-night read, consumed in silence beneath the eerie glow of a dim bedside lamp. The fourth installment of the Dublin Murder Squad series everyone's been raving about, The Secret Place promises 400-odd pages of twists and chills woven within a deftly crafted mystery that illuminates the complicated and often vicious underworld of teenage girls and the power of adolescent loyalty. Popular, handsome teen Chris Harper is found dead on the lawn of St. Kilda's, the local all-girls academy a short walk from his own high school. His murder leaves behind zero suspects, a single clue in the form of an anonymous Post-It note left on a confessional bulletin board at St. Kilda's, and two rival female cliques at the academy whose inter-turmoil seems peculiarly tied to the young boy and his gruesome, untimely end. Gripping throughout, The Secret Place will keep you up all night.
4. THE BONE CLOCKS BY DAVID MITCHELL (RANDOM HOUSE; SEPT 2)
From the stunning imagination responsible for Cloud Atlas comes an hypnotizing epic. In The Bone Clocks, David Mitchell takes readers dipping and diving along the edges of reality alongside Holly Sykes, a teenage runaway with an uncanny ability to attract psychic phenomena. The "radio people," voices she once heard inside of her head as a child have been silent for years, but now, as Holly scavenges the English countryside on the run from an overbearing mother and unfaithful boyfriend, she starts seeing things: visions and other unexplainable psychic activity. Her fledgling abilities soon become dangerous for Holly and give way to a series of encounters that will forever alter her and those connected to her. Masterfully weaved and packed with beautifully layered characters whose lives are linked in unexpected ways, Mitchell's genre-tripping, globe-traversing saga will spark your imagination.
5. THE CHILDREN ACT BY IAN MCEWAN (DOUBLEDAY; SEPT. 9)
Should parents be allowed to deny their children a life-saving medical operation because it defies their religious beliefs? Can a secular court overrule the parents' desires? These are the questions with which Fiona Maye, the bold, intelligent protagonist of Ian McEwan's latest work The Children Act, faces as a fiercely respected High Court judge in London presiding over a new case in which a 17-year-old boy's life is at stake. The answers aren't as plain as they seem, and Maye is forced to sift through the morally conflicting evidence while dealing with her own marital crisis. As McEwan peels back multiple frayed layers of this sensitive query, the acclaimed author of Atonement once again commands a deeply affecting narrative, one that bravely probes controversial territory. McEwan compels us to delve into these tangled depths of religion, family, and modern law, while also reassessing our own beliefs.
6. STATION ELEVEN BY EMILY ST. JOHN MANDEL (KNOPF; SEPT. 9)
Disappear inside the exquisite post-apocalyptic world of Emily St. John Mandel's Station Eleven and you'll resurface with a greater appreciation for the art and culture we daily take for granted. With fearless imagination, Mandel recounts the peripatetic adventures of an eccentric band of artists, musicians, playwrights, and actors as they traverse the world's dreary landscape attempting to keep culture and art alive in the aftermath of a devastating disease that has wiped out much of civilization. As the narrative telescopes through time, recounting events before and after the pandemic, readers discover unexpected linkages between its key characters — a famous actor who dies in the midst of performing in King Lear, the middle-aged celebrity journalist-turned-paramedic who tries to save him, the aspiring actress who witnesses the incident as a child, and the actor's wife who created the sci-fi graphic novel the young actress carries with her. Strange, poetic, thrilling, and grim all at once, Station Eleven is a prismatic tale about survival, unexpected coincidences, and the significance of art and its oft under-appreciated beauty.
7. A GIRL IS A HALF-FORMED THING BY EIMEAR MCBRIDE (COFFEE HOUSE PRESS; SEPT. 9)
Put this one in the category of Most Memorable Books Ever. Winner of 2014's Bailey's Women's Prize for Fiction, Eimear McBride writes in sentences that'll arrest you from the first page: "For you. You'll soon. You'll give her name. In the stitches of her skin she'll wear your say. Mammy me? Yes you. Bounce the bed, I'd say. I'd say that's what you did. Then you lay down. They cut you round. Wait hour and day." Follow that? It'll take some getting used to, but once you sink in, you'll be shaken by this debut, which follows a young, disturbed girl from a poor Irish town and her relationship with her older brother who's been afflicted with a brain tumor. There's a lot of raw, traumatic material here: sex, rape, religion, sickness, depression, guilt — but McBride weaves through it with a grit that's truly a gift. This book isn't for the faint of heart with regard to structure or story, but if you're willing to step outside the box, it's entirely worth it.
8. STONE MATTRESS: NINE TALES BY MARGARET ATWOOD (DOUBLEDAY; SEPT. 16)
Margaret Atwood, the witty guru of dystopian lit, is already such an impressive literary legend, it's hard not to get excited about anything and everything new she churns out. The prolific writer has been practicing her unique brand of fiction for decades now, but it's been nearly eight years since she's wielded her wit to write a series of short stories. And the second you dive into this collection, you'll know it's been worth the wait. In Stone Mattress, Atwood gifts us with nine turbulent tales, keenly observed and intricately woven, that take us deep inside the minds of a motley cast of tortured characters: their tangled relationships, misguided values, and complex psychological scars. With each brief and subtly disturbing masterpiece, Atwood sprinkles tiny revelations in unexpected places, and proves that this dark comedian still has plenty of tricks and quips up her sleeve.
9. THE ANATOMY OF DREAMS BY CHLOE KRUG BENJAMIN (ATRIA; SEPT. 16)
Those bizarre, sometimes terrifying images that play out in our minds after we hit the pillow — what do they mean exactly? Are they truly a gateway to the subconscious? After reading Chloe Krug Benjamin's The Anatomy of Dreams, you'll never dream the same way again. Benjamin's debut is a majestic collision of sci-fi thriller and love story that explores, as the title claims, the anatomy of dreams — their power, both chilling and beautiful — through the lens of a young couple. Sylvie and Gabe meet as teens at a California boarding school and, years later, become sleep researchers investigating lucid dreaming under the instruction of their former teacher, an intelligent and mysterious man with potentially sinister intentions. Though anchored in reality, their story takes surreal turns. It's a riveting tale that will instantly transfix readers, like a dream you're not quite ready to wake up from.
10. LOVE ME BACK BY MERRITT TIERCE (DOUBLEDAY; SEPT. 16)
Maybe you think you know everything about the life of a waitress — running tables, fixing drinks, wearing non-slip shoes, right? Hold that thought. Love Me Back is the story of twentysomething mother Marie who spends nearly all of her waking hours in various food service jobs — and what happens both in the restaurants and outside is anything but what you'd expect. In short, interwoven stories, Tierce's voice-driven narrative paints Marie's story in language that'll floor you. Her sentences, poetic at times, are honest, dirty, sexy, and at times, tragic; Love Me Back hits the full spectrum of emotion with its completely unique reading experience. You'll just have to pick it up to see for yourself.
11. WALLFLOWERS BY ELIZA ROBERTSON (BLOOMSBURY; SEPT. 16)
Wallflowers: innocent bystanders, silent heroes, loners, keen observers lingering on the fringes. These are the characters, oft unheard, to whom Eliza Roberston gives voice in her debut collection of short stories. In Wallflowers, readers will be impressed by Robertson's ability to capture the peculiar and powerful interactions between humans and bring melody and rhythm to even the most ordinary encounters. Through her deftly crafted narrators, whose keen observations emerge from afar and are allowed to flourish on the page, Robertson delivers a series of strange, captivating portraits that imbue the mundane with magic and poetry. Intimate and elegantly woven, these poetic tales see through the redundancy, disappointment, loneliness and sordidness of everyday life. Quiet yet intense, Robertson's characters subtly burrow into the hearts and minds of their readers, and their stories leave a lingering sense of awe and quiet intrigue.
12. THE PAYING GUESTS BY SARAH WATERS (RIVERHEAD; SEPT. 16)
Sarah Waters is a masterful storyteller, and she brilliantly showcases her gift in The Paying Guests. She paints an evocative portrait of 1920s genteel London, capturing the rhythms and nuances of this tense postwar period through a riveting story of intermingling crime, passion, and romance. In the quiet, decorous home at the heart of this novel, impoverished spinster Frances Wray and her recently widowed mother are forced to take in a young couple as lodgers in order to afford domestic upkeep and the remnants of her father's debts. Soon, though, the couple's presence becomes more than just an awkward disturbance and the two become more than simply "paying guests." The plot pivots from charming drama to seductive thriller as love affairs, accidental murders, moral dilemmas, and psychological crises unfold within the lavish, well-kept walls of Wray's Camberwell villa.
Image: winnieywhuang/flickr