23 (Yes, 23!) YA Books to Keep You Busy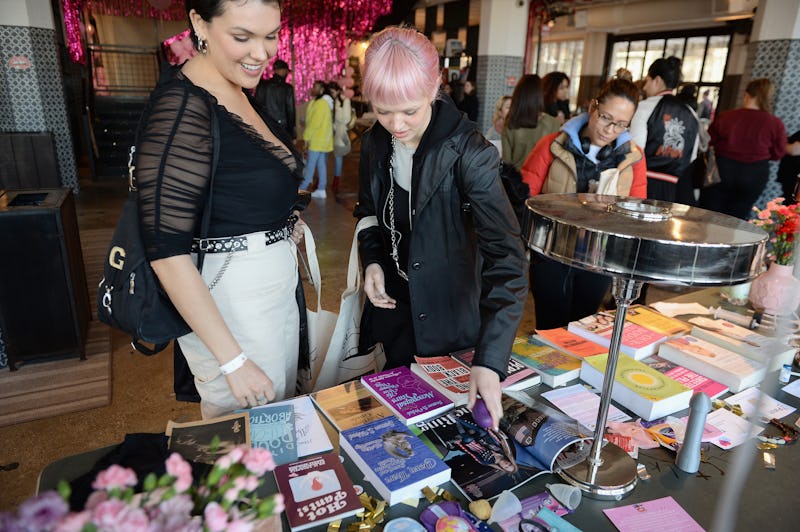 Andrew Toth/Getty Images Entertainment/Getty Images
Make sure you have a sturdy backpack on your back-to-school shopping list. Why? Because YA writers are going to fill it to the brim. Sure, September means homework, long classes, and the lazy days of summer being over, but it's also the month when young adult publishing comes back full force and starts firing on all cylinders. And this September is going to be a big one.
Your favorite writers are preparing to stun YA readers with some seriously awesome titles. Some award-winning, fan favorite books are traveling from the U.K. and Australia to try their luck in the United States. One of the biggest names in adult fiction is making her young adult start. Debut novelists are making names for themselves with early critical praise. And now would be the time to sit down: A cult classic series is coming back for today's audience.
You'd better clear some space on your bookshelf.
With dozens of young adult books released every week, it can be hard to focus and find the books you want to read. I've put together a guide to the 23 best YA books for September, so you can mark up your new back-to-school calendars and start getting giddy about everything that's coming your way.
When you're done, come see our picks for September's best fiction and best nonfiction, too.
Zac and Mia by A.J. Betts (HMH Books For Young Readers; Sept. 2)
Back in 2012, the manuscript for Zac & Mia won the Text Prize for YA and Children's Writing and gave author A.J. Betts a book deal with Australian publishing house Text Publishing. So, it didn't take long for the buzz of this romance tale to make it over to the United States. And it's not your ordinary love story; these two teenagers meet in a hospital.
Girl Defective by Simmone Howell (Atheneum Books for Young Readers; Sept. 2)
Take note, High Fidelity fans: Girl Defective 's female star Skylark Martin lives with her father in a vintage record store, and the setting definitely influences the book. It's getting a lot of pre-press buzz, and with already a major following in Australia, the book should fit in quite well here in the U.S.
Anatomy of a Misfit by Andrea Portes (Harper Children's; Sept. 2)
Adult author Andrea Portes is making her anticipated YA debut with Anatomy of a Misfit , which echoes outsider and mean girl lit present in classic stories like The Perks of Being a Wallflower. Even better? The protagonist is a total riot. She's the self-described third most popular girl in school (amazing), but she's self-deprecating and even endearing.
Falling into Place by Amy Zhang (Greenwillow Books; Sept. 9)
On the day Liz Emerson tries to die, they had reviewed Newton's laws of motion in physics class. Then, after school, she put them into practice by running her Mercedes off the road. How's that for a jumpstart intro into a novel? Amy Zhang's YA novel Falling into Place has already been drawing comparisons to the likes of Gayle Forman's If I Stay and Jay Asher's Thirteen Reasons Why, and that's some seriously high praise.
The Iron Trial by Holly Black and Cassandra Clare (Scholastic Press; Sept. 9)
Holly Black and Cassandra Clare are two of the hottest names in YA lit, so when they announced a new collaborative series, they had our immediate attention. The Spiderwick Chronicles and the Mortal Instruments series authors are bringing readers into the world of the Magisterium, an academy for magic-users, and it's already optioned for a movie deal. And — OK, who cares what else; you sold us at Black and Clare collaboration.
Rites of Passage by Joy N. Hensley (Harper Teen; Sept. 9)
A "girl joins traditionally male-oriented arena and kicks butt" book? Where do I sign up? Joy N. Hensley's novel Rites of Passage tells the story of Sam McKenna who, on a dare from her brother before he passed away, enrolled in the first-ever class of women in the Denmark Military Academy. As expected, this angers the boys involved, who revolt, but it's easy to cheer on Sam through her struggles.
Paper Airplanes by Dawn O'Porter (Amulet Books; Sept. 9)
Just as I've been decrying the lack of female friendship stories in YA, here comes Paper Airplanes (or Paper Aeroplanes, depending on your country) straight from the United Kingdom. Set off the coast of France, the novel centers on unexpected best friends Renee and Flo, who are united when they discover similarities in their struggles with family and life in general. Finally, a story about best girl friends that's gritty, honest, and totally powerful. And as a sidenote: The author is married to my pretend boyfriend Chris O'Dowd, so you know she has good taste.
The Vault of Dreamers by Caragh M. O'Brien (Roaring Brook Press; Sept. 16)
More like The Vault of Nightmares, if you ask me. The Forge School in The Vault of Dreamers is prestigious for artistic folk, but it's also the setting of a reality show. Every year, the students take a pill to induce 12 hours of sleep where they'll supposedly have increased creativity. However, as you can imagine, things aren't exactly what they seem. Caragh M. O'Brien already penned the successful and super-chilling Birthmarked series, so before you even open the cover, you know she has the chops to pull off this creepy tale.
I'll Give You The Sun by Jandy Nelson (Dial Books for Young Readers; Sept. 16)
I have a feeling, you guys: This one is going to be big. This coming-of-age-ish story is about twins, a boy and a girl, whose relationship starts to fall apart. It is full of all the good stuff that sticks with you: love, identity struggles, loss, betrayal, and the complications of family, so you'll probably feel all the feels.
Made For You by Melissa Marr (HarperCollins; Sept. 16)
Melissa Marr has already made a name for herself with her Wicked Lovely series, but she's back with a totally thrilling and twisted Southern gothic tale that'll have you sleeping with the lights on. If you're a sucker for a good whodunit, make sure to put this one on your list. (And psst! Bustle is doing a Twitter chat with the author on Sept. 16 from 4 p.m. to 4:30 p.m. Eastern time! Check back for more.)
Get Even by Gretchen McNeil (Balzer & Bray; Sept. 16)
The characters in Get Even are raising, well, getting even and getting revenge, to an art form. But Gretchen McNeil's story isn't just a suspense or thriller story (though it is that), it's jam packed with the wit to separate it from others of its ilk. If you're a Pretty Little Liars fan, it's safe to say you'll love Get Even and will be eagerly anticipating its sequel, because that's coming, too.
The Infinite Sea by Rick Yancey (Putnam Juvenile; Sept. 16)
Rick Yancey's The Fifth Wave swept up readers (I had to) unexpectedly and garnered not only a huge fan base, but massive critical acclaim. Its sequel, The Infinite Sea, will undoubtedly do the same, and it will remind non-readers to catch up and grab the first installment because they're seriously missing out.
Wildlife by Fiona Wood (Poppy; Sept. 16)
Yes! More YA novels centering on friendship. So, yes, Wildlife does have a relationship component, but it also speaks honestly about true female friendship. Fiona Wood's novel already won Book of the Year by the Children's Book Council Awards in its native Australia, and now it's coming for U.S. audiences, and it will surely capture them just the same.
Sway by Kat Spears (St. Martin's Griffin; Sept. 16)
Kat Spears' debut Sway already has some serious buzz behind it, and it's looking to be a sleeper hit in the fall. Jesse, or "Sway," is notorious for getting away with pretty much anything, and for getting his peers anything they want, for a price. The story is being called hilarious and poignant, and the plot takes enough of a twist on a classic boy-meets-girl trope that it has our eyes.
Salt & Storm by Kendall Kulper (Little, Brown Books for Young Readers; Sept. 23)
Sixteen-year-old Avery is a witch, which seems like it should be great, but her mom doesn't allow her to use magic and she is bestowed with the power of seeing her own death, by murder. Not so cool. Salt & Storm is a historical romance when Avery meets someone who may be able to help change her deadly future. But the real magic is where Kendall Kulper weaves in historical truths about the Victorian era, island whalers, and other tidbits into the fictional story.
Afterworlds by Scott Westerfeld (Simon Pulse; Sept. 23)
Scott Westerfeld took the YA market by storm with his Uglies series, and all eyes are on him in September for his follow-up, Afterworlds. And his new novel is certainly ambitious, complete with a YA novel within an YA novel, but anyone who has read his work knows that he can pull it off. Plus, writers will be particularly interested by this glimpse into the publishing world.
Skink—No Surrender by Carl Hiaasen (Knopf Books for Young Readers; Sept. 23)
Carl Hiaasen is back in September with Skink—No Surrender, starring the iconic Skink, a character first introduced 25 years ago. When she's supposed to be shipped off to boarding school, Malley instead decides to run away with a guy she met on the Internet. Her cousin Richard sets out after her with Skink, and they all are up for a wild ride across Florida. Hiaasen is so passionate about his subject matter, it's hard not to get wrapped up in a story alongside him. So when he publishes something new about a place he loves, we're on board.
Poisoned Apples: Poems For You, My Pretty by Christine Heppermann (Greenwillow Books; Sept. 23)
OK, yes, you may be lured in to Poisoned Apples by the blurb from We Were Liars author E. Lockhart, but Christine Heppermann's work doesn't even need it. The author has created an entirely unique collection of poems, all based on your favorite fairy tales. Even cooler? She morphs those fairy tales to fit the life of a modern day teenage girl to show the raw truths behind the poufy dresses and Prince Charmings.
In a Handful of Dust by Mindy McGinnis (Katherine Tegen Books; Sept. 23)
This sequel to Not a Drop to Drink jumps 10 years into the future from when the last book ended. When a disease strikes Lucy's water supply it becomes unusable, and she must venture west on a dangerous journey to save her life. The story is hard to put down, as you jump with all the new dangers Lucy faces along the way.
Lies We Tell Ourselves by Robin Talley (Harlequin Teen; Sept. 30)
It's 1959 Virginia, and the battle for civil rights is in full force. Sarah is one of the first black students to attend her new high school, and as history tells us, it does not go well for her at first. Robin Talley tackles not only civil rights, racism, and desegregation but also sexual identity, and her story is hopeful, despite how bleak things may seem.
Schizo by Nic Sheff (Philomel; Sept. 30)
Nick Sheff's novel takes an up-close look into the confusing, painful world of a teenager suffering from schizophrenia. Miles is an unreliable narrator; as he believes he is getting better, narrating the story, readers can see that he is in fact getting worse. It's a heartbreaking story, but particularly important in the climate around mental illness today.
Belzhar by Meg Wolitzer (Dutton Juvenile; Sept. 30)
No surprises here: Meg Wolitzer's hugely anticipated YA debut is already racking up praise. Belzhar (say it slowly) takes inspiration from Sylvia Plath's The Bell Jar, bringing it into the modern world of a therapeutic boarding school. The book is a must for any fans of Plath, and Wolitzer's pitch-perfect rendering of raw, realistic characters will bring YA fans to this traditionally adult author.
Party Games by R.L. Stine (St. Martin's Griffin; Sept. 30)
Yes, yes, yes, YES! Prepare to go back to Fear Street, finally. (I can barely stop jumping up and down writing this.) R.L. Stine is making all your childhood dreams come true by publishing a completely new Fear Street book, the first in nearly two very long decades. The cover is fantastic, the premise is fantastic — whatever you do, don't go to Brendan Fear's birthday party on Fear Island — and all of us '80s children can barely wait this whole month.
Images: Giphy