All The Best Celeb Style Instagrams This Week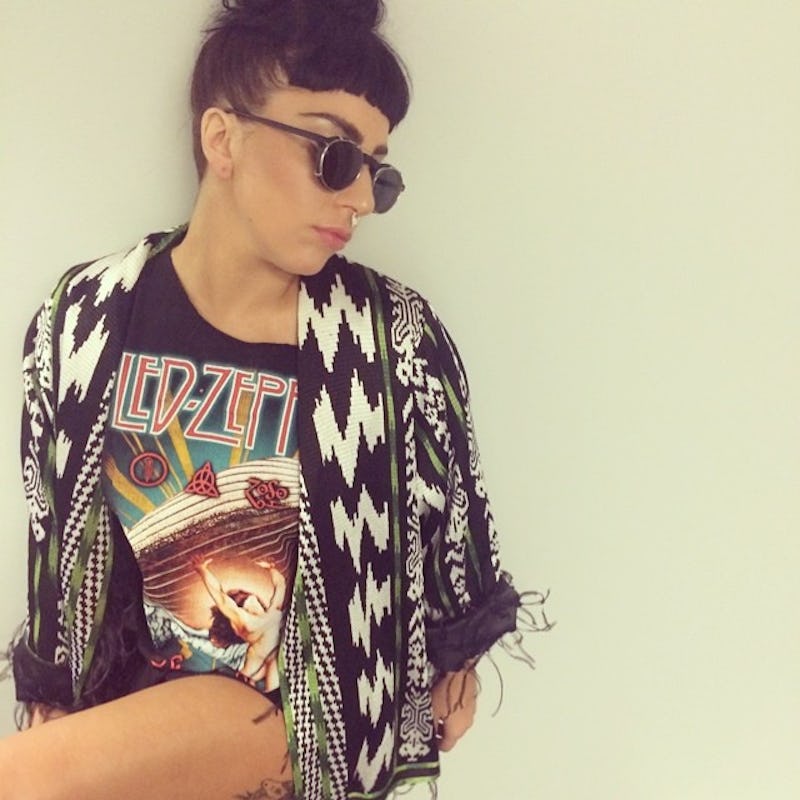 August has been quite a revolutionary month for the fashion world. Long-established brands have announced redesigns, models are being replaced with real people, and of course, pre-fall collections have finally hit the shelves of department stores. What is a fashionista to do in the midst of such upheaval? If you're a card-carrying celebrity fashion darling, you post selfie after selfie to your Instagram account, each more daring and chic than the last. August is a wonderful month to begin the transition from sundresses and sandals to sweaters and slip dresses, especially with the influx of so many tempting new wares, an idea which celebrity Instagrammers have latched on to if their snaps are any indication. Lady Gaga is suiting up for fall with cozy, distressed designer sweaters; Emma Roberts appears to be packing for a voyage on a 1920s-era steamship; and Alessandra Ambrosio still looks like a supermodel on a tropical vacation.
Of course, these couture captures are not just fun for the celebrities posting them; they are also rife with inspiration for those who are befuddled by having to stow away their favorite summery ensembles over the coming weeks. Here are the week's seven best celebrity fashion Instagrams. May they help sartorially guide you during these turbulent transitional times between summer and autumn.
1. LADY GAGA
Lady Gaga could win best dressed simply due to bravado, but her Led Zepplin concert tee is paired with vintage Balmain. In other words, the ensemble is even more stylish than it appears at first glance.
2. MINDY KALING
Mindy Kaling's ensemble may read more laid-back than luxurious, but the Converse, striped tee, and printed shorts combination is just too perfect, especially when paired with that amazing oversized plaid shirt.
3. EMMA ROBERTS
This snap by Emma Roberts may not include an actual person, but there are few things more utterly glamorous than a steamer trunk filled with pointy toe heels, vibrant clutches and statement sunglasses.
4. EMMY ROSSUM
A red sports car, flared skirt, and yellow heels? I'll take one of each.
5. RACHEL ZOE
There is nothing as chic as an adorably outfitted, happy family. Rachel Zoe's hypnotically-printed maxi dress and oversized necklace only increase the style factor.
6. ALESSANDRA AMBROSSIO
Alessandra Ambrosio's tropical Instagram snap makes a floral lei, a tribal print maxi dress, and piles of gold bangles seem like the chicest combination in the world.
7. CIARA
I dare anyone to look less than glamorous in Valentino. The design house creates inimitable ensembles like this pilgrim collar dress with a ruffled hem, worn by the lovely Ciara.
Images: ladygaga/Instagram; mindykaling/Instagram; emmaroberts/Instagram; emmyrossum/Instagram; rachelzoe/Instagram; alessandraambrosio/Instagram; ciara/Instagram