Kim Isn't Excited To Get Krazy At The Klub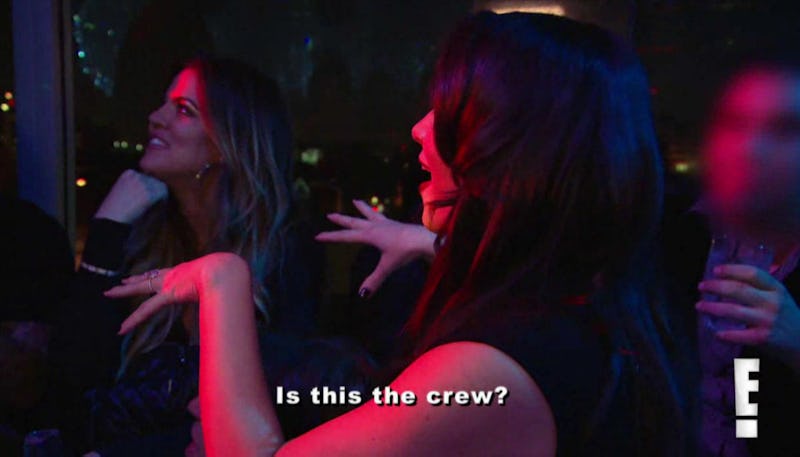 During Sunday night's episode of Keeping Up with the Kardashians , Kris Jenner makes it known that she is dead set on helping Kim Kardashian plan her and Kanye West's wedding. But! There's a road block: Kim won't have it. Kris won't have Kim's not having it. What does Kris do? Uh duh, she contacts Kim's wedding planner behind Kim's back. And uh duh, this infuriates Kim to the point of moving out of Kris's house and into Kourtney's house. And uh duh, this infuriates Kris to the point of calling Kourtney's landline ten million times.
Kourtney tells Kim that, in light of the middle daughter's argument with the matriarch about wedding plans and showers and favors, Kris said she doesn't think she should attend the nuptials. [Clutches chest.] Kris wouldn't DARE! ...Would she?
HAHAHA, yeah right. Like that was ever a real threat. As upset as she is that Kim will not allow her to be involved in the planning of the big day, Kris would not miss that wedding for the world. They make up. Everything's coming up Kardashian!
But what if we existed in a universe in which she DID skip the wedding? What if Kris put her foot down and said "it's me or the centerpieces," and Kim chose the centerpieces? What if Kris spent the evening of the wedding in Calabasas, eating all of M.J. Shannon's weed-laced gummy bears and posting videos on Instagram?
My head would've exploded, reassembled itself, and exploded again. And then, a strong wind would've scooped up the pieces and dropped them into a bottomless well.
My head would've been a goner.
Enough about my skull and brains. Let's talk about the crown jewel of the episode: Kim at the klub. Here are the three best lines from Kim and Jonathan Cheban's stakeout/club appearance:
KIM TO JONATHAN: "Who would willingly want to come to a club?" I love this so much. I love that Kim hates going to clubs. I love that Kim only goes to clubs because it's part of her job. I totally get that. My Kim Kardashian: Hollywood avatar is in the middle of an eight hour-long appearance at Oak, and it's the PITS.
FRENCH MONTANA TO KIM: "I thought you set [Lamar Odom attempting to show up to the club appearance] up."KIM TO FRENCH MONTANA: "I would never do that. I don't even have his number."[Embed] French Montana is so wary of Kim and the show.
KIM TO KHLOE'S GROUP OF FRIENDS: "Is this the crew? Is this the crew?" She's never sounded more like Kris.
HONORABLE MENTION: Before she falls asleep in the passenger seat, Kim announces that it's "literally 12:15" and tells Jonathan about the busy morning she has ahead of her.
She never says anything about Bed Bath & Beyond, but she doesn't have to. Her eyes say she can't wait to pick out a new food processor. And I totally get that.
Image: E!