Is Taylor Swift Giving Up Country?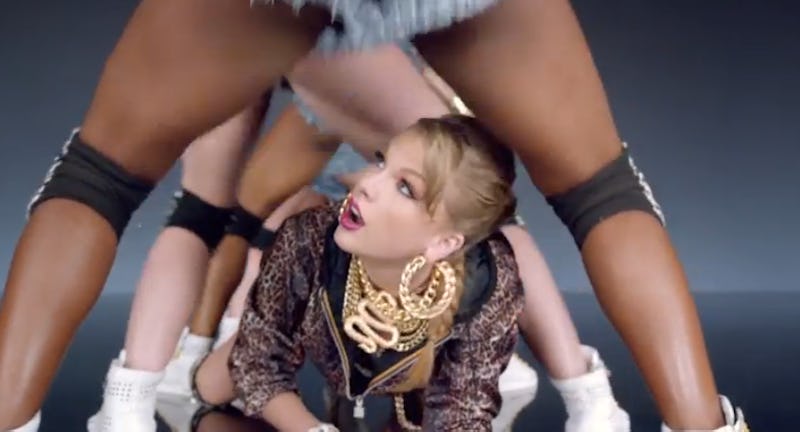 Taylor Swift's new single "Shake It Off" is here, and it's definitely an unexpected departure from what we've heard from her in the past. Unlike her usual country-pop, soft country, pop-country-lite sound that we're so used to hearing, "Shake It Off" is full-on POP. No romantic vibe, no breakup-related lyrics, just a totally catchy, 100% infectious pure-pop sound, or as Swift says herself in the song, a "sick beat". So does this mean she's moving away from her country music roots? It's clear from the song's lyrics and music video that she's left her "Teardrops On My Guitar" days far behind her, and hasn't looked back. Is thing the beginning of a new Taylor Swift, one that's embarking on a new adventure in Katy Perry pop?
"Shake It Off", the lead single from Swift's new album, 1989, is basically a giant "F*** you" to all her "haters", and it different from the usual Swift repertoire not just musically, but also in the message it carries. It seems that Swift has definitely grown up and come into her since she started her music career, and it shows in the self-referential "Shake It Off" video.
She knows she's awkward, she knows everyone laughs at her dancing, but now she's decided to own it and be comfortable with herself. It's great that Swift has apparently learned to "shake off" her critics, but she might be getting a little too comfortable. Her fans might not have a problem with her new pop sound, but followers and critics alike may find the "Shake It Off" video alienating and problematic at best for its blatant display of cultural appropriation. It's great that Swift is exploring new genres, but hopefully she doesn't follow the example of other culture-appropriating pop stars.
Images: Taylor Swift/VEVO