Terry Has A Choice Word For David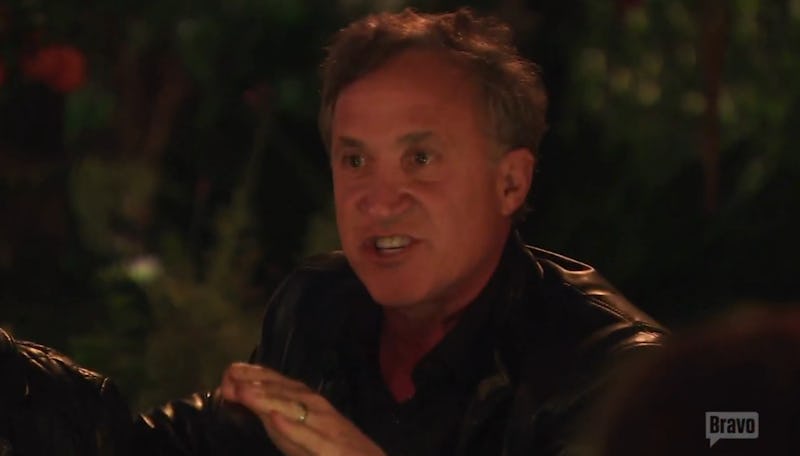 The Housewives from the County of Orange left Bali, but Bali will never leave the Housewives. During Monday night's Real Housewives of Orange County season finale, Vicki Gunvalson, moved by a wave of post-vaycay nostalgia (or at the prodding of the producers), decides to throw a Bali-themed party. And, just like the Housewives' trip, there is a screaming match at the dinner table. Awwww. But this time around, Tamra Judge doesn't remove her heels and skedaddle away from the table. Instead, she hands out wiener-shaped bottle openers to all of the Housewives. What beautiful foreshadowing we have here.
Before the party, Shannon Beador gushes to David Beador that she and Heather Dubrow bonded while they were in Bali. Because Shannon wants to keep this Heather/Shannon friendship train heading in the right direction, she asks her husband to be sure to apologize to the Dubrows for jokingly/drunkenly telling Heather to "spread her legs" as she hopped on the mechanical bull at the hoedown (remember the hoedown? Were we ever so young?).
The moment the Beadors arrive to Vicki's party, David apologizes to Heather and Terry Dubrow. He says he only said the "spread her legs" remark "in the moment," that he was playing along with the others who were making similar comments (FLASHBACK: Eddie Judge also called out something suggestive to Heather as she rode the mechanical bull. GASP!), and that he genuinely didn't mean to offend them (or Terry's mother or the Dubrow children). His apology seems sincere enough. And that's that!
OH, NOPE. THAT'S NOT THAT. THE APOLOGY IS NOT ENOUGH FOR THE DUBROWS.
Fast-forward to the dinner: As the party guests argue about everything that happened over the course of the season (I assume they're putting chips on each of the squares on the "RHOC FEUD TOPICS BINGO" cards that I can't see), Terry takes the reigns. He steers the conversation right into yelling at David about the remark he made at the hoedown. The hoedown throwdown conflict that didn't seem to exist until last week's episode and will never die.
Terry makes it abundantly clear that he won't accept David's apology. And then, Terry says it. Terry says the line that will not stop playing over and over in my mind: "We have a term for you in medicine. It's called 'PENIS.'"
"We have a term for you in medicine. It's called 'PENIS.'"
"We have a term for you in medicine. It's called 'PENIS.'"
"We have a term for you in medicine. It's called 'PENIS.'"
Hey, Terry? Two questions:
Is there a medical term for the affect that ZINGER had on me?
Will you be hitting us with more zingers during the reunion?
If the answer to question number 2 is "YES," I don't know if I'll make it through the reunion in one piece. The "It's called 'PENIS'" zinger all but caused my limbs to morph into actual spaghetti noodles. If any more zingers of that caliber happen, my entire body could turn into a bowl of rigatoni. And explaining that to people would get old really fast.
Sigh. I suppose that's the risk I will take for my beloved RHOC. I will woo-hoo on.
Images: Bravo; chaos-and-cookies, yugoslavic, yuseifudou/tumblr