Tyrion Lannister Is About to Meet Piper Chapman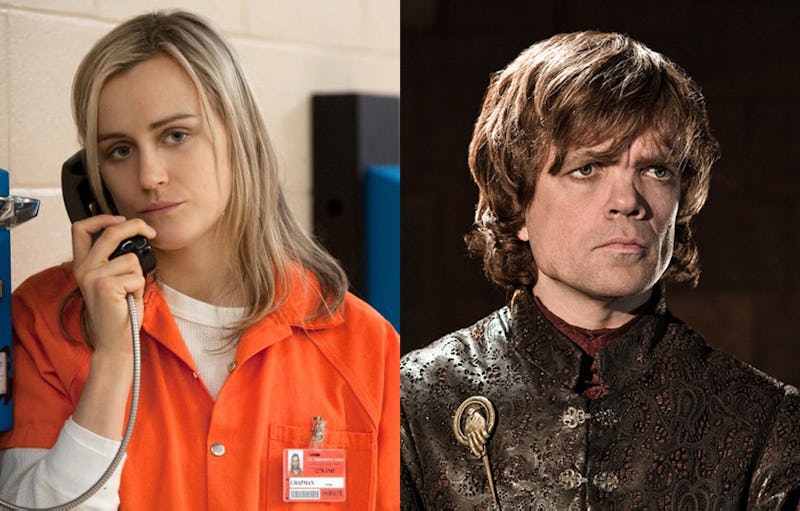 Though it's not exactly the cracked out, Game of Thrones x Orange Is the New Black crossover I'm sure we were all hoping for (at least, I kind of was when I read this news), it's probably the closest we're ever going to get considering both shows take place on completely different cable networks and in completely different universes. Case-in-point: OINTB may have had a disappearing chicken mystery, but I'm fairly sure they would have introduced dragons by now if they were supposed to ever exist in that show. So, everyone, be happy with this: Peter Dinklage and Taylor Schilling are set to star in A Month in the Country , an off-Broadway play that will premiere at the East Village's Classic Stage Company early next year. Tyrion Lannister and Piper Chapman get to hang out at last.
The play, which was written by Russian author Ivan Turgenev in the mid-1800s and is considered a major classic, follows the story of a young woman, Natalya, who falls in love with her son's dashing 21-year-old tutor, Aleksei. Schilling will portray Natalya, and Dinklage will portray Rakitin, a man who's in love with her. Also, her foster daughter is in love with Aleksei — drama!
The play will be directed by Dinklage's wife Erica Schmidt, and will begin performances in NYC on January 9 through February 15. So, start planning your NYC trips now!
Images: Netflix, HBO, Imgur