Is She the Real Reason They Broke Up?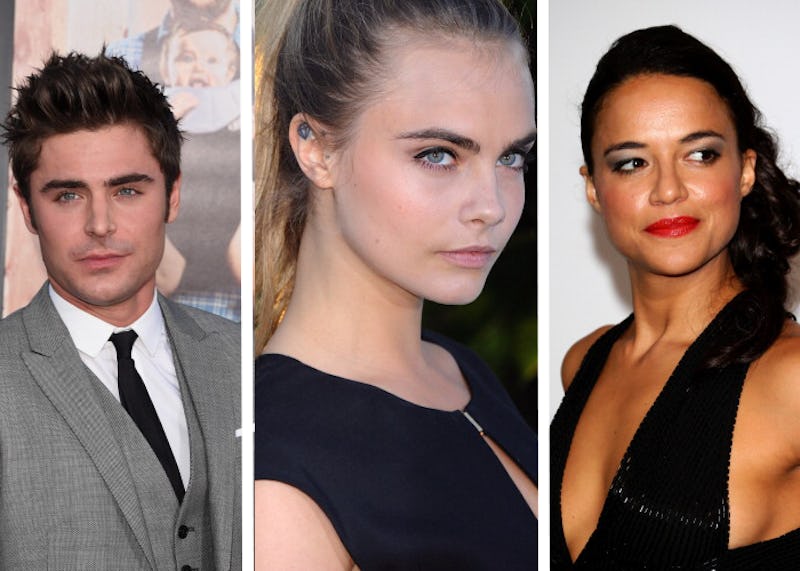 It seems ironic that right when Michelle Rodriguez and Zac Efron are replaced on the "where did that coupling come from" list by Jennifer Lawrence and Chris Martin's recent relationship, that's when Rodriguez and Efron decide to call it quits. Of course, no one could decide whether Rodriguez and Efron were even dating to begin with, because they just suddenly started kissing all over the place with no preamble and no build up. It looks like their relationship never even made it to the DTR stage. However, now that Efron and Rodriguez have broken up, there might be more to it than just the simple end of a summer romance. According to E! Online, Rodriguez and Efron's split involved Cara Delevingne. As in Delevingne was being mentioned so often that Efron felt like a third wheel in his own relationship.
As you might know, Rodriguez and Delevingne are exes. In fact, despite rumors of trouble in their relationship, everyone thought they were still together until Rodriguez and Efron suddenly made their amorous debut as a new summer couple. "Cara was always being mentioned," said a source to E!. "Cara would spend time on the same boat and Cara and Michelle have all the same friends. It was just a lot. It was always, 'Cara, Cara, Cara.'"
This adds a new dimension to both Efron and Rodriguez's relationship and to Rodriguez and Delevingne's break up. The popular rumor at the time that Efron and Rodriguez became a couple was that they were in a casual rebound relationship as Efron helped Rodriguez heal from her split with Delevingne. This latest piece of gossip gives more credibility to that story, as well as opening up the possibility of a reconciliation between Rodriguez and Delevingne.
It's clear that they never stopped caring about each other, as best friends or otherwise, and if rebounding with Zac Efron doesn't work out then you're obviously just not in the mood for a rebound at all. I mean, look at the gun show.
Both Rodriguez and Efron seem to be doing just fine post-breakup, with Rodriguez back in New York and Efron back in Los Angeles. and taking time out of his daily work out routines to take the ALS Ice Bucket Challenge. It was fun while it lasted, but it looks like their summer lovin' is well and truly done.
Image: Getty Images; omgzacefron/Tumblr