This Cool Bracelet Is A Phone Charger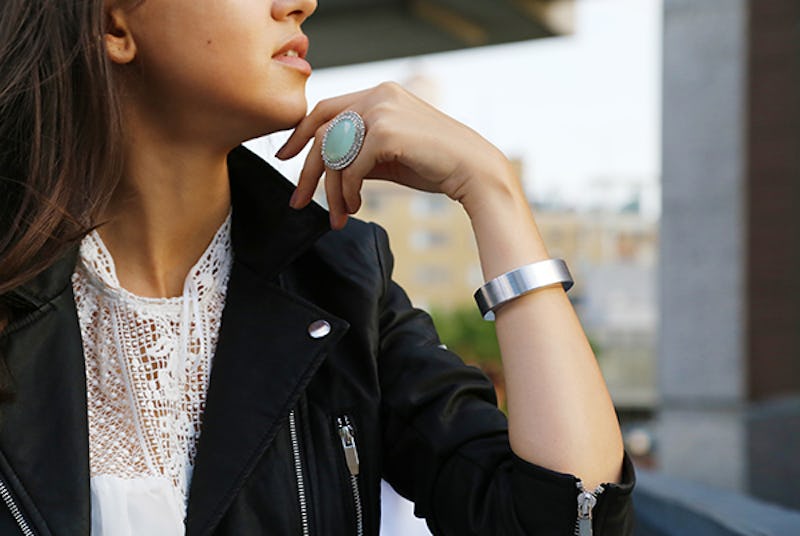 If there's one form of wearable technology I can get behind, its anything that charges your cell phone on the go. You won't convince me to wear a smartphone on my face a´la Google Glass, but show me a way to discreetly recharge my iPhone in public and I'm forever yours. That's why I'm pumped about Q Designs' new phone-charging bracelet, which is sleek and simple enough not to ruin an outfit.
Q Designs is a new company that fuses style and technology to make lovely little objects for you to wear and use. The Q Bracelet, available for pre-order beginning on Wednesday, is their first product. Available in ultra-wearable colors like polished and matte silver, polished gold, and matte and brushed black, the bracelet opens up to reveal a USB charger that hooks into your phone so you can refuel battery power anywhere. Your phone will never die mid-commute again!
The best part of the Q Bracelet is that its actually cute and actually convenient. A simple thick band design means the bracelet isn't exactly subtle, but will still go with just about everything in your closet. While not exactly cheap ($79.99), it's still affordable enough to be within reach. Definitely an improvement upon the clunky phone-charging purses that were introduced this past spring.
Want a Q Bracelet of your very own? Pre-order one at Q Designs and you should be charging on the go as early as winter 2014!
Images: Q Designs(2)