Ariana Opens the VMAs With "Break Free"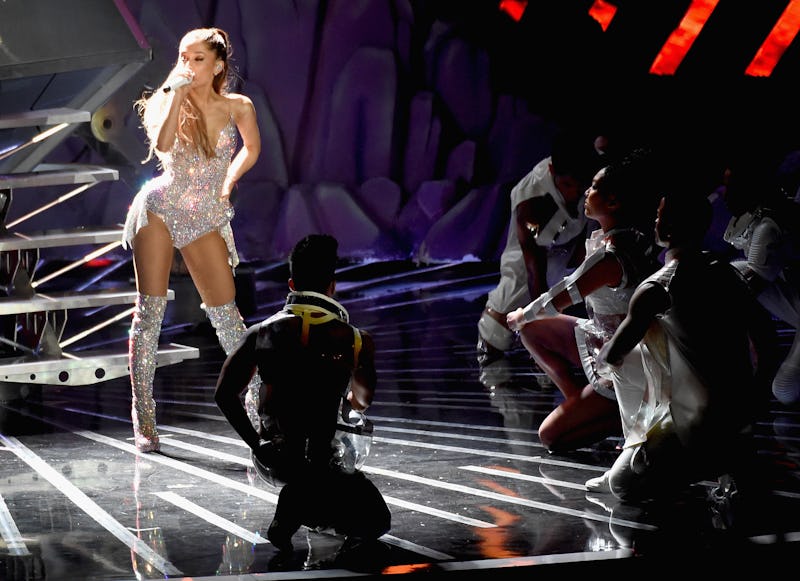 Michael Buckner/Getty Images Entertainment/Getty Images
Regardless of whether she wins any of the three awards she's nominated for (including "Best Female Video"), Sunday night is Ariana Grande's night. Just a year ago, Grande performed at the Video Music Awards pre-show. This year, the tables have turned and Ariana Grande's performance was chosen to open the entire show. Talk about an upgrade! Of course, this makes sense considering at the moment, she has not one, not two, but three songs in the Billboard Top-10 list. Her hits "Break Free," "Problem," and "Bang Bang" are all over the radio. So it's no surprise that she sang two of those songs to open the 2014 VMAs.
Before we recap this ponytailed pop star's performance, let's consider the many ways this could have gone. Prior to the show, I wondered: If she has so many hits right now, how will she choose which to sing? Can she sing them all, please? What about "Bang Bang" with Nicki Minaj and Jessie J? Will that be an entirely separate spectacle? Will her rumored boyfriend Big Sean sing with her? And most importantly, will she twerk? (Hey, Miley did set a precedent.)
Luckily, these questions were all answered within minutes of her performance. Grande stuck to "Break Free" and its outer space theme. She wore her typical thigh-high boots, but embellished with rhinestones of course. She looked like a space princess. The song started out a little flat, but she definitely showed off her vocal range. She may have been a bit out of breath from jumping around so much, but it didn't matter much. Her fans screamed like crazy anyway.
Plus, if you didn't like that, you had a wardrobe malfunction-filled "Bang Bang" performance to follow it. And, hey, when do the words "Bang Bang" and "wardrobe malfunction" combine together and not spell out great TV?
Watch the performance for yourself below:
Images: Getty Images