Snow White Was Originally Too Sexy, Apparently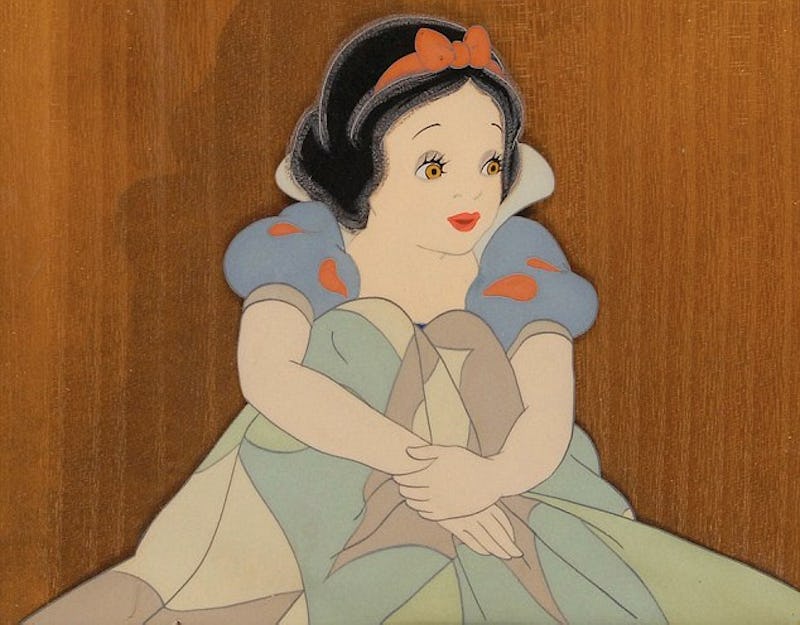 I know that cartoons and, you know, the world in general were both totally different back in the 1930s, but, happy to say, even though Disney had their problems with older cartoons (namely, some were extremely racist), they still didn't support the idea of sexualizing a cartoon character meant for children. Case-in-point: The original sketch for Disney's Snow White has been revealed by the artist's family, along with the story that artist Grim Natwick first designed Snow White's original look in the '30s, but was told to redesign the character to appear more wholesome.
The original image, while pretty tame as far as everything goes (though, I guess in the '30s, showing some ankle and leg was scandalous?), depicted Snow White looking extremely similar to Betty Boop, and for an understandable reason: Disney actually hired the same artists who designed Betty Boop for Snow White. From The Daily Mail :
'Walt Disney hired the artists who did Betty Boop and their early version of Snow White resembled Betty Boop, such as the way she held her skirt up.
'This was not the image Disney wanted for Snow White and he killed this version.
'He thought Snow White ought to be wholesome and rooted in innocence rather than be sexy.
'The artists toned her down, got rid of the pouting lips and eyelashes and put her in a peasant dress and clogs.'
And here's the image in question that was trashed:
Considering the cartoon was marketed to children and this look was considered scandalous for the time, it makes sense that Walt Disney wanted to scrap it — even if the photo is, you know, hilariously not sexy for 2014. Hyper-sexualization of female characters in cartoons and comics is still a huge problem in this (male-dominated) industry, so, even back then, it was a step in the right direction.
The early Snow White image is being sold by the artist's family, so I guess if you're really, really, rich and into rare memorabilia, you can consider buying it through RR Auctions here.
Image: Disney