7 Happy Thoughts to Get You Through 'If I Stay'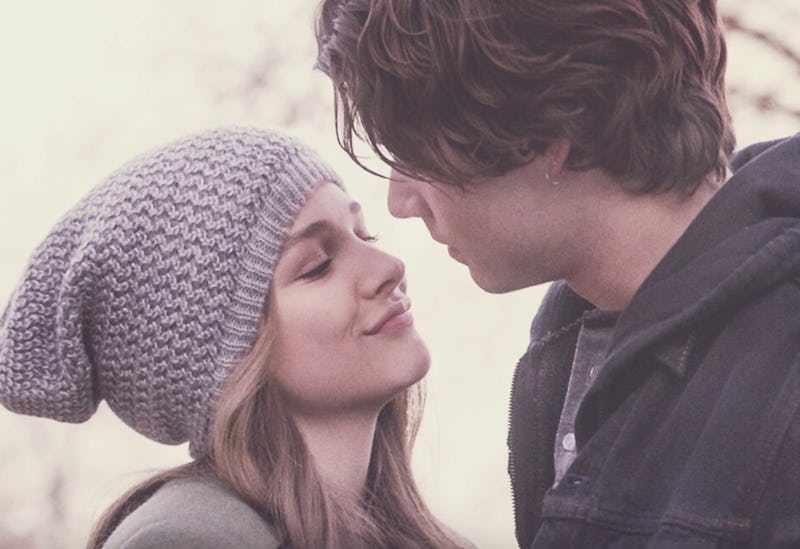 If I Stay hits theaters on August 22 and everyone is bracing themselves for the pain. It's a lot like the way we had to brace ourselves for The Fault in Our Stars making us cry, but ten times worse. At least The Fault in Our Stars had humor mixed in. If I Stay's trailers make it seem like a sob fest from start to finish. In fact, I'm about 99% sure that most of us won't recover emotionally from watching this movie for years and years to come. And just when you thought you'd gotten over The Fault in Our Stars.
However, there is a way that you can watch If I Stay without feeling like you're about to drown in a pool of your own tears. It's difficult, but it's possible. All you have to do is hold on to some happy thoughts when you take your seat in the theater, pleasant little facts that you can distract yourself with even as If I Stay is reaching into your chest and squeezing your heart to bits. The movie will still be really depressing, but it might not be the kind of depressing that will have you glued to your seat until the ushers wave you out the door so they can clean.
So, if you're watching If I Stay, keep these seven things in mind to avoid sobbing internally or externally.
1. Chloe Grace Moretz isn't really playing the cello.
As Moretz revealed on Chelsea Lately, she's not actually the one playing the cello in the film. She tried to learn how to play, but she couldn't get up to the expert level that Mia is at in time for filming. Thus Moretz is just trying to keep her head perfectly still while some other girl plays the cello and the film editors spliced her head onto that other girl's body. If you don't find that at least a little funny, remember what Harry Potter is like without green screen and movie magic.
2. It's only about two hours long.
Even when you feel like your heart is being ripped out of your chest and stomped on, when you can't see the screen through your tears anymore, and your friends are inching away from you because they can't hear the movie over your sobbing, it will all be over in an hour and 46 minutes. Then the healing can begin.
3. You can always watch something else after this.
You'll be in a movie theater with plenty of other, happier movies you can sneak into. I mean, pay to watch. (No, seriously, pay for it.) Or just go home and jump on Netflix and find a funny movie in which no one gets into a car accident and has to choose between living or dying. There are tons of movies like that. You'll literally never run out of movies to watch that aren't If I Stay to cheer you up after watching If I Stay.
4. There's a happy ending.
The happy ending is the part when the movie is over and you realized you survived that emotional massacre. I refuse to spoil the actual end of the movie.
5. Jamie Blackley has a British accent.
Blackley doesn't make use of it in the movie, but he does have the accent going for him in real life. These days, whenever I hear a British accent, I imagine One Direction is talking to me. Imagine any of the five boys standing where Adam is standing — or all five of them at once — and suddenly whatever scene you're watching just got a lot less depressing, didn't it?
6. It even made the cast cry.
Moretz spoke on Twitter about how she would go home crying sometimes after filming scenes from the movie. Something about knowing that even the actors, who got to see all the behind-the-scenes stuff of the film, couldn't stop bawling their eyes out should make you feel a little less alone.
7. Hit Girl is trying to get to Juilliard.
Enough said.
Image: IfIStay; smeagoled, l-o-t-r, gifpeanutbutter, gemini-dragon-gifs, dileyhelps, child-actor-gifs; heyitsnatyjonas1d/Deviantart