He's Cashing In on His Social Media Following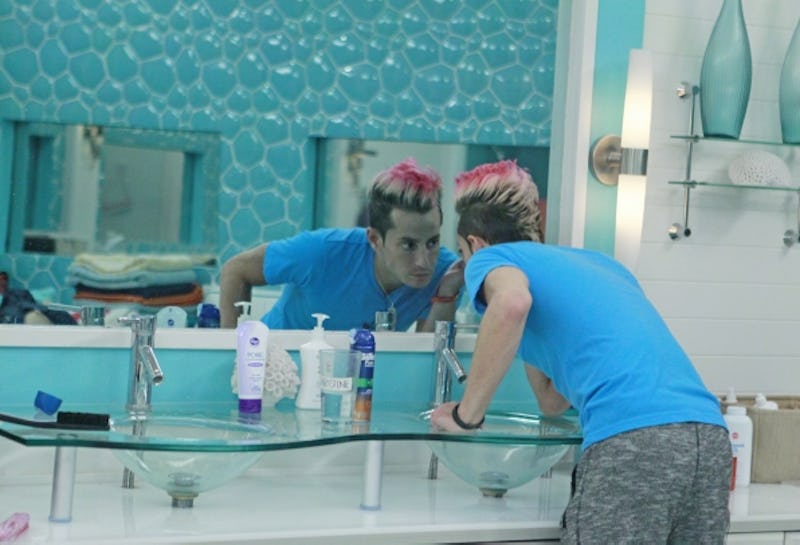 Now that the cat is out of the bag, and all of the houseguests know that Big Brother's Frankie is Ariana Grande's own big brother, it was only a matter of time before Frankie used his social media pull for his own benefit. In Wednesday's episode, we saw Team America put on a play (yes, a play) to win America's vote as a successful mission. Donny wanted to use the make-your-own-mission to save himself, which Frankie basically said "absolutely not" to. But because America has to vote "yes, they should be awarded the money" or "no, that was not a mission," Frankie decided to use the power of social media to help his (and Derrick and Donny's) cause.
On Wednesday night, Frankie made a plea to viewers that if they voted "yes" on the mission, he would follow them back on Twitter. To me, that sounds kind of like a bribe. Look, I don't care that Frankie had an unfair advantage of getting on to Team America, but I do think it is extremely unfair that Frankie is using his power of influence to win him (and the rest of Team America) money. Take a look.
Without getting too elementary school Language Arts on you, the definition of a bribe is as follows: persuade (someone) to act in one's favor... by a gift of money or other inducement. Check and Check. Frankie is doing both persuading, and offering a gift if his fans do as he asks. Suddenly, Team America doesn't really act as America's team, but instead, it acts as Frankie's team. And people are doing just as Frankie has asked of them.
I personally thought that the play was a terrible mission. While Team America executed it to the fullest extent, it was not a mission that was worthy of Team America, and definitely not a mission worth $15,000. Missions for Team America are supposed to affect the game in some way. Team America is meant to allow fans to have a hand in the house and help make decisions. Putting on a play does not allow America to exercise that right.
Will Frankie's bribe to America work in Team America's advantage? I don't know if it should even be allowed to count now that he used that as a voting mechanism. Unfortunately, if his bribe does work, he will be rewarded for abusing his social media presence in the house. Then again, at least Derrick and Donny will also get paid for their "work" in the play.
CBS, I will FOLLOW you on Twitter if you veto this mission. I promise, just take a screenshot.
Images: Lisette M. Azar/CBS