7 Tips That Will Save You From Bacne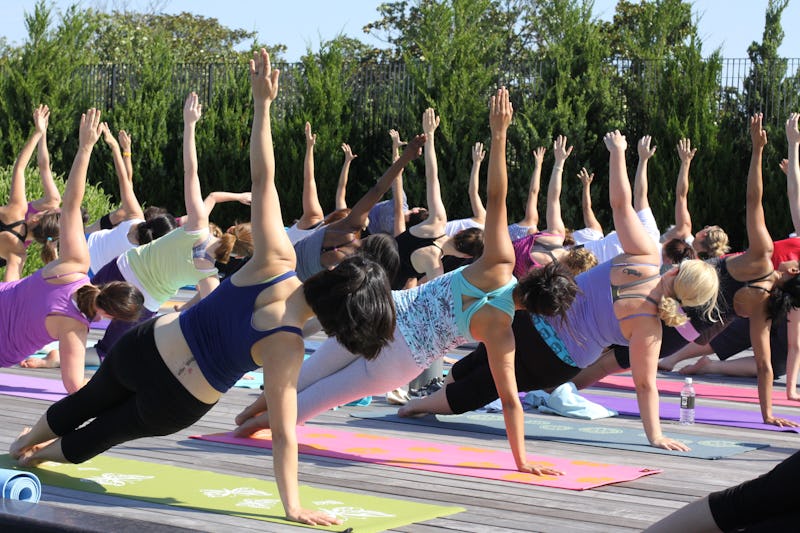 Come in and sit down, this is a safe space. Everybody relaxed? Because we're going to talk about "bacne." Yep, those ugly and embarrassing breakouts that happen south of your face, hitting your chest, shoulders, butt, and back.
There's no judgment here. It happens to the best of us.
"It's summer and everyone's traveling and sweating from the humidity – we're more prone to getting it at these times," says NYC dermatologist Dr. Whitney Bowe. But don't retire your tank top just yet — she has some great advice for kicking it.
Wipe Down After Exercising
During summer, Dr. Bowe often sees on her patients with acne around their shoulders and chest. "It's a phenomenon called acne mechanica and it occurs when there is friction against the skin," she says. "The rubbing physically blocks the pores, causing a clog and leading to a breakout." This can come from your sports bra, a helmet or even your swimming goggles. She recommends using skin wipes to touch yourself up after working out, if you can't get to a shower in time.
"Use a wipe that contains salicylic or glycolic acid. They're great for chemically dissolving the sticky cement that holds the cells together in the pores." Bottom line: They'll exfoliate your body blemishes away.
Neutrogena Acne Stress Control Pads, $6.62, amazon.com
Bring Your Own Soap When Travelling
Bacne tends to strike this time of year when we're taking our summer vacation, Dr. Bowe says. "Traveling is a big cause of body acne — you might use a different soap in your hotel which can be irritating on your skin," she says. A harsh soap on the skin will dry it out, and in an ironic move, causes your skin to protect itself by creating more oil. "Always travel with your own mini soaps or regular body wash to avoid using hotel products."
Water Lily Mini Bath Soap, $8.53, amazon.com
Try a Scrunchie
Letting your hair dry naturally gets you an A+ from your hairstylist, but it could be the cause of your bacne woes. "People will use a leave in conditioner and then leave their wet hair just lying on their back," Dr. Bowe says. "Dampness makes the hair product penetrate the skin faster and cause breakouts." Wrap your hair up into a loose bun or clip it up to avoid conditioner breakouts.
Alligator Hair Clip, $2.19, amazon.com
Shower Smarter
If you're already seeing the effects of body blemishes, Dr. Bowe recommends switching up your soap or body wash to an over-the-counter body cleanser. "Products that contain salicylic acid and exfoliating microbeads can be really helpful [in treating the problem]," she says.
Murad Acne Body Wash, $25.10, amazon.com
Try A Back Massage
If that doesn't help, go for the next step and try a body-cleansing device like a Clarisonic (with a brush you only use on your body). "That's a really great way to get a deep cleanse on the shoulders, chest, and back," says Dr. Bowe.
Clarisonic Mia 2 Sonic Skin Cleansing System in Lavender, $149, amazon.com
Bump It Up to Prescription Level
Those with a severe bacne case can visit their dermatologist for a prescription-level benzoyl peroxide solution. "Apply the benzoyl peroxide foam two minutes before your shower and then rinse off for great results," Dr. Bowe says. It is possible to get over-the-counter benzoyl peroxide products, however, recurring cases will require prescription strength.
PanOxyl 10 Percent Foaming Wash, $10, amazon.com
If It's an Emergency
So you've got an event tomorrow, and your back is covered in bumps. Visit your dermatologist — stat. "Chemical peels or a light treatments such as Theraclear, which uses a vacuum to unclog the pores and shine a broad spectrum light on the skin can get things under control really quickly," Dr. Bowe says.
From long-term prevention to last-minute fixes, these tips should help you keep your back and shoulders clear in any season.
Image: Gammaman/Flickr