Proof Donny Will Be America's Player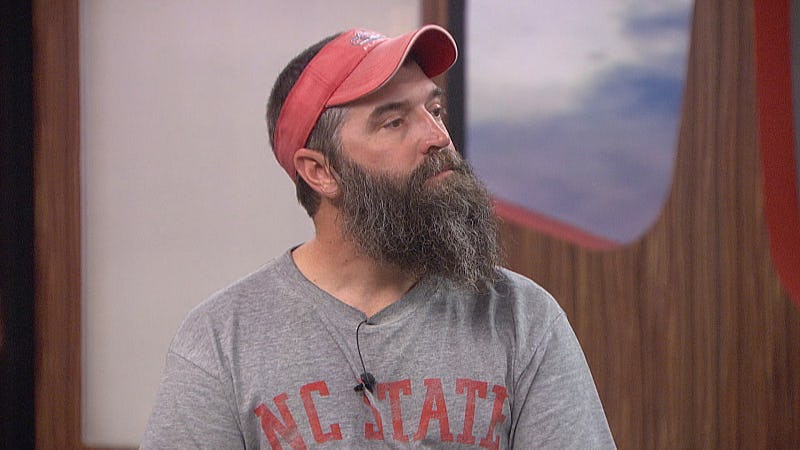 It's really not that much of a surprise, is it? Following this week's Team America mission — in which our three houseguests, Donny, Frankie, and Derrick got to choose their own mission — viewers got the chance to vote whether or not the trio actually executed their mission. And since Frankie opted to perform a play for viewers, instead of following through with Donny's suggestion that they save a member of Team America (translation: him), America decided not to deliver $5,000 to each member. Because, unfortunately for Frankie, America loves Donny. And, apparently, America is not so keen on Frankie, despite his famous connection to sister Ariana Grande. In fact, they were so not into Frankie's play, that America voted an "overwhelming hashtag no" to their mission, according to host Julie Chen.
So what does that mean? Not only does Team America not get $5,000, but Derrick will, as he mentioned, hold Frankie responsible for their failure to score the cash. And, on top of that, that means Donny is poised to win America's player. (And that on top of a cast member on Bold and the Beautiful, as Julie revealed during the episode? Can you say hashtag win?)
The reward wasn't always set in stone for the houseguest — after all, he is stacked against Frankie Grande, the self-proclaimed social media mogul who also happens to be the brother of another individual with plenty of followers, "Bang Bang" singer Ariana Grande. And the fact that Donny was voted out Thursday night works against him — fewer time on air makes it more difficult for him to lock in votes from viewers at the end of the season. Still, his inherent likability sets him up for the season's second-best prize. Even Donny noted it himself during his exit interview with Julie:
Maybe likability is not that good in this game. Everyone that's came out this door, the majority of them has loved me.
Not that you could tell Frankie was concerned. After Big Brother told Team America they would have to respond "Apple Pie" to Julie's question as to what they would like to eat as a Have-Not (if she answered "yes," it would be an indication that they won $5,000), Frankie fielded the question from our venerable host. And, once he received the "overwhelming no" answer, he didn't appear at all fazed.
But he should fear the beard. Because, while the houseguests continue to rip on the groundskeeper, Donny has built up a strong following in the Big Brother universe. Not to mention the fact that Frankie's bribe — telling viewers he will personally follow them on Twitter should they vote "yes" — wasn't even enough to secure him the win. Donny, unlike the rest of this year's cast, is likable, plain and simple, and likability carries you a lot further than Twitter followers.
So, sorry, Frankie — you shouldn't have turned your back on Zach, and you definitely shouldn't have turned your back on your own Team America alliance member. Because, now, you've only secured the inevitable: Donny might be out of the house, but the man's most definitely going to win America's Player.
Image: Screengrab/CBS