This Fox Reality Show Has High Hopes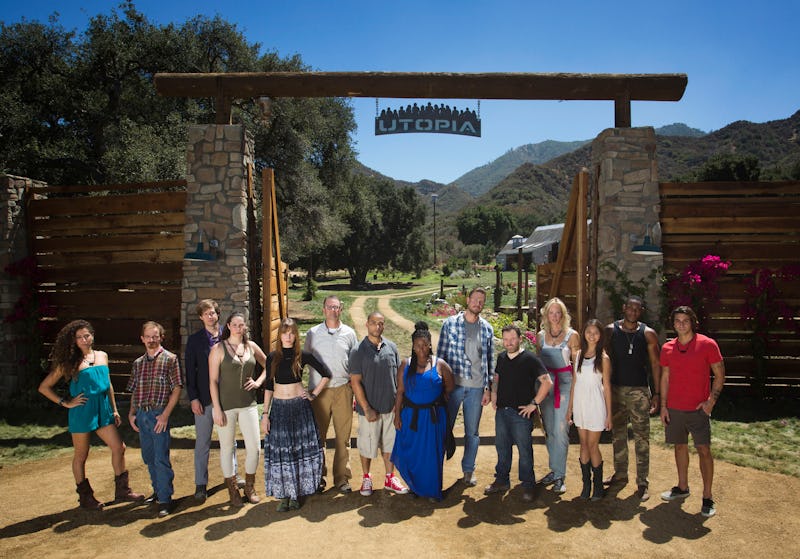 "If you could restart the world, what would you do differently?" That's the question behind FOX's new reality series, Utopia , premiering this Sunday, September 7. But exactly is Utopia? Turns out it's an experimental reality program that's half-Big Brother, half-Survivor, with a dash of Lord Of The Flies thrown in for good measure.
Based on a hit Dutch TV show, Utopia involves fourteen strangers, ranging in age from 20 to 44, who have been dropped off in the wilderness and tasked with forming the perfect society from scratch. According to the show's website, the players' occupations range from "Attorney" to "Doomsday Prepper," from "Belly Dancer" to just plain "Unemployed." The 3-acre compound where they're based is located just outside Santa Clarita, California. It provides no electricity, no running water, no plumbing, and no food. Anything and everything the players want must be farmed, gathered, or built from scratch.
FOX has made it very clear that, unlike Big Brother and Survivor, Utopia is decidedly not a competition. There will be no winner. There's no prize for lasting the longest. Those involved are participants, not contestants. Participants can be voted off the show, but only because they've been deemed "dispensable," not as a way of culling the herd; any players kicked off will be immediately replaced by an ongoing casting call for new participants. This lack of competition makes Utopia "reality TV in its truest form," at least according to FOX. The only goal of Utopia is for the players to survive completely on their own for one year. That's right: supposedly, the show will run uninterrupted for 365 days while viewers watch as a newborn society slowly takes shape.
At least, that was the plan. Utopia has already been met with some setbacks. On just day five of the experiment, 25-year-old participant Hex had to be hospitalized for severe dehydration. She has since returned to the show, but she's unlikely to be the last player to encounter health risks. Another problem arose even earlier in the show's run when it was discovered that another player, Andrea, had snuck in a smart phone and was researching her fellow participants. She was promptly kicked out of Utopia. Player Amanda was revealed to be pregnant (will she be forced to give birth in the wilderness?); player Josh has already been accused by several women of sexual harassment. With so many unforeseen obstacles cropping up before the experiment even completes Week 1, what are the chances the show will last for 52 of them?
This Sunday's episode is the first hour in a three-part premiere, which will continue on Tuesday, Sept. 9 and Friday, Sept. 12 — the show will air twice a week from then on (every Tuesday and Friday). But if you hate feeling tied down by a didactic network schedule, fret not: the show also airs live 24/7 online via hidden cameras placed all through the compound. In fact, once the first episode airs this Sunday, the program will already have been running for ten days, which means you can head to the show's website now to see everything you've already missed.
Images: Adam Rose/FOX (2)