Tilbury's Coveted UK Makeup Line Makes US Debut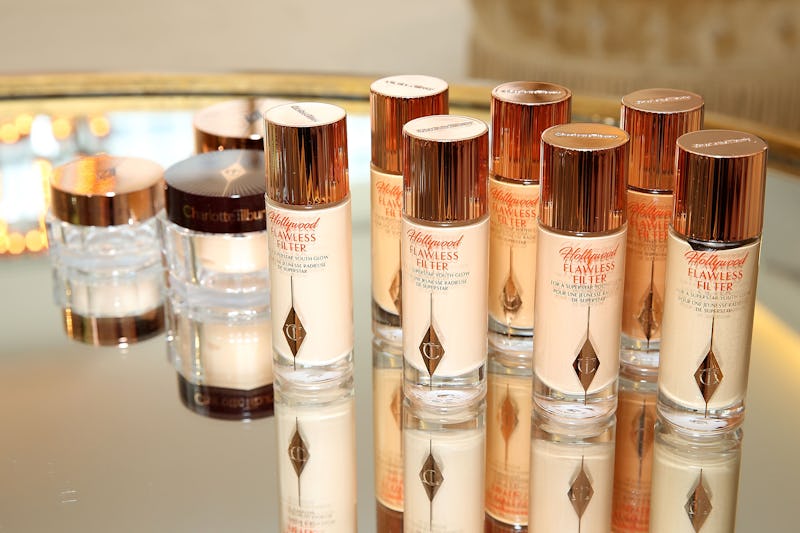 Robin Marchant/Getty Images Entertainment/Getty Images
Just two weeks ago, we were anxiously awaiting Charlotte Tilbury's makeup and skincare line to make it's US debut. And now, is that… Could it possibly be? Yes… Yes, it is! Charlotte Tilbury has finally hit US soil! Now, excuse me as I greet the long-anticipated UK makeup line and say goodbye to all the money in my wallet.
Throughout her celebrated career as a makeup artist, Tilbury has painted the iconic faces of Kate Moss and Victoria Beckham and along the way, she has been toting out her home-made Magic Cream to her celebrity clients. Fast forward to a year ago, and she launched her own makeup and skincare line, with 10 complete looks that have become signatures of Tilbury, such as the Kate Moss Rock Chick look, the Penelope Cruz Dolce Vita, and Gisele Golden Goddess. Tilbury credits her career to her first foray into makeup at the precocious age of 13 and the emotional realization of the confidence and empowerment makeup can bring.
I believe that makeup has the power to transform not only your face, but also your confidence and state of mind. It ultimately empowers you to control your own destiny. That's another phrase I say all the time: 'Makeup Your Destiny.'
Feel free to hoard all 10 looks (seriously, I won't judge) but in a Forbes interview, Tilbury recommended some of her must-haves from the line. Don't know about you, but I'm trusting the legendary makeup artist on this one…
Among Tilbury's recommendations include, of course, the coveted Charlotte's Magic Cream ($95), a mythical (and patented!) blend of anti-aging ingredients, hyaluronic acid boosters, and floral extracts. "It's flying off the shelves in the UK and the waiting list in the US is already in the thousands," says Tilbury.
Her Feline Flick Quick Fine Line Shodō Pen ($29) for that flawless cat eye.
Tilbury's Wonderglow Instant Soft-Focus Beauty Flash ($52), that she's promising is "literally Gisele-in-a-jar."
And the revolutionary Supermodel Body ($65), which Tilbury uses on the lingerie runway to create slimmer and longer limbs. Am I Victoria's Secret model, yet?!
Images: CharlotteTilbury.us.com