Betty Who's New Music Video Is Perfect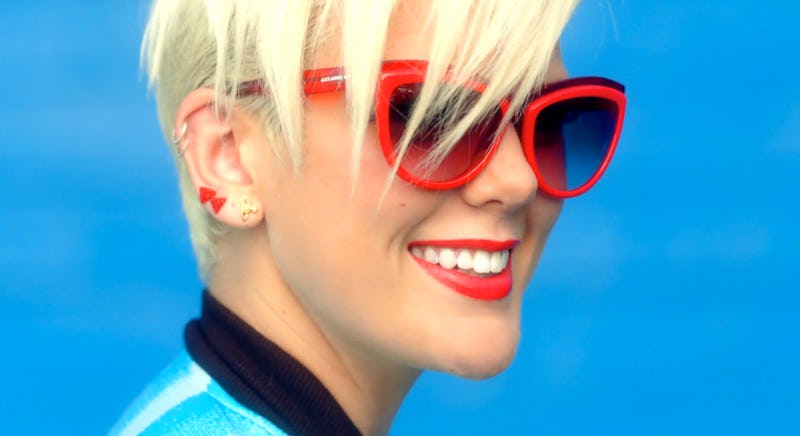 On Thursday, blossoming pop star Betty Who premiered a brand new music video for her debut single, "Somebody Loves You," on BuzzFeed, and I'm hoping that it will give the song the push it needs to finally become a hit. If you're not sure who Betty Who is yet, here's everything you need to know: She's a ridiculously talented 22-year-old singer-songwriter from Australia and her music is freakin' awesome. Betty's already put out two glorious EPs, and her first full-length album, Take Me When You Go , will be released via RCA Records on Oct. 7 (so if you've been sleepin' on Betty, you still have some time to get with the program!). Her unique brand of pop music is characterized by catchy hooks, big melodies, and soaring vocals. I think that just about covers it!
Betty's actually been performing "Somebody Loves You" live for a while now. In fact, the original music video for the song premiered way back in Jan. 2013 — so why did Betty decide to release a new one now? She explained her reasoning in an email to BuzzFeed:
"Somebody Loves You" has been in my life for so long that I wanted to start fresh in some way and make it new and exciting for myself and everyone who's been a fan of the song since it came out. I wanted to make a video that captures the energy of the message of the song, which is about having fun, being joyful, and loving yourself, as well as falling in and out of love with other people.
The concept for the new music video is pretty simple — it's just Betty lookin' all happy and fabulous, dancing in the street with a bunch of colorfully dressed pals (including Glee's Kevin McHale) — but it's perfect. Honestly, it's just such a joy to watch. Check out the vibrant new music video for "Somebody Loves You" below.
Despite how long the song's been around, BuzzFeed reports that "Somebody Loves You" is in fact the lead single from Betty's upcoming debut album, so I hope that this new music video will be able to drum up some increased interest in the track. In my humble opinion, "Somebody Loves You" is the definitive feel-good anthem of the past several years, and I just think that Betty deserves all of the success in the world. All I want is to hear "Somebody Loves You" on the radio approximately 1,285,691 times a day. Is that so much to ask?
Betty's debut album, Take Me When You Go , is available for pre-order on iTunes now.
Image: Betty Who/VEVO