Derrick Is Very Worried About a Mysterious Photo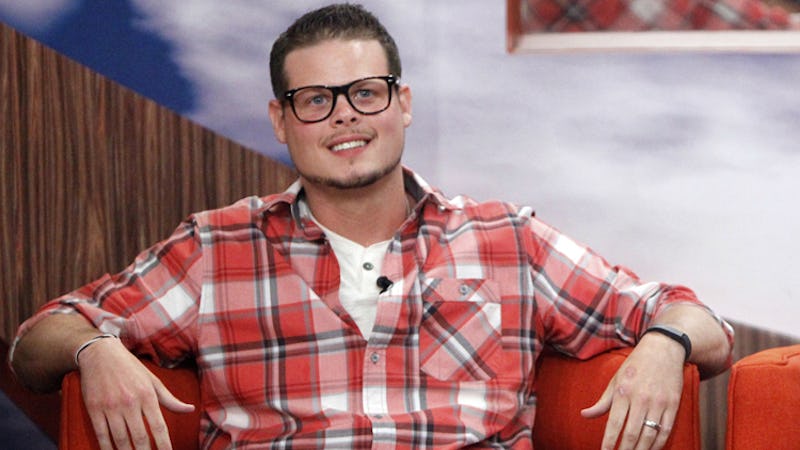 Double evictions on Big Brother move quick — so quick that the Head of Household only keeps that title for about 30 minutes and doesn't really get to enjoy the luxuries of being HOH. That was the case for Derrick on Thursday's double eviction episode of Big Brother. The houseguests competed in Head of Household, had nominations, played Veto, and evicted Christine all in a matter of an hour, which means at the end of that hour, Derrick was no longer HOH. But just because he doesn't get to sleep in the HOH suite for the week, doesn't mean that he goes without getting his HOH basket and letter from his family. But Derrick's HOH basket ended up causing quite a stir in the Big Brother house, and we don't know exactly why. What we do know is that When Derrick saw a picture that Big Brother had provided for him — every houseguest gets a few photos — he immediately started to freak out, clearly throwing him off his very organized and strategic game so far.
Unfortunately, the cameras were not on the photo, so we don't know what exactly it was, but Cody, who was in the storage room with Derrick, did see the photo and his reaction really makes me wonder what the photo could've shown.
Here's how the whole thing went down:
Cody: Is that your brother? Wait, why would I say is that was your brother?
Derrick: No, no...
Cody: That's your daughter with who?
Derrick: Hold on one second, I have to try and think about something. I almost want to... Damn. Not the best picture to show.
Derrick immediately brought the photo to the Diary Room and gave it back to production. When Derrick came back, the houseguests asked what was wrong with the photo.
Caleb and Victoria took this as the photo quality was bad, and the picture was grainy. Derrick didn't say whether or not that was the real reason. Meanwhile, Cody sat silent.
When Derrick was called back into the Diary Room, Frankie asked Cody what the deal was.
And I kid you not, the feeds cut right there. What is Big Brother hiding by not letting us know what the issue with the picture was? It leads me to assume it has something to do with Derrick's job as a cop, since all of the houseguests still believe that he's a parks and recreation coordinator. Here are a few guesses as to what the photo actually was.
Derrick in a cop uniform holding his daughter (but why would this be sent in?)
Derrick holding his daughter, who's wearing a cop hat or something else related to him being a police officer
Derrick's daughter and another cop, who is undercover or shouldn't be shown on TV for some other reason
While these are all guesses, we know that the photo definitely wasn't "the best picture to show" because of the graininess. So what gives Big Brother? Are we ever going to find out what the picture was that made Derrick freak out? It seems weird that any photo that went into the house would cause any controversy since production is so careful about things. Could this be Big Brother trying to sabotage Derrick's game?
Images: CBS (3)