'Boardwalk's Bringing Margaret To Center Stage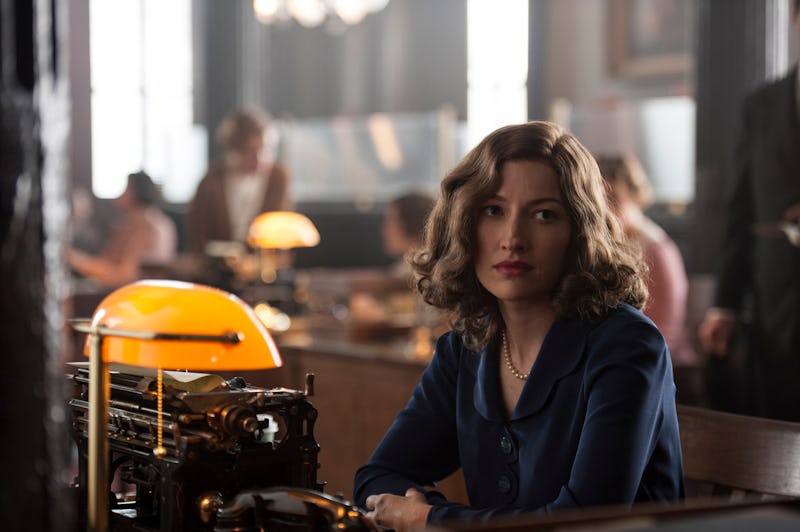 Sure, it's Nucky's farewell, but that doesn't mean the women of Boardwalk Empire shouldn't get what they deserve — particularly Margaret Schroeder, formerly Thompson. And it looks like Boardwalk Empire Season 5's premiere is setting fans up for a season full of What Will Margaret Thompson Do? I've always been a fan of Margaret, so when Boardwalk started to beef up her post-divorce storyline in Season 4, I pleasantly surprised. Not that I ever thought Margaret would disappear completely after she told Nucky where to shove it. She had too much potential to be a great, strong female character on her own, which is something the HBO series has consistently lacked.
Last season fans watched Margaret struggle to make ends meet for her children after leaving Nucky and refusing to take any of his money. Which didn't surprise me one bit — Margaret does what she has to and she's got morals, she's not going to live large on Nucky's illegal funds just because it'll make life easier. She got a job and, yes, she linked up with Arnold Rothstein, but she didn't take any hand outs. She worked for those new digs and earned them fair and square — well, not really fair because insider-trading was involved but still, she did work.
My only issue with Margaret on Boardwalk has been the fact that she's consistently been reduced to a minor player in Nucky's storyline when she really had so much more to give. The Boardwalk Season 5 premiere checked in with three of the series major players — Nucky, obviously; Chalky White; and Lucky Luciano — which was something to be expected, as it was setting up the finale season. But it also checked in on Margaret and her new role now at her office now that her boss is dead, which can only mean one thing — Margaret Schroeder has climbed the ranks and she's a character to watch this season.
And that makes perfect sense when we look at where Boardwalk is in history and how Margaret's alliance with Rothstein has set her up for something big, good or bad. In real life, Rothstein's death occurred years before the point where Boardwalk originally started. So, with Season 5 assuring us that a major body count in imminent, one of Nucky's original business partners is absolutely on the chopping block. Especially now that he's gotten so close to Margaret since her move to New York. I mean, you saw what happened to her boss tonight and what happened with Chalky's chain-gang — dead bodies will be everywhere this season.
If Boardwalk kills of Rothstein (I'm betting they will), it makes sense for the series to keep an eye on Margaret. As of right now, her and her children's home hangs in the balance of Rothstein's life and her arrangement with him. His death would be huge for her either in creating opportunity or forcing her to move further towards the dark side.
The premiere spent significant time, through flashbacks, establishing how and why Nucky Thompson became an Atlantic City kingpin. And, being that Season 5 is the final season, that's exactly what fans should be expecting. So, for an episode as important as a premiere in establishing the trajectory of the season to check in on Margaret's storyline is huge for her character and for women on Boardwalk. Margaret will be as important to Season 5 and the key male roles of the series and that only means great things.
Images: Macall B. Polay/HBO; Giphy