Their Engagement Was So Beautiful It Made Us Cry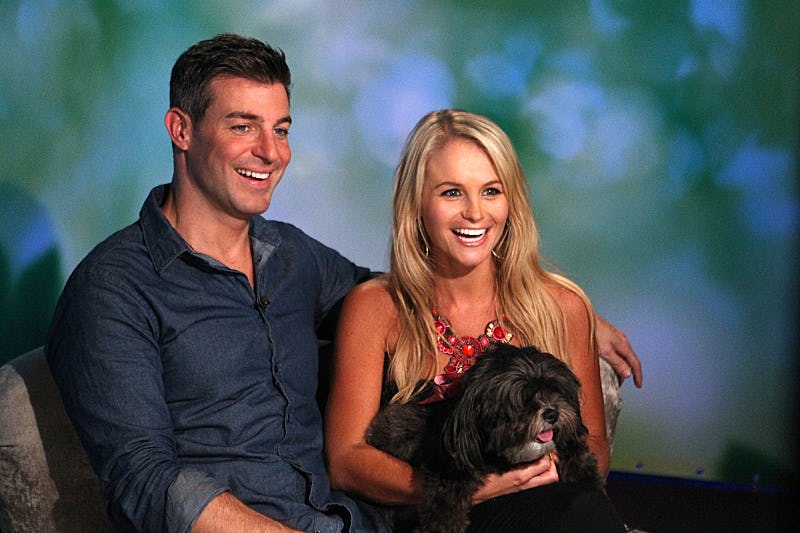 I don't often get emotional about Big Brother , but what happened during Sunday night's episode may have made me a little teary-eyed. What was the poignant moment, you ask? As you may have already heard if you're a fan of the show, Big Brother fan favorites Jeff and Jordan got engaged and all was right with the world. During Thursday night's double eviction episode, host Julie Chen informed us that everyone's favorite Big Brother showmance would be returning to the house. Then came days of no sleep due to excitement and curiosity over why these two lovebirds, who met and fell in love during Season 11 of Big Brother, would be making another appearance on the show.
Since Jeff and Jordan still do special projects, like interviews and such, for Big Brother, I didn't look too much into it. A possible engagement didn't even cross my mind. Sure, I knew that they still hadn't crossed this milestone in their relationship just yet, and Jordan had often hinted that she wanted Jeff to put a ring on it, but for some reason, I thought they would just be returning to host a special luxury competition for the houseguests. I'm glad I was so, so wrong.
Jordan was also under the impression that she was on Big Brother to host a luxury competition. The two went into a very romantic-looking backyard of the Big Brother house alone, not without first throwing some shade at the houseguests for their messy abode. Then Jeff got down on one knee and proposed, sounding a little choked up. Oh, it's finally happening. The moment we had all been waiting for since these two met in the house has happened. I'm not crying, you're crying.
Then came a bunch of surprises for Jordan, such as her dog, her and Jeff's loved ones, and the houseguests bringing out some cake and champagne to celebrate. And oh yeah, country singer Brett Eldredge, who's biggest fan is apparently Caleb. He sang a lovely little ditty as everyone watched clips from when Jeff and Jordan competed on Big Brother and some Instagram-looking photos of the couple. Frankie was crying and Cody may have been too. I couldn't stop smiling, and now my face hurts. Thanks, Big Brother.
Ah, it's so nice when things come full circle, isn't it? Jeff and Jordan met on Big Brother, grew up on Big Brother, and now just got engaged on Big Brother. If it were any other reality TV couple, I would have thought this kind of proposal was incredibly tacky, but with Jeff and Jordan, there's no such thing. Congratulations, you two, and here's hoping your babies will be on Big Brother 41.
Image: Lisette M. Azar/CBS