How Did This Supernatural Couple Meet?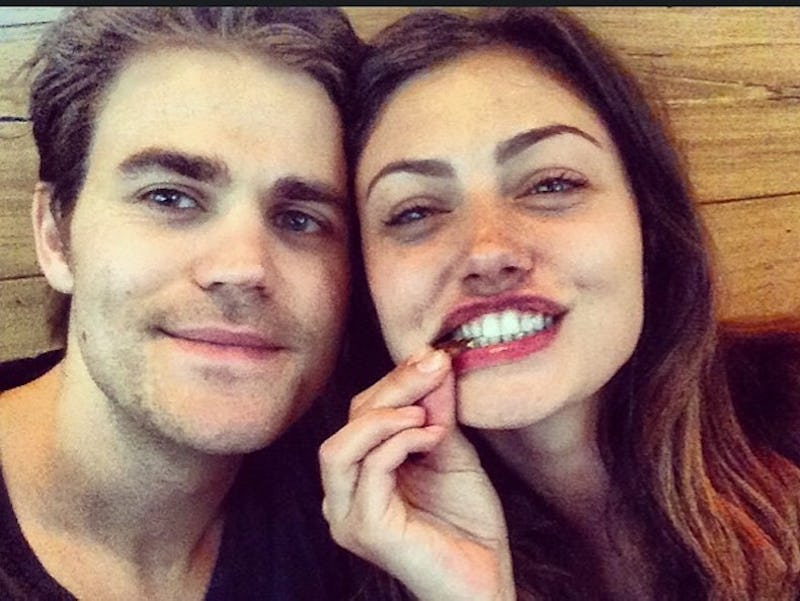 Something must be in the water in good ol' Mystic Falls. Sure, there's more mythical creatures roaming around than in a Shrek movie, but more importantly there's a whole lot of romance brewing. Not only has The Vampire Diaries produced the steamiest fictional relationships The CW has seen to date (oh yeah, you've seen those love scenes, I've seen those love scenes, we've all seen those love scenes), the show has done pretty well with setting up some real life relationships as well. Even though they aren't together anymore, Ian Somerhalder and Nina Dobrev fell victim to the Vampire Diaries' love spell, and so have Paul Wesley and Phoebe Tonkin. The couple reportedly began dating in July 2013 and, lucky for them, they're still going strong.
I guess that's just what happens when you throw a bunch of superhumanly beautiful people on a set together. Can you blame them, really? So yeah, these two can thank the greater gods of The CW (or maybe just, like, their match-making casting director) for uniting them in holy Hollywood coupledom. According to HollywoodLife, "The couple met on the set of The Vampire Diaries" when Tonkin first appeared on the show Oct. 25, 2012.
If you're a die hard CW or Vampire Diaries fan, you already know that despite starting out on TVD, Tonkin is now a cast member on it's spin-off, The Originals. But just because she and Wesley aren't on the same show anymore doesn't mean their relationship is any less special. Have you ever worked with a significant other? It doesn't always go over so well, so the job separation may have been for the best for the two smitten actors.
Especially because the two aren't showy about their love lives (except for that cat walking incident) and keeping their work and relationship separate probably helps them to be better about keeping things on the D.L. No trailer or lunch break rendezvous, ya know? But, in recent months, the two sleuths seem to be coming out of their romantic shells just a little bit. Case in point, they were caught cuddling up at the U.S. Open and have even gotten bolder on their Instagram accounts.
P.S. Who knew the U.S. Open was such a celeb infested event?
But back to Wesley and Tonkin. Their INSTAGRAMS guys. This is the major leagues.
Ignore the plastic fork, focus on the proximity of their faces.
They're both so good looking it actually hurts my eyes. Stop the selfie madness, guys. You're going to shut down Insta.
And this is a birthday post from Wesley to Tonkin. I MEAN...
Aww. Thanks, Vampire Diaries for making this cuteness happen.
Images: phoebejtonkin/Instagram; paulvedere/Instagram; Giphy