7 Adorable 'Dixie' Season 4 Cast Photos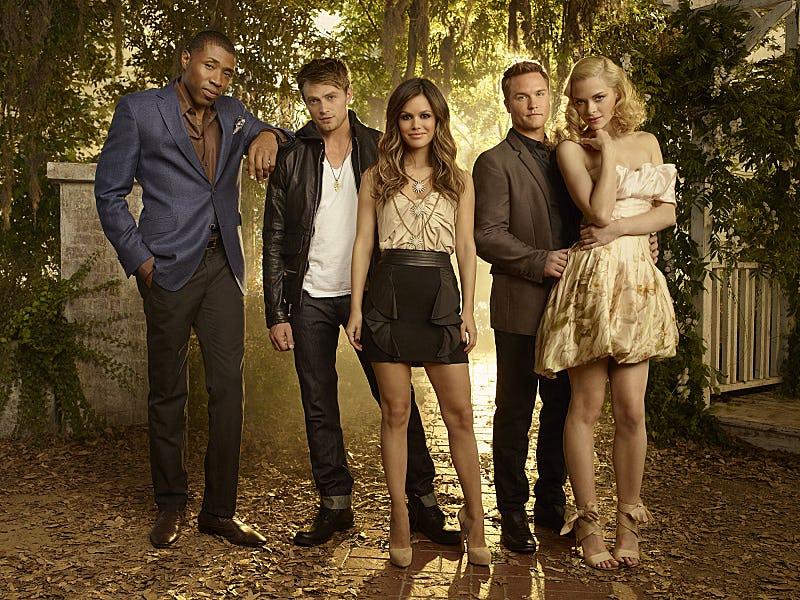 There's no place for love and friendship like Bluebell. The CW's been keeping a tight lid on all things Hart of Dixie Season 4 — including its midseason premiere date — but that hasn't stopped series stars Scott Porter and Jaime King from posting adorable cast photos on Instagram. Porter's Instagram is full of potential Hart of Dixie Season 4 spoilers and on Sept 6., Jaime King posted of a photo with pregnant costar Rachel Bilson and some of Dixie's crew on her account. I guess if we can't find out how exactly Hart of Dixie plans to include Bilson's pregnancy, we can just pretend to be BFFs with everyone in the cast through these photos.
That's a fair enough trade, right? As if we didn't already want to be friends with Zoe and Lemon so we could borrow from their incredible wardrobes. The Dixie cast seems to love hanging out with one another almost as much as we love watching them on The CW. Since Season 4 started filming, King and Porter have posted birthday videos and plenty of group photos of the cast swimming in the "swamp" on set and all crowded around Rachel Bilson (who's Instagram-less) following a table-read. They're adorable and they love each other.
And, thankfully, us Hart of Dixie fans have that love to get us through this extra long hiatus. So, if you were feeling sad about how long it'll be before Bluebell is back on your television, here are 7 adorable photos of the Hart of Dixie Season 4 cast to tide you over.
Bilson & King With The Crew
Sigh, family.
This Group Selfie
The cast who selfies together, stays together.
This Group Photo
How cute are y'all? I mean it.
This Jaime King Photobomb
Just amazing.
Lemon & George, New World Explorers
It takes a special bond to travel the unknown together.
These Three Amigos
#GuysNightIn.
George & Tom Sharing A Bike
Just your casual, adorable trust exercise.
Images: The CW, JaimeKing (3), skittishkid (4)/Instagram