The Best NYFW Nail Art From Spring/Summer 2015: It's Completely Pretty, And Surprisingly Simple To Copy This Season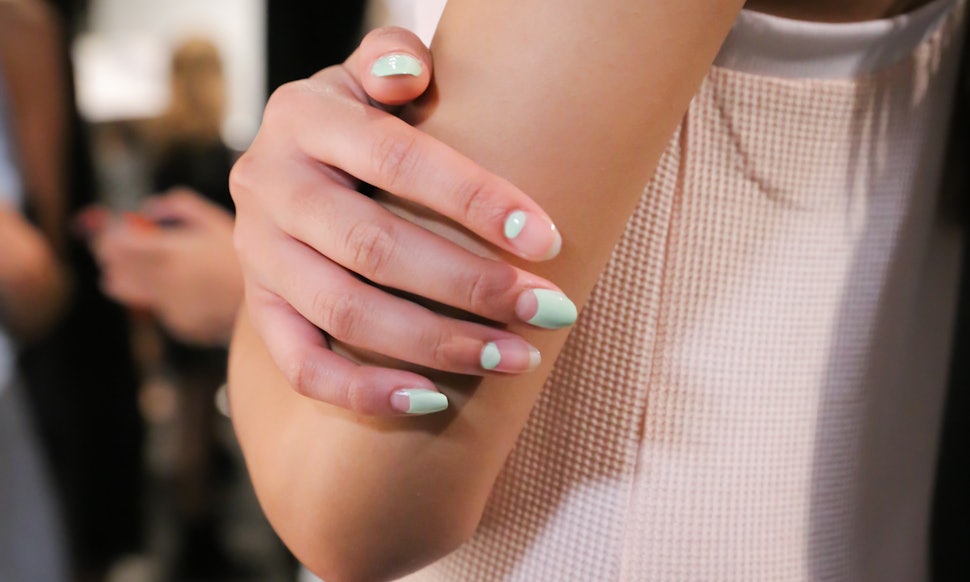 Remember when everyone was all freaking out that nail art was dead (see here, here and here)? I'm happy to report that they were all wrong. The decorative mani lives! And while it may not be as intricate or detailed as the ambitious looks from last year, they're just as pretty to look at and will effortlessly compliment all of your ensembles from now until summer. Think: less design-y and more chic and classic. The elegant, yet modern nail looks from this week's runways showcased softer, creamier colors (just as Pantone predicted) that still make a fashion statement, albeit a subdued one. Check out some of the best nail art trends from NYFW.
KAELEN
KISS and Broadway Nails' lead manicurist Gina Edwards created a minimalist, tropical '70s vibe for the models' nails at the KAELEN show.
Ann Yee
Inni created bold, linear nail designs showcasing crisp cobalt and white striped nail wraps to compliment the models' two toned lips.
Creatures of the Wind
The talented folks at butter LONDON channeled the idea of a mirage with this silver ombre fade for Creatures of the Wind.
Tadashi Shoji
The colors of Venice — glowing pastels of frosted jade, pink and blue — inspired butter LONDON's playful, yet chic look at Tadashi Shoji.
Meden
Models walked the runway wearing a white base with peachy coral horizontal lines accenting the top.
Meskita
Meskita's Spring/Summer 2015 collection was inspired by the dynasty of Egypt, which promoted Priti NYC to give the models a golden touch with textured metallic nails.
Image: Meskita/Instagram
Rebecca Minkoff
Nicole Miller
Butter LONDON created a bright, tropical, Copacabana beach inspired look for Nicole Miller's Spring/Summer 2015 collection, which was inspired by Brazil's art and culture.
Houghton
OPI created a light, feminine look with an unexpected edge on nails and toes for the Houghton runway. Nails were painted with Base Coat, two coats of Samoan Sand (a sheer nude color), then sealed with Matte Top Coat (a big trend for spring!) and finished with a few hand-placed Swarovski crystals.
Nanette Lepore
Essie created a gradient nail reminiscent of the ocean's waves crashing on the shore using blanc and mint candy apple. The look was a reflection of Nanette Lepore's Spring/Summer 2015 collection, which was hugely inspired by California and the south of France in the '60s.
Charlotte Ronson
OPI created a nail look showcasing negative space with alternating cutout half moon shapes to complement the collection's feminine color palette.
TIBI
JINsoon created a clean and modern textured nail with leatherette-inspired stitches on a crepe-colored base for TIBI's Spring/Summer 2015 show.
Lela Rose
Butter LONDON's simple, almost nude look was inspired by the clean and modern lines in Lela Rose's collection.
Milly
To keep the focus on Milly's bold and '80s-inspired collection, butter LONDON created a creamy, soft nail look.
Dion Lee
OPI partnered with Dion Lee to create a striking nail look that played with the idea of negative space, featuring a thick stripe of metallic along one side of each nail.
Sophie Theallet
Inspiried by Sophie Theallet's island-inspired collection, Essie created a negative space double French tip nail using fiji and turquoise and caicos.
PARKCHOONMOON
Priti NYC created an edgy black and white nail look complimenting PARKCHOONMOO's signature architectural and fluid style.
The Blonds
Bored of all the pale shades and negative space use? Here's a bold and detailled look from The Blonds that is anything but basic.
Libertine
The nails showcased at the Libertine show were a brilliant counterpart to the embellished and deconstructed pieces from the collection. Word to the wise: this is not a good idea for anyone who's day job requires typing on a keyboard.
Libertine
More incredible handmade nail art for the Libertine show. Wedding nails, anyone?
Delpozo
To complement Delpozo's colorful collection, essie created a coral negative space half-moon nail inspired by the rising spring sun.