11 of the Most Surprisingly Sappy Lyrics From Your Teenage Pop-Punk Phase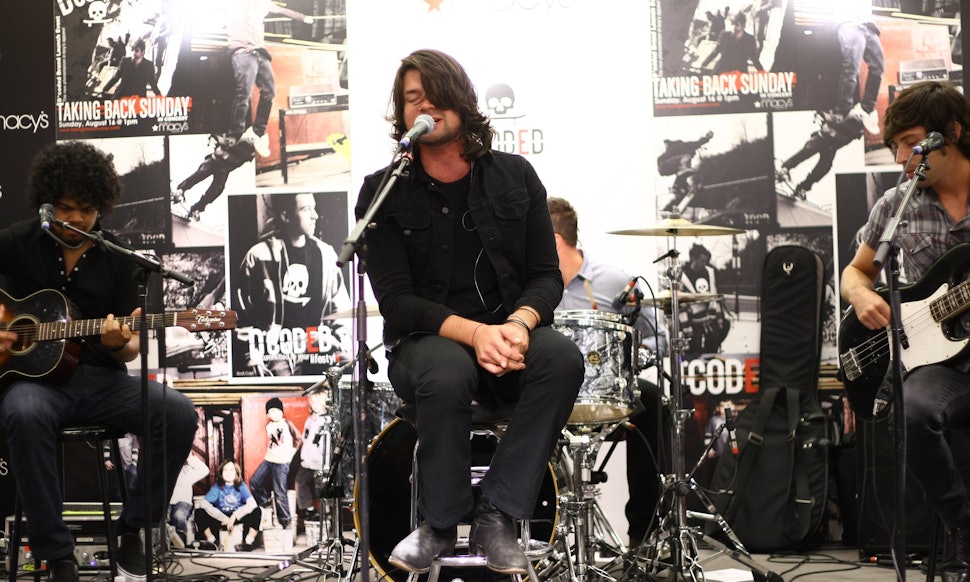 Neilson Barnard/Getty Images Entertainment/Getty Images
Ah, the late '90s and early '00s were such a glorious time for pop-punk and emo music. The long black hair covering everyone's brows. The black nail polish only on one finger. The black eyeliner. OK, there was a lot of black...
However, not everything about the genre was steeped in utter sadness. In fact, almost every emo album had at least one track that was the perfect ballad for the last track of your mixtape. Or better yet, the perfect slow song to play at the Punk Rock Prom at your local YMCA.
Here are some of the most lovey-dovey lyrics from the most heartbroken bands. Read 'em and weep.
Taking Back Sunday, "Ghost Man on Third"
"Jinx me something crazy. Thinking if it's three then I'm as smooth as the skin rolls across the small of your back "
Ah, the lyrics of awkward sexual awakenings.
Alkaline Trio, "Every Thug Needs a Lady"
"Kiss me once in the snow, I swear it never gets old. But I will promise you I can make it warmer next year. You know I came here when I needed your soft voice, I needed to hear something that sounded like an answer. Now I stay here, and everyday I get one."
A pop-punk song about STAYING in a relationship and not about one breaking up? Why I never…
Brand New, "Degausser"
"Well take me, take me back to your bed. I love you so much that it hurts my head."
Don't we all know the feeling(s).
Image: allie-rva/Tumblr
Saves the Day, "Freakish"
"Well here I am. I don't know how to say this. The only thing I know is awkward silence. Your eyelids close when you're around me to shut me out."
Just cut to the center of my bleeding heart, why don't you!
Cursive, "A Gentleman Caller"
"Whatever I said to make you think that love's the religion of the weak… This morning we love like weaklings. The worst is over."
Do, do, do, do, do, do do, do *sobs*
Image: Saddle Creek Records
The Starting Line, "Best of Me"
"The worst is over, you can have the best of me."
And now you just want someone who also wants the worst of you.
Image: simply-j0sh/Tumblr
Bright Eyes, "First Day of My Life"
"Yours is the first face that I saw. I think I was blind before I met you. Now I don't know where I am, I don't know where I've been, but I know where I want to go."
Every indie/hipster newlywed couple's first dance song since 2005.
Say Anything, "I Want to Know Your Plans"
"You're what keeps me believing the world's not gone dead, strength in my bones put the words in my head. When they pour out to paper, it's all for you."
And it's not even steeped in irony!
Image: longingforaneverland/Tumblr
The Get Up Kids, "I'll Catch You"
"Don't worry I'll catch you, don't ever worry. Your arms in mine, anytime. I wouldn't trade anything, you're still my everything. To my surprise, before my eyes, you arrive. Don't worry I'll catch you, don't ever worry."
Hopefully you and your ex didn't get this tattooed on your hips…
Image: Vagrant Records
Dashboard Confessional, "Hands Down"
"My hopes are so high, that your kiss might kill me. So won't you kill me, so I die happy. My heart is yours to fill or burst, to break or bury, or wear as jewelery, which ever you prefer."
If you can remove your tongue from your significant other's pierced lips, you'd probably pump up the volume and feel so infinite.
Finch, "What it is to Burn"
"Like a bad star, I'm falling faster down to her. She's the only one who knows, what it is to burn."
Nothing says love like an over-wrought simile.
Image: Drive-Thru Records