JW Anderson's Models Don't Have Heads, Just Hats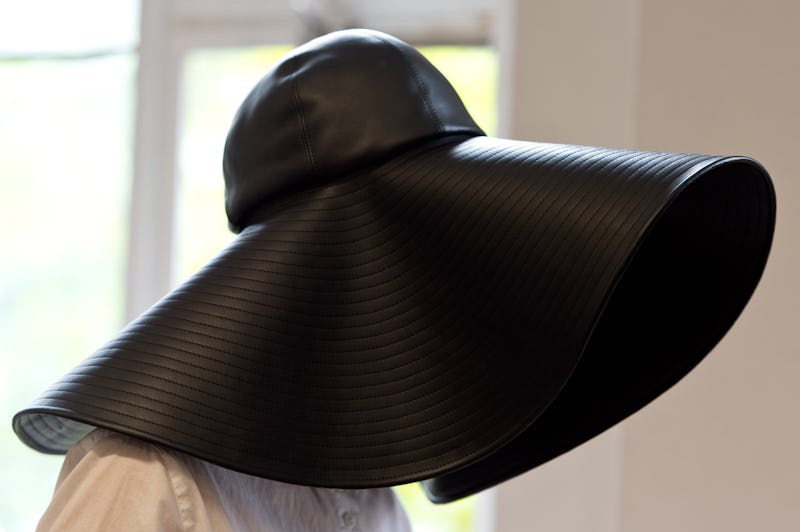 Ben A. Pruchnie/Getty Images Entertainment/Getty Images
To me, something about a hyperbolically-floppy hat says — "Hey world, I'm a fabulous alien sent from the galaxy of glam to spread chic-ness by the mere act of existing. Also, don't talk to me." At his Spring 2015 fashion show, J.W. Anderson showed some flop-tastic hats and ran with this principle. Capping off each of his looks with a wilted leather creation, Anderson proves that I'm not alone in my wide-brimmed millinery perception.
Saturday morning in London, the designer showed a collection of leather corsetry, terrycloth separates, and suits all riffing on his trademark brand of "avant-bland" fashion. There were double-breasted tops accented with nautical rope. There were exaggerated, rounded lapels on '60s-reminiscent coats. A great time was had by all. This collection is certainly a departure from Anderson's typical deconstructivist aesthetic, but it's a pleasure to watch his body of work develop. This season, Anderson is playing with classic naval-wear, applying a bit of his anarchic POV to the uniform of the yacht club set. Plus, he made those crazy hats fashioned out of non-breathable material.
In practice, a wide-brimmed leather hat sure sounds like an electric Crock Pot for your head. However, I'd like to think that the fun of wearing this creation cancels out the hazard of potentially succumbing to heat stroke. At least a little bit...
You're wearing high fashion blinders. Hey, at least you can leave your sunscreen back on shore!
Plus, you can exist in your own self-contained world and avoid all contact with other humans. Because face-walls.
Talk to the hat, 'cause the face don't wanna hear it.