Cory Nieves, The Stylish 10-Year-Old, Is Back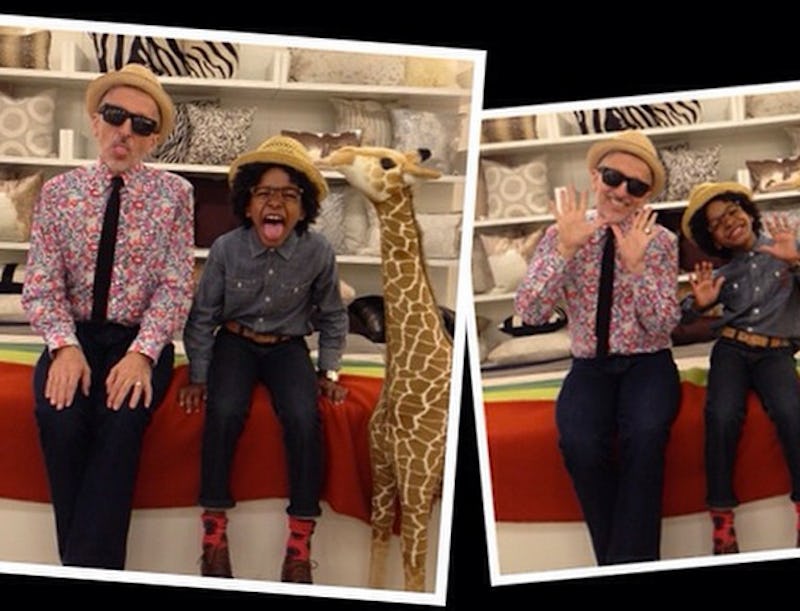 We first gushed over 10-year-old Cory Nieves before he even hit double digits. Then, we were inspired by his entrepreneurship toward his booming New Jersey-based cookie business and his outstanding sartorial choices (his favorite places to shop are Zara, TOPSHOP and Ralph Lauren, go figure). All eyes have since been drawn to him as he racks up press features with ABC, The Huffington Post, Ellen Degenres and more. So, it's no surprise that this dapper kid with business sense and style to match was tapped by Barneys New York to pull looks for the store's back-to-school feature, in which Mr. Cory and Simon Doonan (Barney's Creative Ambassador) pick out some sweet looks for the new season.
In a little under three minutes, the unlikely pair hang out in the kids' department picking out fall fashion looks, which they categorize into three P's: practical, professional, and party. Nieves pulls a navy blue suit "perfect for a meeting," he says (because when you are the CEO of your own business, it is common for meetings to come up in the middle of lunch period, after all), for the professional look. Next he picks out a little girls' Lisa Perry jacket, which Doonan questions, but Nieves insists that he should "just rest"and that there are "no rules in fashion." For practical and play, Nieves chooses a Moncler jacket paired with Hudson Parker jeans, which Doonan insists Nieves tries on to see the look "in action." At the end of the video, the two suggest that they get their own television show, in which Doonan would be Mr. Cory's assistant. Only one question: Can I intern for that prospective show?
Although it is no doubt that Mr. Cory is the cutest, most stylish and business-savvy 10-year-old touching the corners of the sartorial World Wide Web, it should be noted that many other young innovators are putting their creativity to work. 4-year-old Mayhem took some of the top fashion publications by storm when she and her mom began recreating red carpet looks out of recyclable items. In 2012, Caine Monroy, then 9 years old, created an intricate arcade made completely out of cardboard, which has since sparked a global movement in kids' innovation. And, it has almost been six months since 16-year-old Chase opened his very own sneaker shop in Harlem.
What do Mayhem, Caine, Chase and Mr. Cory all have in common? Not much, other than they are all under 18 and reaching superstardom faster than some people twice their age can even fathom. Oh, and they probably have more Instagram followers than you.
Images: @mrcorys/Instagram