Her Talent Is Strange But Her Intelligence Is Not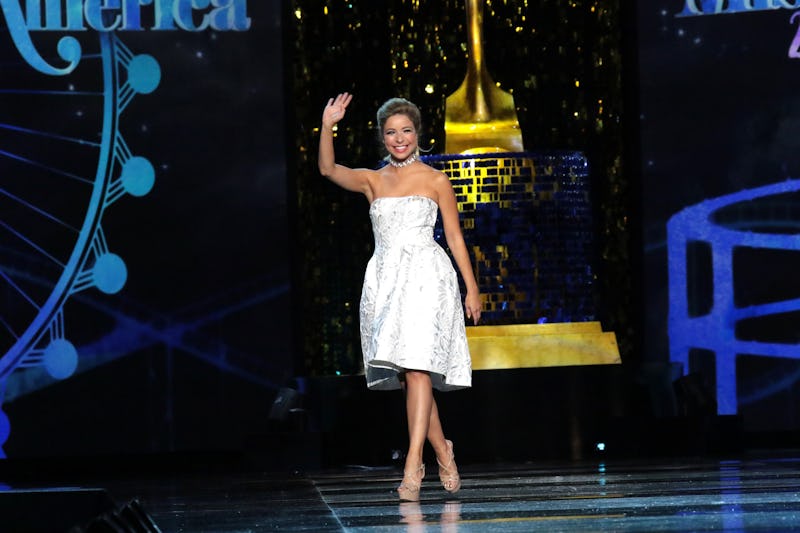 Donald Kravitz/Getty Images Entertainment/Getty Images
Alright everyone, I'll say it now. The strangest talent during the Miss America 2015 competition was Miss New York Kira Kazantsev. Kazantsev decided to not only sing like many of the other competitors in the semifinalist talent round, she clearly wanted to do something different to put her over the edge in the eyes of the judges. So she went with cups. That's right, the phenomenon made popular by Anna Kendrick. Miss New York sang Pharrell's "Happy" while accompanying herself with a giant red cup. But despite the weird talent — which she also messed up a bit by going ahead of the music — Miss New York still won the Miss America title, making her the third New York contestant to win in a row. And it had to be all thanks to her incredible answer during the final question round.
Miss New York was asked what issue the 20 women in the Senate should take on over their male counterparts and Kazantsev brilliantly chose sexual assault of women in the military. She gave this eloquent response:
"I really believe that sexual assault in our military is an issue these women have gone to fight for. And every single one of these women in our armed forces has the right to be safe and to be happy and to be respected by those she serves with."
She's not wrong about this being an important issue. The Pentagon released a study in May 2014 saying reports of military sexual assault increased by 50% within the last year and apparently assault cases are occurring more and more among men and women. And in March 2014, the Senate shot down a bill pushed by Senator Kristen Gillibrand that would have taken control out of military command when prosecuting military sexual assault cases. The proposed bill actually pitted many of the 20 female Senators against each other. But even with that great display of intelligence and female empowerment, fans on social media aren't letting the new Miss America off easy for her talent. Twitter users have made quite a few jokes at Kazantsev's expense.
People have commented on how they're rehearsing their advanced cup talent for next year's Miss America pageant:
And how their cup talent is just as impressive than Kazantsev's:
There are the obvious feelings of annoyance and disbelief:
Then there are those who believe using cups as a talent is reserved for only one particular pop culture icon:
What does this woman have to quit now?
But then there's this guy:
In the end, it's Kazantsev who gets the last laugh as she now has the crown and will hopefully use her intelligence and not her cups in her reign as Miss America. As for her advice on what issue women in the Senate should take? Let's hope all of our congressional leaders will put even more emphasis on this hot-button topics immediately. Come on Congress, your new queen commands you.
Image: The Miss America Organization