Jill Duggar's Baby Registry Isn't What You Think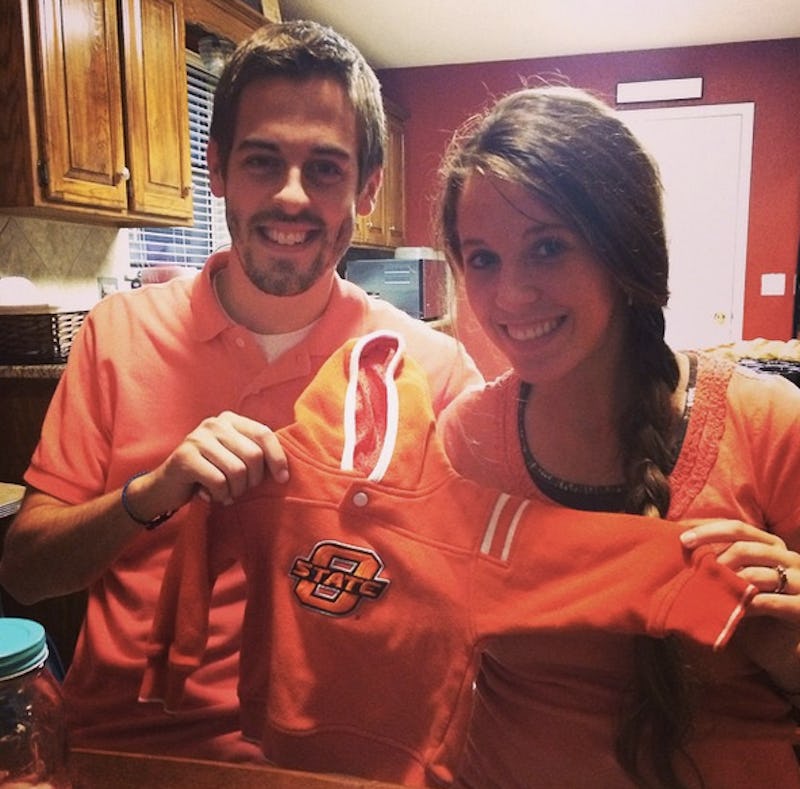 After the seriously bizarre wedding registry of Jill Duggar and Derick Dillard, I don't think it's out of line to say that we all probably expected an equally strange baby registry. Turns out, we were wrong. Duggar and Dillard's baby registry is actually shockingly normal. Nope, there aren't any guns and ammo, fast food gift cards, or, um, noodles, on this registry (yes, the couple registered for noodles). Thus far, it's all pretty normal, run-of-the-mill baby stuff — that we know about at least.
According to Us Weekly, the couple, who are currently three months along in Jill's pregnancy, have a few registries going; one being on Amazon. Apparently, they registered for a three-piece crib bedding set with a vintage floral print, Arkansas Razorbacks pacifiers and bibs, and a video monitor (which, as any parent knows, is a life-saver!).
I'm guessing that the reason Jill and Derick didn't go quite as, um, odd with this registry is because it isn't for them; it's for their baby. It's much easier to ask for super strange, kind of frivolous-seeming items when it's just for you and your significant other. When there's a tiny, helpless, screaming infant in the picture, probably best to stick to the basics. Plus, newborns hate fast food.
Though I'm guessing there's something kind of out there on one of their registries; I'm just not sure what it is. Who's with me?
Images: Derick Dillard/Instagram