These 'TVD' Photos Feature Friendships & Fighting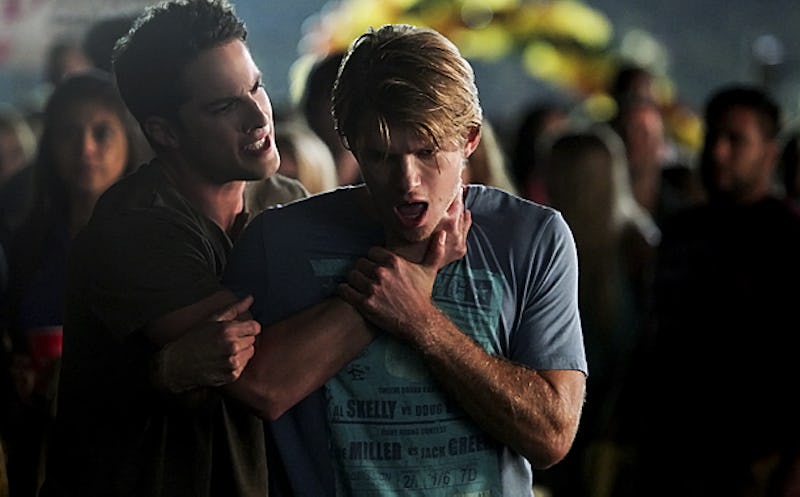 Are you ready to sink your teeth into more Vampire Diaries? Though we still have a few weeks to go until TVD-day, The CW is looking to quench at least a bit of our supernatural thirst by releasing the very first photos of TVD 's Season 6 premiere, which kicks off on Oct. 2. However, it's not the core three characters — Elena, Damon, and Stefan — that we see. Instead, we find Tyler sharing a rather heated moment (Fight Club-style) with Luke who is all kinds of choked up, quite literally. It's unclear what exactly Tyler's so upset about, but if he doesn't get these rage issues under control ASAP, he could end up triggering the now latent werewolf gene… again. (Seriously, does this guy never learn?) Luckily, Professor Alaric was apparently on stand-by and can be seen stepping in just in time.
Speaking of which, these photos also showcase Alaric spending some quality time with Caroline. These two have never really had many scenes together before, let alone any one-on-one time, but I gotta say I don't hate the thought of this potential new friendship. Are they discussing Elena problems? Tyler problems? Is he helping her study? Is she helping him adjust to being a vampire? Doesn't matter. The important thing to take away is that this could be the start of a beautiful friendship. And then, of course, there's Matt looking exceptionally handsome, as per usual. (Let's give this guy a more interesting storyline this year, OK writers?)
Check out the complete selections of photos featured below and get ready for what's sure to be a heart-pounding (but hopefully not heart-stopping) season.
Want To Be Friends?
I Said… Do You Want To Be Friends?
Just Kidding. LOL
Dude, Do You Want To Be a Werewolf Again?
Former Werewolves Are So Moony… I Mean Moody.
I Should Probably Not Be Drinking In Front of Students. Shhh.
Hello, I Think You're My New Love Interest.
Still Human.
Why Have We Never Hung Out More?
Probably Because I've Been Dead.
Let's Start a Book Club on Campus!
Images: The CW (11)