What's Up with Jinger Duggar? The '19 Kids and Counting Star' Seems To Have a Rebellious Streak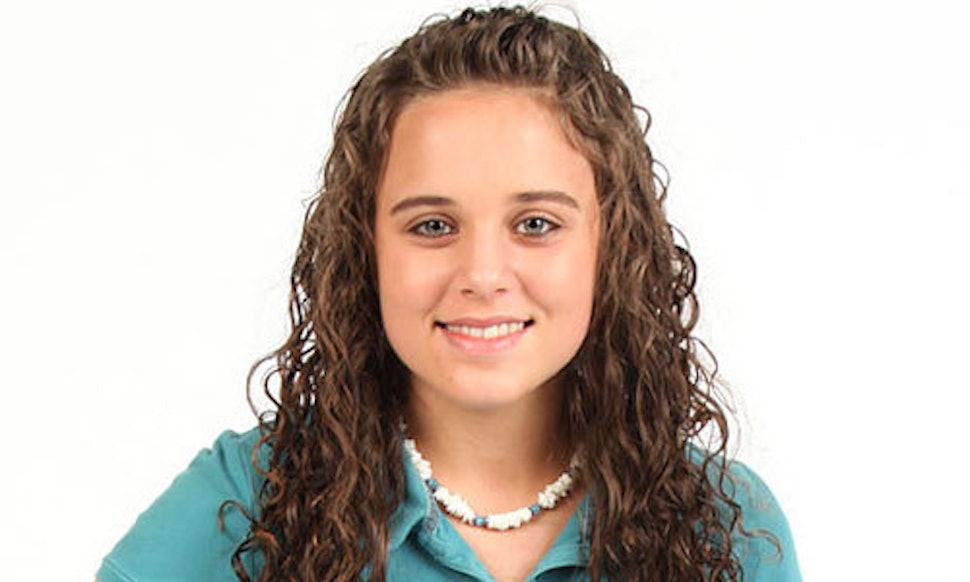 It's officially courting season for the Duggar family on 19 Kids and Counting. Now that Jill is married to Derick Dillard and Jessa is engaged to Ben Seewald, I'd assume the next in line is 20-year-old Jinger. If she's keeping up with her sisters' timelines, we can expect a ring on her finger (given to her by a Jim Bob-approved suitor, of course) sometime in the next couple of years. However, Jinger doesn't appear to have any potential guys knocking on the Duggar door quite yet and as far as I'm concerned, that's a good thing.
To me, Jinger's always seemed like the flower child of the Duggar family — in fact, if it wasn't so full of "sin," I'd totally expect to see her at Coachella. If Michelle hadn't drilled into her the importance of being sweet and A Lady, she'd be the Scott Disick of 19 Kids and Counting, rolling her eyes and making snide remarks about her family's antics at every opportunity... especially when Jim Bob pulls a little misogyny out of the secondhand store-bought sleeve of his signature polo shirt.
But my fingers are crossed that Jinger's got a plan to make a break for it, and I'm not the only person rooting for her escape. Why is she the one that everyone hopes to watch become the first official Duggar rebel? Here are just a few reasons.
Image: TLC
She's a free spirit
Jinger is indisputably the most artsy and free-spirited gal of the Duggar bunch — in fact, she's not a bad photographer. I would hate to think that Jinger would give up something she loves and is naturally good at in favor of getting married and starting a family at her parents' request. Nothing would make me more thrilled than to see Jinger break free and start up her own photography company. If she can help run a family of 19 children, she can definitely run a business.
Image: TLC
She wore pants that one time
This is actually a huge deal, since, as a rule, the Duggar women do not wear pants as a way to preserve their standards of God-given feminine modesty. In a photo found on a DC Urban Mom forum, Jinger is shown in track pants. This shouldn't be a thing, but it is — it's actually one of the only times one of the girls has ever been photographed wearing anything but a skirt.
I can't help but wonder if they wear pants on a regular basis, just not for the cameras, or if this is just a Jinger thing. I have so many questions! Jinger, if you're reading this, please hit me up.
Image: TLC
She wants to live in a big city
In this clip from the show, Jinger's sisters are describing their ideal mates. And as for Jinger? She says nothing about her hopes and dreams of her future husband. Instead, she lets it be known that she is ready to escape Arkansas at the first opportunity.
"City please!" Jinger said. "I'd be OK anywhere, but city would be awesome."
You heard the woman! She wants to leave!
Image: TLC
But Michelle shut that one down pretty quick
"Jinger didn't mean that she wanted to move to New York City," Michelle later clarified to Radar Online. "She meant that she wants to live closer to a city. We're talking right near a city, but not New York City. Jinger meant that she wanted to live 15 minutes from a Walmart. We live so far out of town on 20 acres, but Jinger wants to live closer to town, so she doesn't have to drive so far to go shopping."
Is that what she meant, or are you trying to stifle her drive to create her own life, far away from her family? Jinger's plenty capable of speaking for herself and I wish she had the opportunity to do so more freely and more often. In fact, attending art school in a big city where she can study photography and perfect her craft wouldn't be the worst idea.
Image: TLC
She is full of sass
With facial expressions like these, you can just tell she is so over her family's theatrics. This is the face of a girl who wants to escape, but who cannot because her parents read all of her iMessages.
Jinger, send up a flare. I'll be in Tontitown within 24 hours in an unmarked van parked outside of the Duggar compound.
Image: TLC