Proof that Val and Janel Are Secretly in Love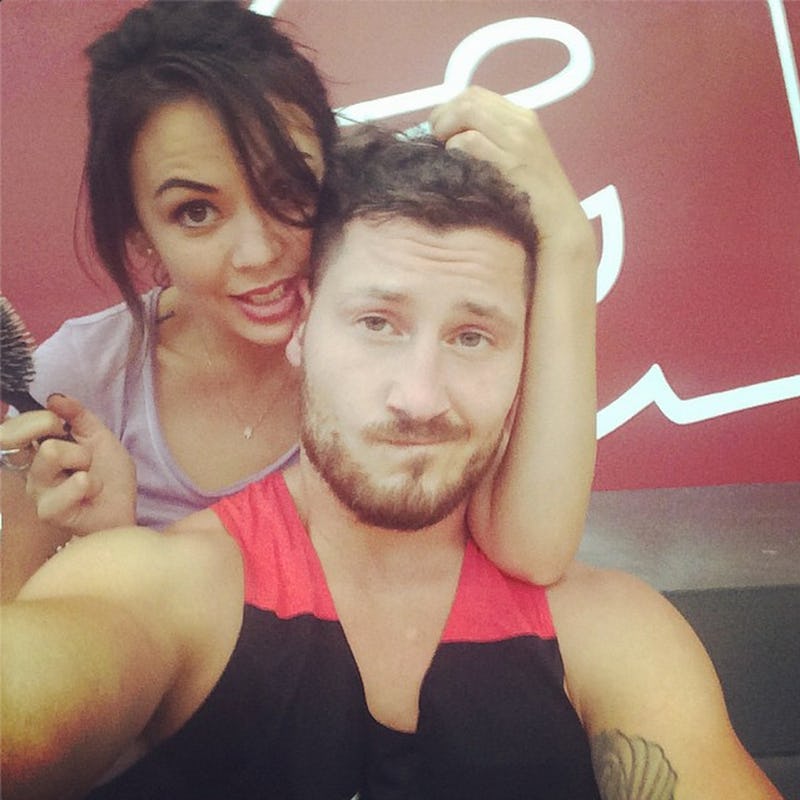 I was doubtful we'd find another royal couple like Maks Chmerkovskiy and Meryl Davis on this season's Dancing With the Stars, but it turns out, it wasn't difficult at all to find another couple secretly in love. This time it is Maks' brother Val Chmerkovskiy and his partner Janel Parrish who seem to have a hidden romance. And in case you think I'm reaching with the comparison, I assure you I am not.
On Monday night, the duo made it only too easy to ship them with comments like, "I love that her and I have a natural chemistry about us and hopefully it will blossom into something awesome," coming out of Chmerkovskiy's mouth. But it's not a one-sided infatuation. Parrish was plenty head-over-heels for her partner, too. "I love his swag," she gushed. "I think he's one of the best dancers on the show."
But if you need more proof, fear not, because there is a ton. Janel and Val have basically been flaunting their relationship on social media for weeks now. Just look at these 11 pieces of evidence and if you don't ship them at the end, you're really missing out.
THEY ALREADY HAVE INSIDE JOKES
Val teased that at the beginning of practice Parrish had the swag of a grandma, but then that became their inside joke and a compliment.
THEY ARE ALL OVER EACHOTHER ON INSTAGRAM
This is couple-level affection.
SHE DOES HIS HAIR
Aww.
AND HE DOES HERS
Based on what I know about Chris Pratt, braiding a girl's hair is the ultimate sign of love.
WHEN SHE'S WITH HIM NOTHING ELSE MATTERS
Sure they got hounded by the paparazzi but she doesn't care.
THIS LOOK OF ADORATION
Tell me that's not love in his eyes.
CAR CUDDLING
Too cute.
KISSY FACE EMOTICONS
Right?
THEY REPOST EACH OTHERS PICS
These days it's perhaps the truest sign of love.
NICKNAMES
He called her babe. They are now officially endgame.
SHE GAVE THEM A COUPLE NAME
I mean, how can we not ship them when she's made it so easy for us?
Images: Janel Parrish (6), Val Chmerkovskiy/Instagram