We May Have Found Our New Maks & Meryl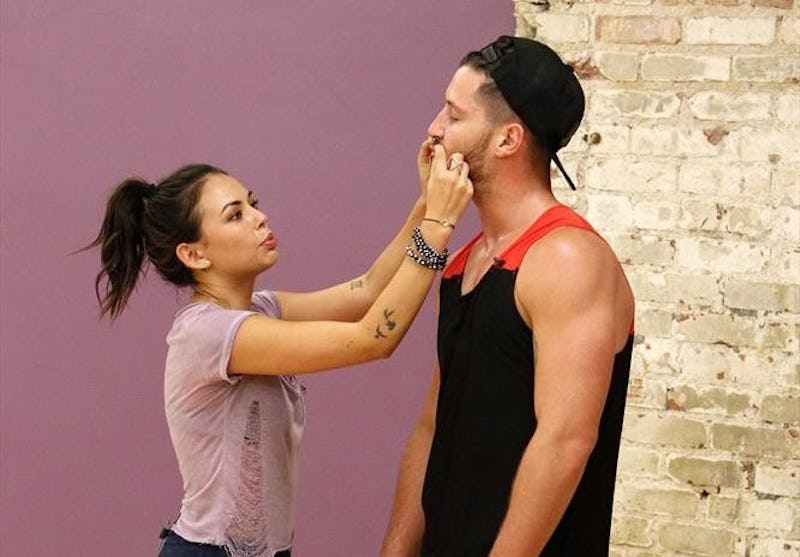 The new season of Dancing With the Stars is upon us and everyone wants to know who will be this season's Meryl Davis and Maks Chmerkovskiy. You know, the dancing royal couple whose hidden love is the stuff of legends and fairy tales. Well, we have our answer: Janel Parrish and Val Chmerkovskiy are this year's Meryl and Maks. (What is it with those Chmerkovskiy boys?) Since Maks got the romantic spotlight last year, it's only fair that his brother got a turn this year.
We only got a few minutes of Janel Parrish and Val Chmerkovskiy screen time, but it was immediately evident that there is some serious sexual tension between the two. "I feel like going on a date right now," Parrish said nervously as she waited for Val to arrive. But she didn't have anything to worry about. As Chmerkovskiy said, "When she sees me and I see her this is going to be a match made in heaven."
And once in the studio there was no nerves and all chemistry. "I love his swag," Parrish said runnning her hands up and down his infamous abs. "I think he's one of the best dancers on the show." But Chmerkovskiy was quick to return the compliments saying of Parrish, "She's amazing ... I'm very lucky and very fortunate."
Parrish and Chmerkovskiy absolutely slayed in their performance to the tune of "Bang Bang" and even the host Erin Andrews could feel the love in the air. "There is some blossoming in this relationship," she said to the pair. And Chmerkovskiy, for his part, agrees. "I love that her and I have a natural chemistry about us and hopefully it will blossom into something awesome," he said.
Yes, something awesome like the next DWTS royal couple.
Aww, stop it, you two.
Images: Rick Rowell/ABC; Janel Parrish/Instagram