'Sons of Anarchy' Season 7 Hit Historical Ratings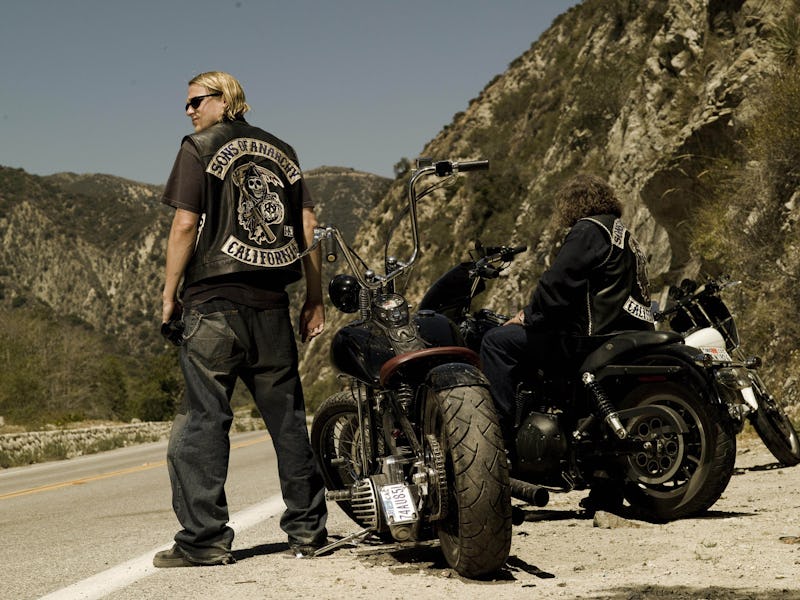 If you needed more proof than the fact it's Sons of Anarchy's last season to be convinced that this show is going to rule FX this year, take note of this: Sons of Anarchy 's season 7 premiere ratings were so high, the episode is now FX's most-watched program in its entire history, with 9.25 million total viewers tuning in to watch the beginning of the end for Jax and his crew. Factor in DVR and encore airings, and that number rises even higher, to 10.62 million. As Vulture points out, these numbers actually put it on par with HBO's Game of Thrones in terms of ratings for the advertiser-coveted demographic of adults 18-49 — so that should put its success in perspective.
TV By the Numbers also has some more staggering numbers to compare: Between the SoA series premiere in 2008 and this season 7 premiere, the show has gained a whopping 228% viewers, with only 2.28 million total people having tuned in to watch the beginning of the series back in the day. The build-up to being top show on FX has clearly been a slow burn, much like SoA itself — so it's fitting, in a way.
Season 6 of SoA is also currently FX's most-watched season of a show, but, considering these new numbers, something tells me that's likely going to change come the end of season 7, and SoA as a whole, in December.
Image: FX