American Authors Open Up About Their Inspiration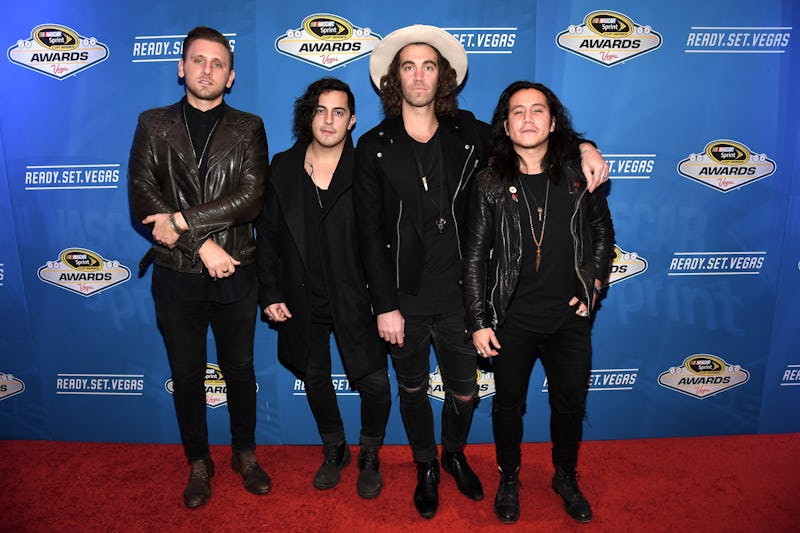 Ethan Miller/Getty Images Sport/Getty Images
The alt-rock band American Authors got in your head with their hit single "Best Day of My Life," and from the looks of it, they aren't going anywhere. The band, which is made up of singer Zac Barnett, guitarist James Adam Shelley, bassist Dave Rublin and drummer Matt Sanchez, released their debut album Oh, What A Life in March 2014 and quickly made a splash with their aforementioned uplifting debut track. This summer the Brookyln-based band's single "Believer" also hit the radio, making American Authors the official new group to watch. "Believer," much like their first single which talks about having one hell of a great day, has a seriously upbeat message with lines like, "I'm a believer/ That things will get better/ Some take it or leave it/ But I don't wanna to let it go." But according to the band, which began as The Blue Pages in 2007 before changing names to American Authors in 2012, they had no intention of making solely positive music — their songs were simply a reaction to their environment. I spoke with the band who says, "When we wrote these songs, we didn't consciously intend for them to be positive."
"We wrote them at one of the lowest points in our musical careers and it really seemed like we were searching for the light at the end of the tunnel. The messages of hope are mainly a reaction to what we were surrounded by at the time."
The hope that the American Authors had certainly paid off as their career low point was met with a serious career high: a major world tour. The band, who wrapped a tour with OneRepublic earlier this year, is currently headlining the Honda Civic Tour, a tour that will take them from Portland, Oregon, to Melbourne, Australia, and nearly everywhere in between. (The band considers their crowd in Mexico City as one of their best to date —"We learned that night just how passionate they are when we could barely hear ourselves singing because they were louder than us!")
According to the band, they "live for" the reception from their fans — and luckily for American Authors, the reception has been overwhelmingly positive.
"The biggest thing that's changed is the growth of our fans. Every time we come back to a city, the crowd is amazing! For us it's a crazy thing because there will still be some nights when we're thinking to ourselves "Is anyone coming?" then we walk out onstage and we're in front of a massive audience! We seriously have the best fans, and you can hear it when they're singing all of our songs right back at us."
So what's next for American Authors? The band can't promise more of the exact same music — according to American Authors, their inspiration is constantly shifting, as it has for the past two years. The band muses that they would love to play at Gorge Amphitheater in Washington.
"When you look at that place, you're surrounded by the beauty and energy of the world, and we're putting what this world gave to us right back into it. It's got to be one of the biggest connections imaginable… and we can't wait!"
Sounds like the perfect place to gain some musical inspiration — something that this band is certainly not short on right now.