8 Glorious Ways to Make Your House Smell Like Fall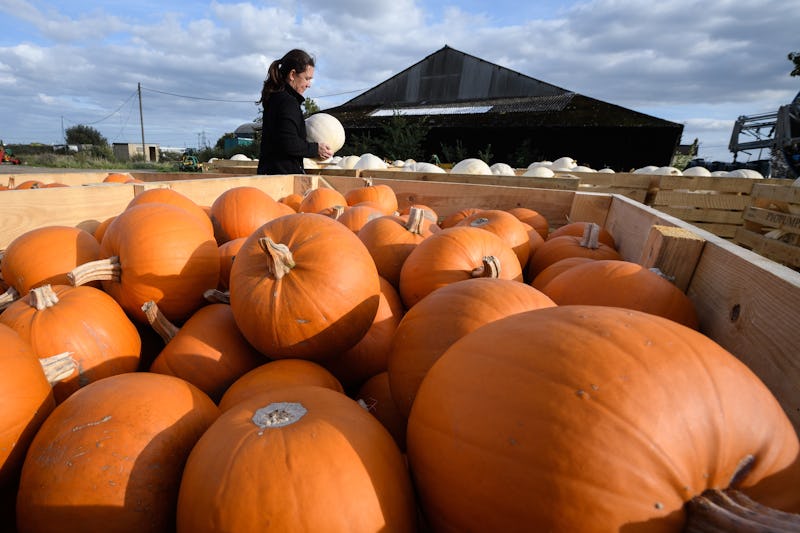 Leon Neal/Getty Images News/Getty Images
Wafts of freshly ground cinnamon, dried orange slices, sappy pine cones, and vanilla bean. That's the cozy smell of fall, and damn, is it good. Now that the weather is cooling down, it's time to turn your home into a feast for the ol' olfactory senses and bring some of those seasonal scents indoors. Just imagine the pure happiness you'll experience when you're cuddled up on the couch catching a fall flick with the fire going, inhaling those fragrant hints of pumpkin drifting through the air and clutching a mug of your favorite fall beverage.
Whether you're feeling crafty, thrifty, extravagant, or subtle, there are ways to bring the scent of fall into your home before the leaves even start to change colors. Put away those cans of Lysol and outlet candles. These eight solutions range from simmer pots to dried herb bouquets, and the scents they leave behind are rich, cozy, and comforting — basically everything you love about fall. Besides, this is a much more productive way to spend your time this season than putting up Craigslist ads for "Fall Boyfriends."
It's time to get toasty, so put those aerosol cans back where you found them, turn on some fall tunes, and get to sniffing. That sounds so wrong, but it's so right. Let the roasting of chestnuts commence.
1. Simmer Pot Recipes
Simmer pot recipes are exactly what they sound like: they are recipes you let simmer on the stovetop. The range of scents you can get from a simmer pot recipe varies as much as the ingredients do. Whether you're after sniffs of lavender, hints of cinnamon, or a few notes of lemon, there is a perfect combination of fruit and spices out there for every autumn soul. Check out this tutorial by A Beautiful Mess to get you started. Find flavors you like, add them into a pot with water, and let everything simmer on low heat throughout the day. Just don't forget to turn the stove off if you leave the house.
2. Orange Peel Candles
Delia Creates has one of the coolest DIYs to help you create your very own orange (or clementine) peel candles. These awesome little lights not only smell amazing, but they look pretty cool, too. Finished eating your two servings of fruit for the day? Turn the remains into these creative candles.
3. Homemade Potpourri
Potpourri sometimes makes me think of little old ladies, but with its refreshing and energizing scent, this home recipe by Coordinately Yours is starting to make me change my mind about that. Dried fruit, fall spices, and the right dried flowers can make for an ideal grouping of wonderful smells.
4. Decorative Pine Cones
Nothing gives off that young sapling scent like a basket of freshly picked pinecones. Even if you can't get your hands on real ones, craft stores sell scented fakes that are good enough to make you feel like you've been transported into the middle of some quaint, fairytale woodland. Plus, they're a subtle way to decorate for fall that feels festive without being too cheesy.
5. Vanilla Candles
So you're not up for a DIY, and going to the grocery store to look for a billion ingredients seems daunting? No worries. Vanilla candles are your answer. They may not be the first flavor you think of when purchasing scented wax jars, but they should be. Vanilla bean candles give off a warm, welcoming aroma without being too heavy or overpowering. Diffusers are a great alternative for those who prefer to keep the home fire-free.
6. Dried Herb Bouquets
Simon & Garfunkel said it best: parsley, sage, rosemary, and thyme. Seriously, you can't go wrong. Come this fall, forget the fresh flowers and instead, go crazy with the herbs. Gather them up into small bouquets and leave them on mantels, in vases, or hang them on the wall. The best part is that once they dry, you don't have to take them down! You can also pre-order bundles, like these rosemary bouquets by Secret Garden Herbs on Etsy.
7. Roasted Chestnuts
Chestnuts roasting on an open fire... there is a reason that lyric was written, and that reason is pretty obvious once you get some chestnuts on top of your heated stovetop or in the oven. Along with the wonderful smells they give off while cooking, they are delicious for an afternoon snack. You can't go wrong with this tutorial by Will Cook For Friends.
8. Seasonal Wreaths
Wreaths aren't only for Christmas. Fresh pine needle wreaths make for that woodsy, natural smell that cannot be beat. And if you're feeling ambitious, you can even make your own. They're beautiful to look at, and even more beautiful to smell.