She Should Go From 'Good Wife' to Elected Official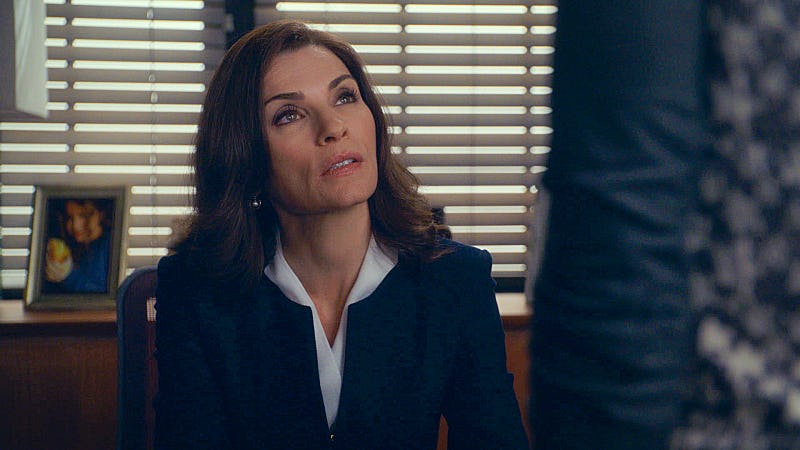 In five seasons of The Good Wife, Alicia Florrick has come a long way since being the quietly sad titular wife standing by her scandal-ridden husband Peter, the State's Attorney of Chicago. She revived her law career, kicked major ass on lots of cases, and made quite a name for herself in law — and is now name partner in burgeoning firm Florrick/Agos. Even her former boss Diane is thinking about taking her Lockhart out of Lockhart/Gardner and adding it to Florrick/Agos. After these five years, Alicia's gained the experience and respect of her peers and she's at the top of her game, so isn't it time for a new challenge? Season 5 ended with Eli asking Alicia to run for State's Attorney. And her answer, when The Good Wife returns for Season 6, really should be yes.
In CBS promo for the new season, Alicia will say no, no, no to Eli — at first, I hope. It would be a great thing for Alicia and the series if those "nos" turned into a "yes" either later in the episode or in Season 6. In the series' Chicago setting, the state's attorney is the head prosecutor, like the district attorney on Law and Order. And the job is perfect for Alicia. Sure, she's spent more time going head-to-head with prosecutors than being one, but she's a fast learner. There's just so much dramatic potential if she decides to run — Alicia will have to endure the public eye more than ever before as she balances her new firm, family, and comparisons to her husband Peter, who held the job successfully enough post-scandal to become governor.
But hey, she can survive it. Over the past five years, Alicia's built up the kind of resume and experience that makes a serious case for her candidacy.
She's Survived Her Husband's Own Political Scandals
From the very first minutes of the pilot until Season 5, Alicia has endured Peter's scandals and missteps from the sidelines, whether they be hookers or voter fraud. There can't be a better education at dealing with political mishaps than actually standing by the man who keeps getting into trouble — and then bounces back successfully. The only person on TV who might be better versed in enduring political scandals than Alicia is Scandal's Olivia Pope.
Alicia tried to shy away from the spotlight during each of Peter's crises, but I think it's about time she get ready to take center stage. But first, she should clear out any skeletons in the closet — and call Kalinda to investigate any weaknesses in her background, stat.
She's Got the Legal Experience
Alicia has spent the past five years going from nervous associate with very little court experience to a absolute force in the courtroom, chairing cases and representing big names like drug kingpin Lamar Bishop and murderer Colin Sweeney. We've even seen her in military court, Olympic sports court, and British court (via satellite).
Out of court, Alicia and Cary co-founded their firm and survived most of Season 5 keeping Florrick/Agos afloat. That's just proof Alicia can run the office of the State's Attorney and its team of many Assistant State's Attorneys, like Finn Polmar.
She's Got Eli's Support
The CBS promo shows Eli asking Alicia to run for State's Attorney multiple times, so he's obviously on her side. Having Eli's support is incredibly important and hard to get — he has a low tolerance for idiots, he has a tremendous amount of respect for Alicia, and you know he wouldn't ask her that question unless he truly meant it. Remember, Eli Gold is also the campaign manager who helped Peter recover from his hooker scandal, get reelected as state's attorney, and then elected as governor. But with the current state of their marriage, will Peter support his wife's candidacy? Well, first things first — Alicia's gotta run.
Images: CBS; Giphy (3)