Proof 'The Good Wife' Gets Better With Age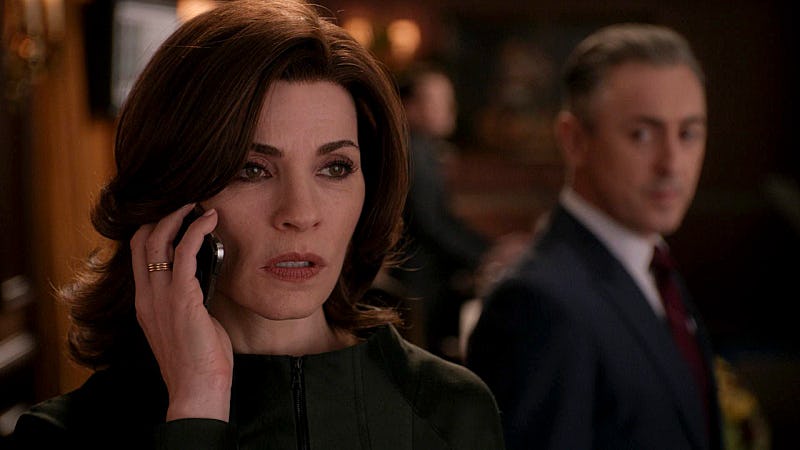 The Good Wife ended its fifth season with a gripping episode named "A Weird Year," but it was actually quite a banner year for the already critically-acclaimed CBS law drama. It was such a strong season that Julianna Margulies won her second Emmy last month for playing the resilient Alicia Florrick during a season where the character co-founded her very own law firm, lost longtime friend (and sometimes lover) Will Gardner, and ended on her considering a run for elected office. Whoa, right? Alicia certainly came along way over the course of The Good Wife Season 5 — a season with many twists, turns, and trademark Good Wife tactical maneuvering. It's no wonder that it's continued to be heralded as one of the best dramas on television. And we're very lucky that it's on CBS — we got to enjoy 22 incredible episodes, which is double the usual 13-episode season of cable shows. Because there's so many episodes and it's been a long summer, you might want a bit of a refresher on Season 5 before jumping into the sixth season premiere this Sunday.
So let's start from the beginning.
The Start of Florrick/Agos
One year ago, fifth season began with Alicia and Cary set to breakaway from the law firm Lockhart/Gardner and start their own: Florrick/Agos. The big problem? Alicia was still working at LG, all this planning was happening in secret, and ever-observant LG partner David Lee became suspicious that something was amiss. Managing partners Will and Diane, though, didn't suspect a thing. Diane got distracted when new Illinois Governor Peter Florrick dangled a State Supreme Court Justice nomination within her grasp.
Alicia's Up, Diane Is Down
But Diane's judge dreams and Will's subsequent desire to have Alicia replace Diane as his (firm) partner crumbled once they uncovered Alicia and Cary's breakaway scheme and brand-spanking-new law firm. Alicia gets fired from LG, but Peter stands by his woman and yanks away Diane's Supreme Court nod in response. The lesson there? Don't mess with the governor's wife. The tit-for-tat continues throughout the rest of the season, and not just in the courtroom. Florrick/Agos going toe-to-toe with Lockhart/Gardner to fight for clients, office space, and respect.
The Tragic End of "Alicia & Will"
Alicia's split from LG hurt Will very deeply and caused their friendship to turn bitter, but even so, Alicia and Will still fought romantic feelings for each other. And just when it seemed like Will was reaching out to Alicia with a phone call, Will — in one of TV's most surprising twists of the season — gets shot by unstable client Jeffrey Grant in court and dies.
Yes, Will actually died and Josh Charles said goodbye after five seasons on The Good Wife. Will's death also softened the previously tense relationship between Florrick/Agos and Lockhart/Gardner, causing them to flirt with a (gasp!) possible merger.
Louis Canning Strikes Again
But Diane changes her mind and decides to merge with Louis Canning's firm instead, bringing back Michael J. Fox's cunning recurring character for a few eps. It doesn't take long for Diane and Canning to turn against each other, though, and Canning threatens to destroy LG if Diane doesn't give up control of the firm, leaving her with a new idea: Maybe she should join Florrick/Agos? Because she was not liking what became of Lockhart/Gardner without Will.
Introducing Finn Polmar & Alicia's Potentially Huge Future
Of course, we all also miss Will dearly, but the show brought in a new handsome series regular in his place — Assistant State's Attorney Finn Polmar, played by Matthew Goode. While no one could ever replace Will in my heart, Finn is proving to be a worthy new addition, especially since he tried his hardest to save Will on that fateful day. Alicia bonds with the prosecutor and persuades him to run for her husband's old job — state's attorney. Finn readies himself for a campaign and a leap into an election, but it gets cut short when Eli uncovers that Finn bribed another prosecutor as to prevent his sister from receiving jail time. Ouch. Once Finn drops out, Peter approaches Diane about running for the spot, but she turns it down. Eli then poses the question to Alicia: "Would you want to run for state's attorney?"
We'll find out her answer to that question on Sunday.
Images: CBS; Giphy (2)