Her "Shake It Off" Cover Is Amazing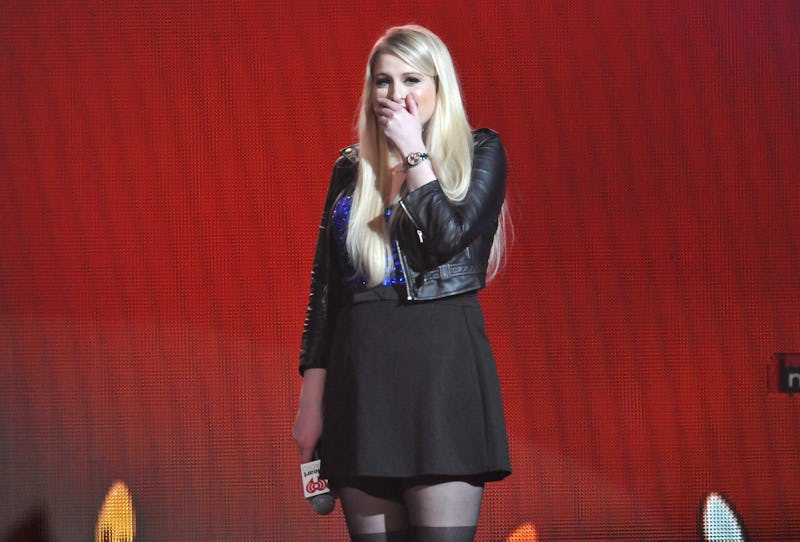 Gerardo Mora/Getty Images Entertainment/Getty Images
These two #1 ladies are going to be BFFs any day now. You may not know everything about "All About The Bass" singer Meghan Trainor, but you sure as hell can't get her song out of your head. I mean, just look at how many great "All About The Bass" cover videos there are. Last week, Trainor's first single knocked Swift's "Shake It Off" out of the #1 spot on the Billboard Hot 100 chart which was pretty huge, but don't worry, there's no "bad blood" there. On Wednesday, Trainor covered Swift's "Shake It Off" on a ukelele and added some new lyrics in support of her future-BFF Taylor Swift.
During an appearance on Australia's 2day FM's Dan and Maz's radio show, Trainor took on the 1989 single that she knocked out of the #1 spot and nd she actually did a truly amazing job. The 20-year-old singer slowed the pop song way down and did it acoustic, on a ukelele. But it was the new lyrics Trainor rapped mid-"shake it off"s that totally foreshadow at least one giggly, filtered, friends-photo with Swift on the 1989 singer's Instagram.
Trainor rapped, "So Taylor, shake 'em off, don't let 'em get to ya/ Go ahead and dance like there ain't nobody watchin' ya/ Shake like a polaroid picture/ You got the fans like 'we wanna dance witcha." So, Trainor's totally #TeamTaylor in this alleged Katy Perry feud, right?
Watch the full video of Trainor's "Shake It Off" cover here.