Who's the Woman Behind "All About That Bass?"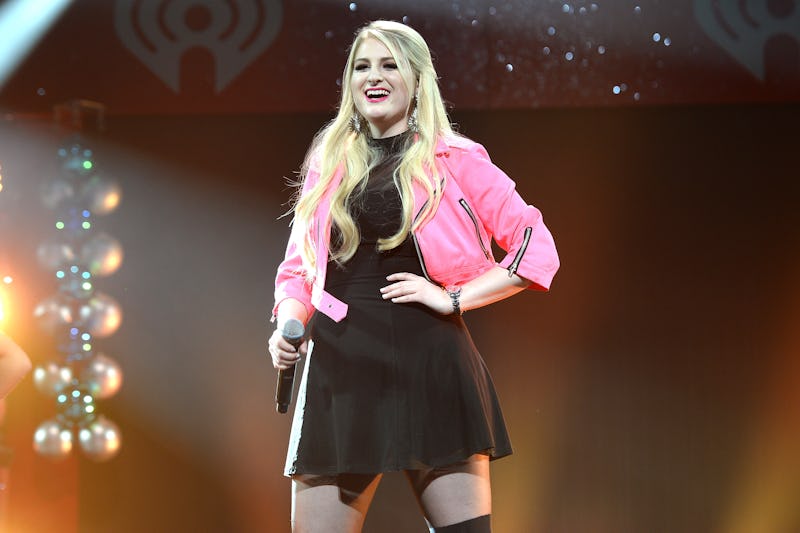 Larry Marano/Getty Images Entertainment/Getty Images
Based on the lyrics to her hit song "All About that Bass," I've gathered a few interesting facts about 20-year-old pop singer Meghan Trainor. For starters, she's not a fan of Photoshop, at least when it's being used to alter the human figure beyond realistic standards. Clearly, she prefers the bass over treble — that's bass as in lower end, as in bottom, as in boo-tay. And while my traditional mother pretty much stuck to the basic parent-to-child convos like "Eat your vegetables," "Go ask your dad," and "Don't talk back," the song also shows that Trainor's mom took the more candid route when advising her daughter that "boys like a little more booty to hold at night." But other than what we can get from her lyrics, who is Meghan Trainor? Let's take a look. At the moment, Trainor has her first number one single on the Billboard Hot 100 chart with "All About that Bass," which owes its huge popularity to the song's self-acceptance theme and the video, which is like a much more tame, pastel-hued version of Nicki Minaj's "Anaconda." Trainor just dropped a four-song EP called Title and recently performed her hit song with Jimmy Fallon and The Roots, so she definitely has a lot going for herself.
So what else is there to know about the sensational singer-songwriter? Here are 8 interesting facts about the Nantucket-born performer:
She started writing songs at age 11
Thanks to her father's musical guidance, Trainor wrote two songs for Rascal Flatts' album Rewind.
She was in a band with her parents, uncle, aunt, and her little brother
The group played at local bars and would play Soca-inspired music since her uncle is from Trinidad and Trainor loved the sound. In addition to singing, Trainor plays guitar, keyboards, trumpet, ukulele, and percussion.
She's besties with her aunt Lisa
Trainor captioned this Instagram video, "Loved surprising my best friend in the whole world, my aunt @lisaanne2744 It was only for a day but it was worth the trip💗💜 #family #surprise."
She's a cat lover
I could definitely see her rocking a pair of these kitty-themed Charlotte Olympia shoes.
She loves Saved By the Bell
And met Mario Lopez! I wonder if Trainor was one of the few people who watched the SBTB movie?
She's also a huge Colbie Caillat fan
Trainor told Billboard, "I cried when she Tweeted that, because I'm the biggest Colbie Caillat fan evah!"
And as a bonus here are five more things to know about Trainor as explained by the singer herself
Images: meghan_trainor/Instagram(6)