Could Zankie Take On 'Amazing Race'?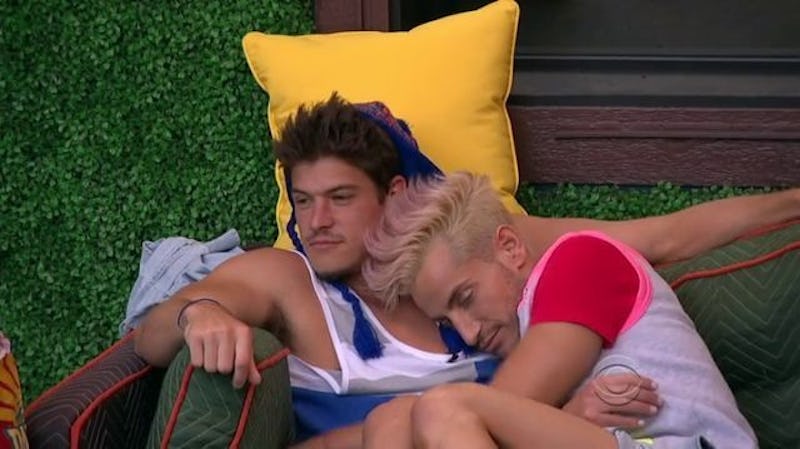 One of the great couples of the summer was no doubt Zankie on Big Brother . The unexpected pair was perfect — well, until Frankie Grande evicted Zach from the show — and fans want to see more of them. So what other show would they be perfect for? Well, fans of Big Brother, and these houseguests in particular, are pushing for Zankie to appear on fellow CBS reality competition The Amazing Race . And yes, that would indeed be amazing.
The Zankie relationship was really the highlight of the entire Big Brother summer, other than Jocasta speaking in tongues during that one episode. Zach and Frankie's friendship was always a will they/ won't they type of deal, which Zach says was strictly gameplay. Even if it was gameplay, their chemistry as friends was obvious, and fans want more of it. So when Jeff Schroeder suggested "Zankie for Amazing Race?", during his live chat post-eviction on Tuesday, it was probably music to many Zankie fan's ears to hear Frankie say "Zankie for Amazing Race!" with pure joy in Frankie's voice.
So will Zankie make it onto The Amazing Race, and travel the world while competing against other teams? When asked for comment on the rumors that the two could appear on the show, a CBS representative said the network doesn't comment on casting. Fair enough, we'll just have to cross our fingers that the Big Brother gods will make it come true.
This wouldn't be the first time Big Brother contestants made it onto The Amazing Race. Jeff and Jordan, who we saw get engaged this season, were on The Amazing Race, along with now married Big Brother couple Brendon and Rachel.
I've watched The Amazing Race for a long time, and I love nothing more than when there are Big Brother crossovers from show to show. Zach and Frankie would be one of the most entertaining teams to see on Amazing Race, even if it was Caleb who said he wanted to go on the show with Frankie... Sorry Caleb, but Zankie rules over everything else. Fans seem to think so, too. Take a look at how excited Big Brother fans are for the potential #ZankieforAmazingRace.
Image: CBS