13 Reasons Friday Is The Best Day of the Week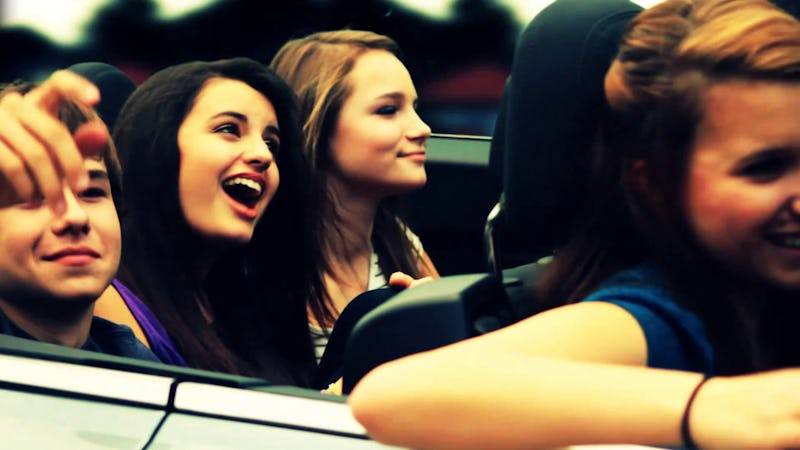 Talking about why one day of the week is better than every other is a dangerous game — play it wrong, and people could start to think of you as a cheesy office weirdo, like that one woman who always wishes everyone a "happy hump day" on Wednesday. But, "hump day lady" concerns aside, there's just something about Friday. Tantalizingly close to the actual weekend, a well-played Friday can often actually surpass a Saturday in pure, unsullied joy.
After all, on Friday, you still have a whole weekend to look forward to; you quite possibly just got paid; and you have a built-in excuse to spend the whole afternoon looking at kitten GIFs and planning your 4:30 escape. Fridays are the tiny little Christmas Eves of every single weekend.
This special Friday, treat yourself to something special (don't front, we know you are all about special Friday treats to yourself, do you think you were eating that cupcake for breakfast under an invisibility cloak?), and push aside any worries about cheesitude; it's time to just celebrate why Friday is truly the awesomest day of the week. We promise, no one will start calling you the "hump day lady" (unless you make some spectacularly bad calls later tonight).
Here are 13 reasons why Friday wins, every time.
THat SENSE THAT EVERYTHING IS AHEAD OF YOU
Who knows what will happen? This could be the weekend you meet your soulmate! This could be the weekend you cure cancer! This could be the weekend you finally return that shirt that didn't fit properly to Banana Republic! ANYTHING IS POSSIBLE!
so. many. RANDOM OFFICE SNACKS
Someone in your office seems to be compelled to bring in food every Friday morning, though you're not sure who. But it's not your job to ask questions; your job is to steal six croissants from the pastry platter and then run back to your desk before anyone sees you.
Getting PAID
Maybe you work in an ultra-modern dystopia that insists on paying you by calendar date, like a bunch of cold-hearted cyborg monsters. But for many of us, Friday is the one day of the week where it at least feels like you have a lot of money (even if you'll realize Saturday that 80 percent of it has to go to your student loans).
more of your officemates are also hungover
A really bad Tuesday morning hangover might be an issue for HR, but everyone feels a little bit understanding about your Friday morning hangover, because as of 2008, Thursdays are the new Fridays. You may even be able to guilt someone into going out and buying you an egg-and-cheese bagel (dare to dream!).
"IRONICALLY" enjoying THAT REBECCA BLACK SONG
"I'm not making fun of a little girl's terrible song, I'm making fun of the people who were making fun of a little girl's terrible song! God, you guys are so dense!!"
not answering THE PHONE for THE LAST FEW HOURS YOU'RE AT WORK
After 3 p.m., let it all go to voicemail — if it's really important, they'll call back. This technique can also be easily applied to all Friday afternoon business emails, and texts from your mom about why her DVD player isn't working (she can wait 'til tomorrow to find out that it's because she's trying to play a Blu-Ray in it).
putting things off until next week
Friday afternoon is the ideal time to send a work email to someone who you know is going to be a total asshole in their reply; this way, you can deal with their bullshit on Monday morning, which will be so terrible anyway, you probably won't even notice.
Leaving work just a little bit early
And if anyone tries to say anything about it, feeling confident that they're the jerk. Do they not know what day it is?
CHECKing OUT ALL THE NEW MOVIE RELEASES
Yeah, a lot of movies open on Wednesdays now, which we both know is total nonsense. But if you can resist their siren song and hold out until Friday, there's just something about the 32 ounce "small sodas" and 45 minutes of coming attractions that really help ease you out of the working week.
knowing you can TAKe OFF YOUR PANTS THE SECOND YOU GET HOME ... AND KEEP THEM OFF FOR TWO WHOLE DAYS
Between FaceTime and Seamless and whatnot, you could have a really full weekend without even once getting yourself into acceptable shape for human interaction.
knowing you HAVe THE OPTION OF sleeping for 12 hours...
I'm not saying do it; I'm just saying you could if the spirit so moved you.
...and THE OPTION OF STAYING at the bar until closing
You're an adult, and you can make your own decisions! Even if those decisions will have you googling "can you die from a hangover" the next day.
BEING AT THE FARTHEST POSSIBLE POINT FROM ANY WEEKEND REGRETS
Drink too much? Forget to return an important text? "Accidentally" bone the guy from Accounts Receivable whom you and your friends refer to as "Diaperpants"? None of that stuff will matter until Saturday morning, hot stuff. Because right now it is Friday, and the world is your oyster.
Images: Capitol Records/ Funny or Die/ Rockhard Films; Giphy (15)