'You're The Worst' Was The Best Thing About Summer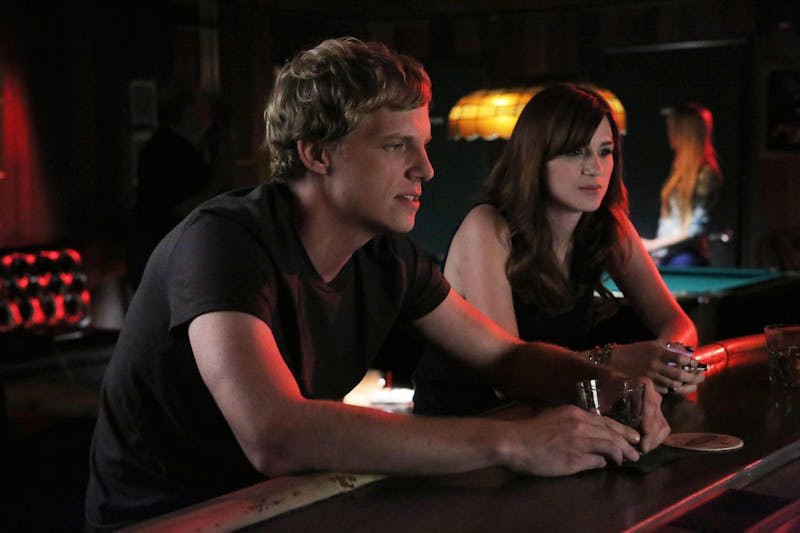 I've been burned by falling in love with cult comedies with tiny audiences almost as often as I've been burned by cute hipster dudes with slight beer bellies. And it's with that apprehension that I still find the need to implore the comedy-loving people of the world to pay attention to Season 1 of FX's You're The Worst, even if by overtly praising the near-perfect young sitcom, I may be ringing its death knell as was the case with Trophy Wife and Don't Trust The B in Apartment 23 before it. (RIP, you dear, funny, under-appreciated programs.) And while FX has been handing out press releases about renewals for their thrillers like Tyrant and The Strain left and right, You're The Worst Season 2 is still something of an unknown. This, my friends, is an absolute tragedy. And you're damn right I'm about to tell you why.
Still, when the FX sitcom first premiered, it seemed like it was almost mocking us. "You said you were tired of romcoms!" it seemed to say. "Well, get ready for the non-romcomiest romcom that ever romcommed." The anti-relationship tones in the premise and promotional material were so anti-relationship it was almost patronizing. Then I made it through the entire pilot and it was like the heavens opened up and above me was Baby Jesus, pouring me a glass of bourbon and handing me big, juicy burger. It was everything I could have ever wanted in a sitcom.
Aya Cash's Gretchen was salty, messy, and generally pretty averse to the whole "dating with purpose" concept. She was killing it professionally and a tragedy personally in way that threw the bullshit concept of likability straight out the window. Gretchen isn't a lovely little flower of a character and she's not the Jennifer Lawrence-esque "girl who can hang" either. She's just a real person, carrying a lot of bullshit and well-earned barbs on the surface and harboring a bay of questions on the inside. Just like everyone else trying to have a good job and maybe sometimes get laid in this world.
Then there was Jimmy (Chris Geere), the British curmudgeon who could have easily been Hugh Grant from the first half of Two Weeks Notice with a dash of anxiety novelist. But he wasn't. Sure, he started out that way, but as the season unfolded, we saw that Jimmy, unlike so many textbook unavailable men in romantic comedy situations, was no stereotype. He doesn't exactly have an epiphany that Gretchen means something to him. He doesn't get worn down by her Disney movie-bound woodland creature-esque glances. He simply is a real person who enters a casual relationship with another person and allows his personhood to complicate and escalate the situation. Like real people do.
Still, You're the Worst has proved it's not out of the romcom game — it's not an anti-romcom as some have liked to deem it — especially as we head into the season finale on Thursday with the question of whether or not Jimmy and Gretchen will get back together hovering over our heads. You're The Worst is just a show that understands that there's more than one kind of person and thus more than one kind of relationship in the world. It's boldy diversifying the realm of mushy, light romance by adding something it's long been missing: a heavy dose of mold-breaking elements.
Part of that mold-breaking concoction is the person I'm most thankful for this summer: actress Kether Donohue (who you might recognize as the Bellas' former tyrannical leader in Pitch Perfect, who tells one of the girls her breath "smells like egg.") Here, she's less "expendable comic relief" and more the lynchpin in this series' ensemble. You're The Worst sprinkles on a thick dusting of wickedly funny toilet humor and a few sides of cultural commentary while it's at it. If "Redefining the Genre" is the series' bread, its sense of humor is the truffle butter holding it together. And Donohue is the pitch-perfect dose of truffle.
We've seen her go from hilarious, but predictable non-romantically entangled side kick in the pilot, to a wild child questioning love, marriage, and everything in between by the time we reach the season finale. And while we came here for the titular romance, we're staying because of Donohue. While Gretchen and Jimmy are funny enough on their own, Donohue's Lindsay has made me wheeze with laughter on more than one occasion. Not only is she talented, she's got an angle on sitcom-style funny like no woman before her. It's almost a travesty that the internet isn't littered with GIFs of her incredible one-liners. I am, however, grateful for this fortunate screencap from Gretchen's one-night stand:
All this being said, You're the Worst could go the way of the Trophy Wives and Bs in Apartments before it. Thursday's season finale could be its final ride. And if that's so (please say it ain't so), FX will have wasted a terribly good series. You're the Worst was the absolute best part of summer television. And I don't want to know what a summer without it feels like ever again.
Images: Byron Cohen/FX (3); FX via rackslasse/Tumblr