What Will 'OUAT's 'Frozen' Storyline Bring?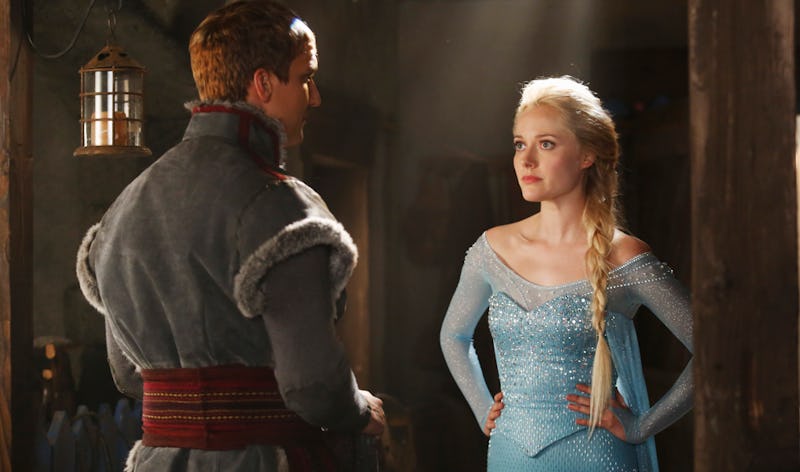 As we enter the 2014 fall TV season, we're gonna spend some time thrust back into the winter 2013 movie season. Frozen's been known to be coming to ABC's Once Upon A Time since last season's final moments, but now that we're actually tangibly close to the season premiere there's a lot more to know. So what exactly can we expect from this upcoming season — particularly the part that's trying to harness one of the biggest box office juggernauts in recent memory into the television realm?
A lot of interesting tidbits came out of Once Upon A Time head honchos Adam Horowitz and Eddy Kitsis' recent sit-down with TVLine. Among them:
In the world of the show — in which the people outside of Storybrooke know the fairytale universe as Disney fiction and not reality — the trailer for Frozen hasn't come out yet, so it's not a story or characters they've heard of yet. Weirdly meta. (Fun fact: In the show's timeline they're in "early 2013" according to Horowitz, not mid-2014.)
You'll need to suspend some disbelief. According to Horowitz: The way to think about it is, divorce yourself from time and space as you know it and think of the world of story occurring in a timeless place. What we're not saying is that the events of the movie took place in November of 2013. What we're saying is the movie came out and told the story that occurred in the land of our fairy-tale world.
They're not gonna eff with the Elsa/Anna canon storyline nearly as thoroughly as they did with Peter Pan, so you can rest a little easier on that front.
This story's more about Anna than Elsa, and it'll fall into this show's love of the concept of the "true believer. As Kitsis said, "What happens when a true believer like that gets in front of the devil himself, Rumpelstiltskin, who sees the worst in everyone?" (I'm guessing bad things.)
They're not gonna force a love interest on Elsa, thank the Disney overlords.
Elsa and Emma Swan will bond over their tendency to run far and fast from intimacy and their family problems.
They're pretty much picking up "where they were left off in the movie."
The other Once Upon A Time characters will still be around an important, despite how heavily the Frozen stuff's overshadowing them in media coverage right now. (Guilty as charged.)
Elsa and Regina's interactions won't be a Queen-on-Queen power thing, but rather centered around a mystery that will be triggered by Elsa's arrival.
The season's fourth episode is called "The Snow Queen." Make of that what you will.
Lost's Elizabeth Mitchell is rumored to be Anna and Elsa's mom, which seems to be the main thing that might happen this season that would seriously screw with Disney's current Frozen canon.
There's a lot more about what's going on with the other OUAT characters and their complicated lives over in the TVLine rundown. While you go read that I will be taking bets on how quickly OUAT can squeeze in its first "Let It Go" reference.
Image: ABC