Why Nolan Could Be Evicted From The Hamptons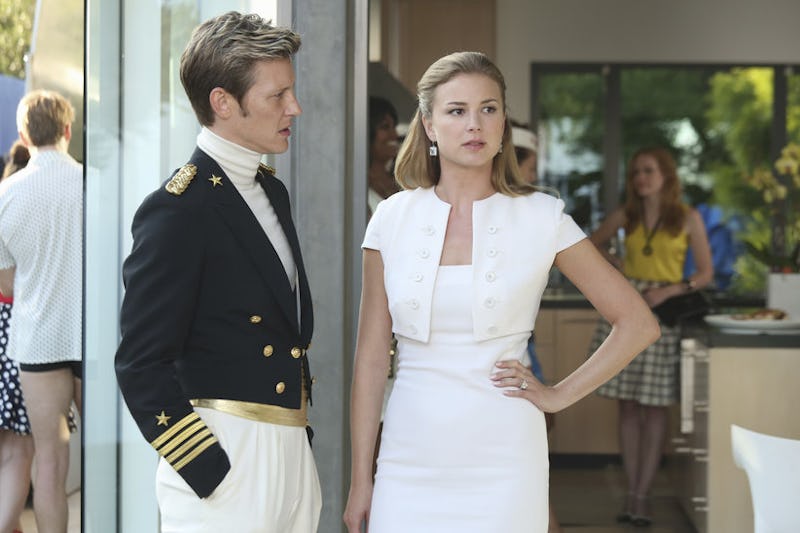 Let me preface this by saying that I really love Nolan and Emily as friends, but by no means do I think that her friendship had a great influence on his life. In fact, Emily kind of treated Nolan like crap while they were working on her long-winded revengenda. And in the new trailer for Revenge season four, it seems like Nolan's friendship or perhaps lack thereof has taken a toll on him. Nolan's gone rogue on Revenge before and he's fallen into some dark holes, but there's something seriously troubling and sinister about him in the new trailer. And I can only think of two possible reasons why — Emily and Nolan's alliance is over and Revenge might be priming Nolan to die in season four.
Are you surprised that I'm suggesting this? Well, you shouldn't be. Because when Revenge season four starts on Sept. 28, it could very well be its last if the shift in focus doesn't pan out. If Victoria is really out for revenge on Emily, people are going to die. And, considering the fact that Victoria killed Aiden in cold blood back in season three and she hardly knew him, I can't see her having trouble killing Nolan. She doesn't even like Nolan to begin with and he's the closest person to Emily right now, with the exception of Jack, whose death could really hurt her.
Or maybe not — Nolan appears three times in the trailer for Revenge season four. First, in a flashback to season three and twice after that in what we can assume is season four footage. And those latter two times should be unsettling for Revenge fans that have become particularly attached to Nolan Ross.
Yes, we've seen this look before. Usually Nolan's giving it to Emily from behind someone's back. But, that doesn't seem like the case here when I made the connection between this part of the trailer and this photo on the Revenge homepage. Nolan's making this face behind Emily's back. Is something or someone driving a wedge between them? Maybe he finds it creepy that Emily's hanging out and throwing parties at Grayson Manor.
Toward the end of the trailer, we see the above flash of Nolan at the same gathering (assuming he doesn't repeat outfits like this). This isn't typical Nolan behavior — I can't remember a time where he got wildly obliterated on this series over the past three seasons. And for it to be happening in the same day as the previous scene, something is just wrong. So wrong.
It's possible that Emily's cut Nolan out of her plans for his own good and he's just not taking that lightly. Or it could be that Revenge is setting Nolan up to die by making him and emotional and erratic liability in season four. If he's getting this drunk at parties, it's a risk for Emily to have him around. He knows way too much about who she is and what she's done. But it's also a liability for him in the case that he falls into the wrong hands.
Revenge makes characters vulnerable before it kills them — Amanda and Jack were in love and had a baby and then she died, Declan started dating Charlotte and then he died, Pascal and Victoria were finally together and then he died, Aiden and Emily had finally decided it was the right time and Victoria killed him. It's a pattern that the series has kept up with over the past two seasons and if they're putting Nolan in a compromising position as early as the first full-length trailer for season four, he's absolutely in danger going forward. And, well, Victoria really doesn't like him.
Watch the full Revenge season four trailer here:
Images: Richard Cartwright/ABC; ABC (Screengrab) (2)