The Best Feminist Sci-fi Moments In History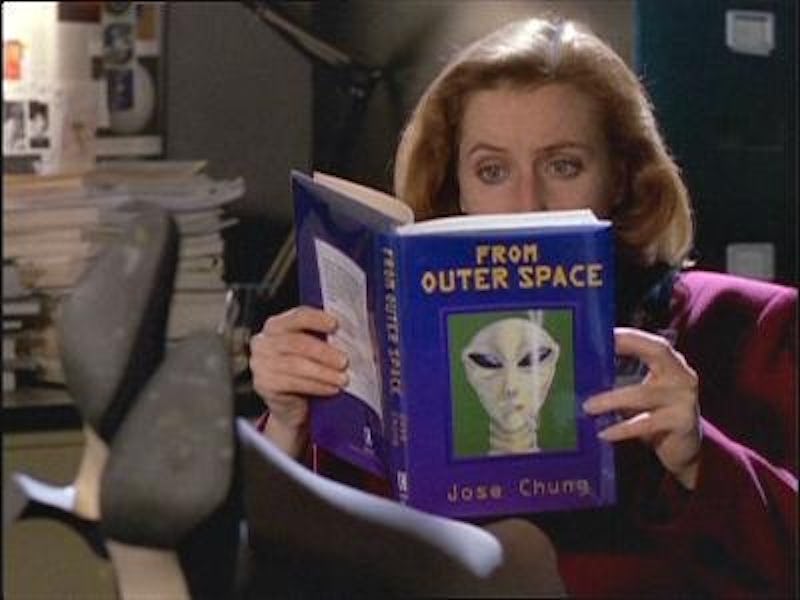 Devon Maloney over at New York Magazine has done us all a favor and compiled a list of the most poignant feminist events in science fiction history, which is great news for any sci-fi enthusiast who struggles with the genre's pointedly male-dominated lack of balance of content and authors. The list was extensive, and you should definitely head over to NYMag to read the full scoop, but here are three of our favorite picks who made the cut.
1. Dana Scully
"Gillian Anderson's shoulder-padded, eye-rolling, logical Scully ensured the X-Files was a landmark in feminist screenwriting," writes Maloney. "Scully wasn't just a 'strong female character'; she was a strong character, period." Amen.
2. Mary Shelley
There's really nothing more we can say about Mary Shelley's contribution to speculative fiction in the form of Frankenstein that hasn't already been noted. What began as a writers challenge with her male counterparts (which, presumably, she won) yielded one of the most iconic horror/sci-fi novels in history, with Shelley staking her claim on a sub-genre that resulted in an explosion of penny dreadfuls and like-minded literature.
3. Joanna Russ
You'd be hard-pressed to find another name on this list more worthy than literary critic and author Joanna Russ, whose feminism was frequently interweaved in her criticism and essays, as well as in her noted contribution to the literary world in the form of "The Female Man."
Note: Honorable mention for her prediction that women and queers will destroy Sci-Fi in 2014 and 2015 via Lightspeed, a new Kickstarter-funded sci-fi magazine produced exclusively by women. Here's to hoping that comes to fruition.
I implore you to look into femspec and explore how much information is readily available within the genre. As of a couple years ago, female science fiction writers were still encouraged to use pseudonyms to make their work appear more accessible to a male audience.
Sci-fi has long been a proponent of gender oppression in speculative fiction. This isn't simply because the genre as a whole lacks any number of memorable heroines, but also because male writers outweigh their female counterparts by a significant margin. Sure, the X-Files is a shining beacon of an empowered, intelligent female pursuing bizarre phenomena to save the world, Margaret Atwood is wonderful, and if you'd like to call Katniss Everdeen a sci-fi heroine, I won't pick a bone. But we need more. Below are a few I think should have made this list of important women in sci-fi.
Olivia Dunham
For any follower of the psuedoscience television series Fringe , this list would be largely incomplete without including our contemporary Scully.
Ursula Le Guin
Earlier this month, fantasy and sci-fi writer Ursula Le Guin was presented with the National Book Awards 2014 Medal for Distinguished Contribution to American Letters. While Le Guin is one of few prominent female writers in her genre, it's reassuring that her work is being afforded the recognition it rightfully deserves.
Ann Aguirre
Sci-fi writer Aguirre deserves a nod for her breakup letter to the science fiction genre, which you can read in full on her website.