Talking to Nicky Rockets About Plus-Size Fashion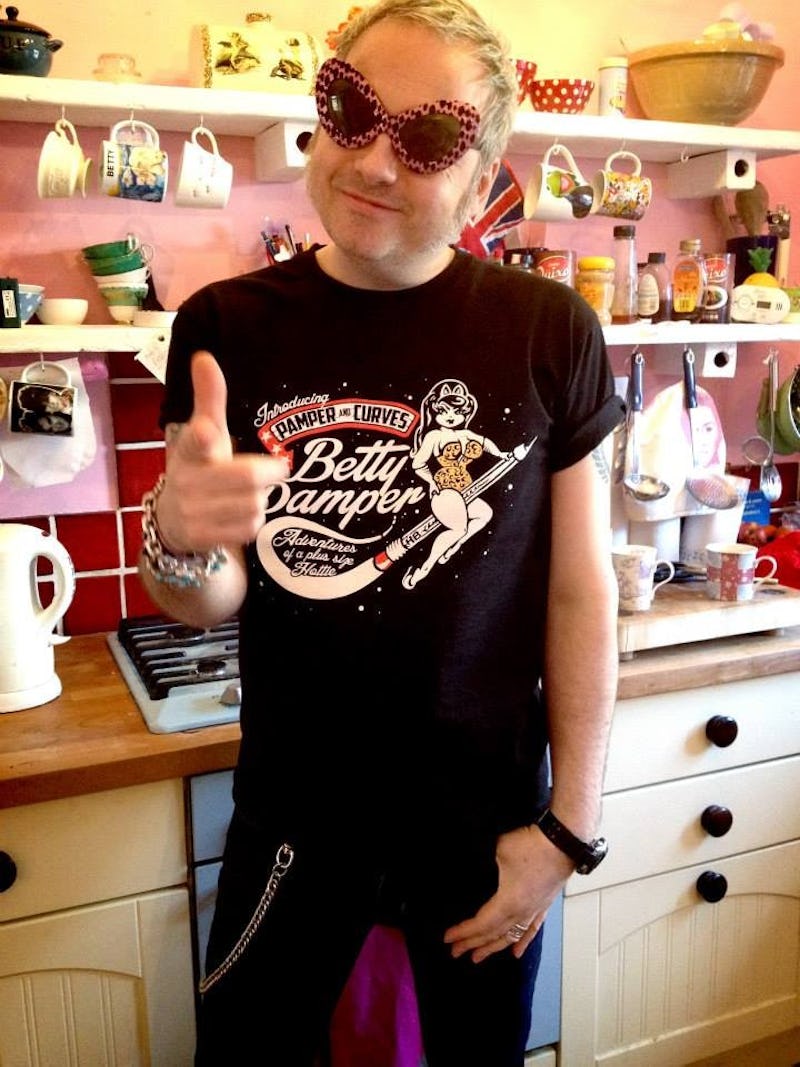 We hear the term "size-inclusivity" quite a bit in fashion, and it's usually as some kind of mythical, utopian ideal that we all would like to see become a reality, but have little faith that it actually will. The truth is that most brands and designers cater either exclusively to straight sizes or plus-sizes, so at the end of the day, the brands we most remember are those that break away from this antiquated (and quite frankly boring) norm. We consider them pioneers and visionaries and gravitate toward their size acceptance and body positivity. E-retail sites like ModCloth and Katie K Active, for instance, offer a bit of hope for fashion's future.
It is size inclusivity that drew me to Nicky Rockets — the British t-shirt connoisseur who "specializes in designs dedicated to those super curvy women who rock his world," (as he self-describes himself via Instagram). Ok... so for the first second that you read those words, you can't help but wonder, "who is this dude? Is he creepy or totally brilliant?" After having the chance to chat with him, though, I vote for the latter.
Blending the burlesque, the rockabilly, the punk and the pinup, Nicky Rockets' tees take one by surprise immediately. Every one of them is filled with curve-spiration, with voluptuous babes and slogans like "invasion of the killer curves" and "mutiny for her bounty: you gotta ask before you touch my booty." Anyone who loves B-horror flicks, Pirates of the Caribbean or Marilyn Monroe will find something to love in these designs.
Drawing and design have always been passions of Nicky's. Pre-Nicky Rockets, he'd designed tees for burlesque events he helped to promote, as well as for his own personal use. The inspiration for Nicky Rockets came after hearing his wife — blogger and plus-size fashion hottie Betty Pamper of Pamper and Curves — say that she was tired of never seeing any representations of plus-size and curvy women as super heroes or adventurers in fashion. When you think of mainstream super heroes, villains, or sci-fi beauties, chances are their proportions are Barbie-esque. Even when they're "curvy," they aren't actually curvy in any realistic way. And the realism and relateability of Nicky Rockets' curvy chicks is definitely part of their beauty. "I created the character of Curverella as a gift to Betty and as a plus-size blogger, she felt it needed to be shared," he says. "And so the t-shirt brand was born!"
To say that it is refreshing to see a male designer care so deeply about body positivity and size acceptance is a mega understatement. That these designs are sold in a size Small to XXXL is magnificent, and Nicky actually hopes to extend that size range even more. "I'm a father to a daughter, so I find the never-ending message that only one type of body is acceptable or attractive worrying and sexist," he says. "I would like things to change, even if it's with one t-shirt at a time." When so much of fashion excludes any type of awareness of its size exclusivity or segregation, this family business is already doing more to change negative body images than a lot of e-retail sites out there.
Interestingly enough, when Nicky first began his business, he focused solely on plus-sizes. "Having been on many, many shopping trips with my wife, I find it inexcusable that plus-size clothes are separated and crushed into tiny corners with less than half the choice available in smaller sizes," he says. "To be treated as if your body is 'other' just reinforces the idea that difference is bad."
There's no doubt that these words ring true — walking into a shop in real life as a plus-size woman still tends to result in empty hands after endless attempts to find something fashionable in a larger size. He adds, however, "When we first started and we just did the larger sizes, we were soon informed (and rightly so) that 'curvy' is a shape, not a size, and that discrimination of any size was unacceptable." The difference between Nicky and many designers is that he listened to this critique, and he and Betty soon began incorporating a larger range and appealing to a more varied clientele.
Amidst Nicky Rockets' clientele are a huge number of bloggers. Part of the reason I was personally drawn to the brand is its close-knit relationship with the blogging community. "Right from the beginning of this venture, I wanted the t-shirts to be seen on as many representations of women as possible," says Nicky. "As well as using models of all different sizes as shapes for my product shots, I asked customers to send images in, and also approached cool bloggers with bags of style to see if they would be interested in reviewing the shirts." Bloggers like Nancy Whittington, Georgina Horne and, of course, Betty Pamper can all be seen rocking the tees on their personal sites. But as Nicky noted, his shirts are modeled by women of all sizes. And that's a beautiful thing.
When mainstream fashion still rejects diversity in size, it becomes even more important for the independent companies to embrace all figures and styles. That Nicky Rockets does this just goes to show that there are companies that care about making size inclusivity a reality. And if you ask me, the fact that the designer is a guy only adds to the brand's magic. The size acceptance movement has, thus far, been one largely run by women, for women. It's about time that guys started paying attention, too.
Images: Nicky Rockets, Marie Southard Ospina