What Is This 'ANTM' Dude's Deal?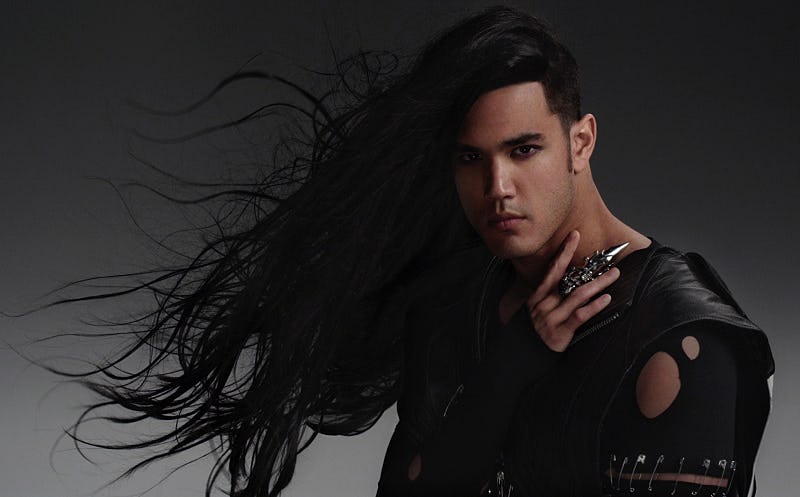 Who says frat boys can't model? Well, occasionally the judges on America's Next Top Model, as it were. ANTM resident frat bro Adam Smith doesn't always make the grade, no matter how pretty he may be. And yet, the kid is still hanging onto the competition by a very thin thread. I don't think anyone would deny that Adam has the looks, but I'm still questioning whether the "beer pong enthusiast" has what it takes to win ANTM (and make it in the cutthroat industry afterwards).
In any case, I have to admit the Emory University grad has been growing on me ever since the altercation with Romeo. Unfortunately, any redeeming qualities would be completely trumped if the accusations that Adam has a violent anti-gay history are even remotely true. Supposedly, Adam made headlines in 2010 for forcibly dragging a gay Emory student out of a party "by the neck" and calling him derogatory names.
Hopefully, that's not true, and Adam has denied the allegations. So for now, the most traditional way to decide if any frat bro is worth another look is to brainstorm his pros and cons — or in this case Adam's worst and best moments on ANTM thus far.
His Ty-over
Good. Really good. Adam started the cycle with some luscious Tarzan locks, but it turns out less is more for Adam. His new look is much more clean-cut and his mom even thanked Tyra for making him look "much, much better." Nothing better than a brainy, hot mama's boy with a little badass to top it off. Adam already had the body and some serious Boom-Boom-Boom, but now he's got the hair visible bone structure to match.
His Fratitude
Not so good. Before ANTM, Adam's typical day pretty much consisted of: go to the gym, have sex, go to the gym again, eat, have sex again, drink, have sex again, drink more. Or something along those lines. After all, he is in the top one percent of partiers in the country. Everyone parties, he's just better at it.
His morals
Iffy, if the above rumors are true. Adam turning down a fight with Romeo on ANTM was admirable and redeemed his character, if only for a second. Typically, a frat bro would have thrown the first punch at a guy like Romeo, but Adam held his ground. Even with some alcohol in his system, Adam proved the bigger man in a situation that almost anyone else would have handled with violence — frat or no frat. Maybe he's serious about this competition after all! But this was before I knew about the accusations that would completely contradict his brief moment of virtue. So far, he seems to have zero issues with his gay housemate Will, so is he growing up or just acting for the sake of the camera?
His sound effects
Definitely, most certainly and absolutely not good. Seriously, dude: do less. I definitely don't mind a couple pushups before a shoot, but his toned arms are shown off enough without the sound effects. You're an intelligent guy with a dual degree in mathematical risk management and actuarial science, so do the math! Lose the noises.
His Bromance with Ben
So, so good. The only thing better than throwing hot guys into a group of mostly single girls is a good healthy bromance between two of the guys. In my opinion, Ben Schreen was somewhat of an underdog, but with his own hot Ty-over to work with and his nerves set aside, he won best photo last week. If Adam can make it through this week, Ben and Adam might just be my favorite relationship on the show.
I'm not even going to dignify this one with a rating. By definition: A "beeronthehead" is a party move in which a bro publicly pours a full beer on his own head in order to display power, satisfaction, rebellion, or affection — and then casually resumes normal living. I'll give this one to him as a college girl, maybe, because it's actually pretty funny. And I admit he looks kind of hot in his CEO video. Nevertheless, if he is serious about modeling, where in the world is he going to find the time to keep up his site? I would love to find any photographer who would put up with his "politely doing a beeronthehead" during a shoot.
So where do we stand with all this? Well, all I can say is "Oh my goodness, where is Nigel Barker when you need him?" Adam is the definition of a hot mess.
Images: Massimo Campana (2), Frano Lacosta/Pottle Productions Inc; Adam Smith/Twitter; Giphy